Sale: 351 / Post War, June 20. 2009 in Munich

Lot 143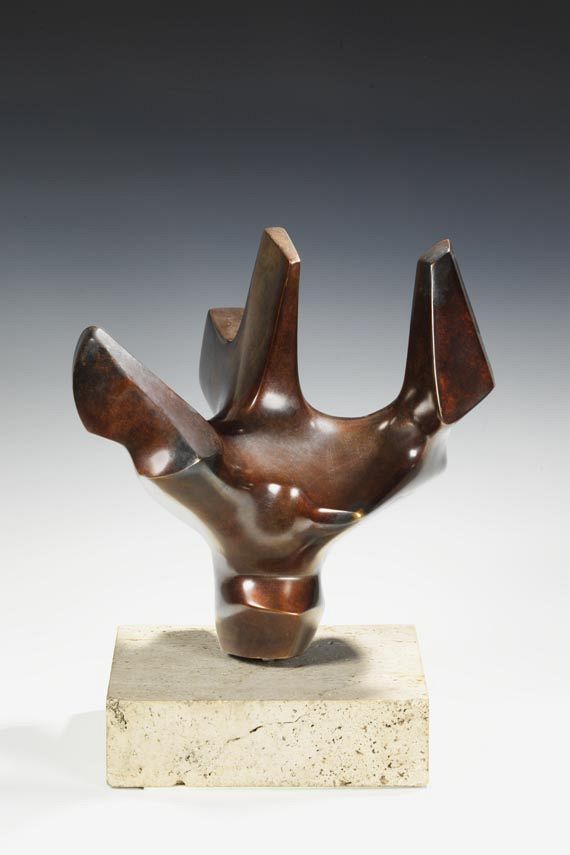 143
Flügelform, 1939.
Bronze
Estimate:
€ 18,000 / $ 19,080
Sold:

€ 20,740 / $ 21,984
(incl. 22% surcharge)
Lot: 143
Karl Hartung
1908 Hamburg - 1967 Berlin
Flügelform. Um 1939/40.
Bronze with dark brown patina, on artificial stone base.
Krause 263. Presumably one of six casts. 33 x 34 x 25 cm (12,9 x 13,3 x 9,8 in), without base.

PROVENANCE: Private collection South Germany.

EXHIBITION: Hartung. Exhibition of Sculpture and Graphics, Gadebuscher Weg 5, Berlin 1946 (with illustration).
Touring exhibition Berlin painters and sculptors from the circle of the Galerie Gerd Rosen, Kunstrunde Alsterhaus, Hamburg/Galerie Herbert Herrmann, Stuttgart 1947 (with illustration).
2nd annual exhibition circle of artitsts Gerd Rosen, Galerie Gerd Rosen, Berlin 1947 (with illustration).
Karl Hartung, Galerie Grabo-Stevenson, Hamburg 1952.
Karl Hartung, Haus am Waldsee, Berlin 1952, no. 14.
Sculpture Allemande de Vingtième Siècle, organised by the Deutsche Kunstrat, Musée Rodin, Paris 1964, no. 11.
Karl Hartung 1908-1967. A retrospective on occasion of his 80th birthday, Galerie Pels-Leusden, Berlin 1988, no. 14 (with illustration).
Karl Hartung. Sculptures and drawings, Richard Haizmann-Museum, Niebüll 1989.
Karl Hartung. Sculptures and drawings, Galerie Utermann, Dortmund 1989.

LITERATURE: Walter Hess, Karl Hartung, in: Das Kunstwerk, 14th year, 1961, issue 9, no page (with illustration).

Even during the years when the National Socialist regime was in power, Hartung produced abstract sculpture in defiance of the then prevailing aesthetic doctrine but it was witheld from the public. Influenced by Arp, Brancusi and Henri Laurens, whom Karl Hartung had met on a trip he took to Paris in summer 1939, he continued to work in an abstract formal canon, from which his first sculpture emerged under the title "Vegetative Form". Vegetal matter in the figurative sense of the term might also have been the source that inspired our work of sculpture since it grows out on all sides like a plant from a core-like trunk into space, which it claims on all sides. There might easily be vegetal forms that correspond to the wing-like side pieces, which have given the work its title. Although the base is relatively small, the sculpture conveys an aura of stability and power and, because its forms are so massive, it is a work of consummate tactile sensuousness. [KD]

In very good condition. With one tiny scratch.

EUR: 18.000 - 24.000DIFF.(19%)
US$: 24.552 - 32.736


143
Flügelform, 1939.
Bronze
Estimate:
€ 18,000 / $ 19,080
Sold:

€ 20,740 / $ 21,984
(incl. 22% surcharge)
Karl Hartung - lots sold by Ketterer Kunst