Sale: 350 / Modern Art, June 19. 2009 in Munich

Lot 287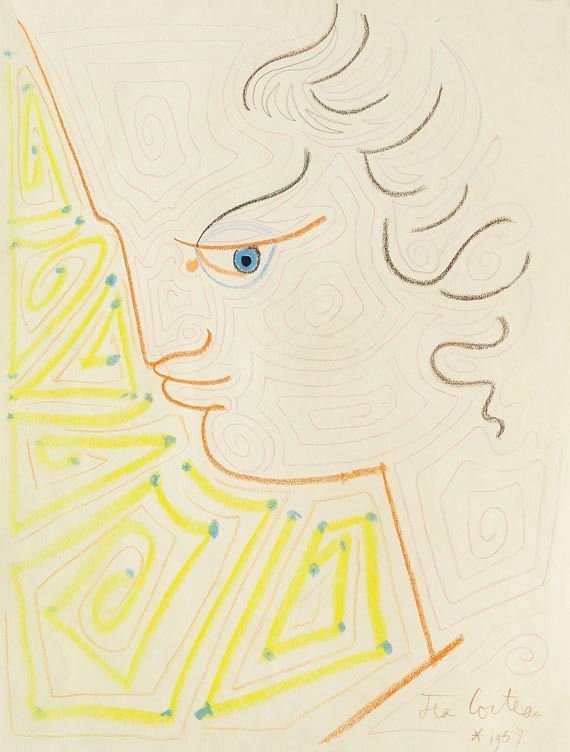 287
Profil rouge aux arabesques, 1957.
Coloured chalk drawing
Estimate:
€ 6,000 / $ 7,020
Sold:

€ 11,590 / $ 13.560
(incl. 22% surcharge)
Lot description
Lot: 287
Jean Cocteau
1889 Maisons-Laffitte/Essonne - 1963 Milly-la-Forêt/Seine-et-Oise
Profil rouge aux arabesques. 1957.
Colored chalk drawing.
Signed and dated lower rigth. On fine, creme wove paper. 41,8 x 32,1 cm (16,4 x 12,6 in), the full sheet.

With a photo expertise from Ms Anni Guedras, Périgueux, 19 May 2008. The work is registered under the number 4924 C.

Jean Cocteau created an extensive and versatile œuvre, in which he combines his literary talent with his fascination for film and theatre. Cocteau writes and edits several screenplays and even directs a few films. Besides his debut film "Le Sang d'un Poète", other main works are "La Belle et la Bête" (1946), "L'Aigle à deux têtes" (1947), "Les parents terribles" (1949), "Orphée" (1950) and "La Villa de Santo Sospir" (1951). Additionaly, Cocteau wrote and staged his own plays and also made the designs, for instance for "Les Chevaliers de la table ronde" from 1937. His interest in music sparks the fascination for Russian ballet, leading Cocteau to stage his first play "Le Dieu bleu" (1912) in this artistic genre. Closely working together with musicians leads him to a more intensive examination of art theory, an expression thereof is the musical manifesto "Le coq et l'Arlequin". Together with Picasso, who was the most dazzling personality in Montparnasse in Cocteau's eyes, he also worked on two plays: "Antigone" and "Parade". As Cocteau had always been making drawings, his fame increased in 1926 when he began illustrating his own poems. His love for the theatre clearly shows in his drawings and drafts, with the harlequin as the stage figure par excellence repeatedly occurring. He makes tapestries of his ideas as of 1948 and makes murals in the Villa Santo Sospir in Saint-Cap-Ferrat, where spends a lot of time in the 1950s.
Cocteau's "lignes signifiantes" in this neat and ingenious take the observer from the world of ornaments into a paradisiac sphere, guided by the figure's intensive look. This is Cocteau's world, whose foremost ability is to attain a great effect by an outmost stylisation of the ornamental and figurative elements.
Cocteau also made murals for the town hall of Menton; in 1959 he turns to frescos in chapels and mosaics. Additionally, he becomes fond of ceramics in form of grotesque sculptures and vessel decorations. Towards the end of the 50s he begins to design jewellery, which was the manufactured by the Paris jeweller Fred in 1965 two years after Cocteau's death. [VK].

In very good condition.

EUR: 6.000 - 8.000 REGEL(7%)
US$: 8.184 - 10.912


287
Profil rouge aux arabesques, 1957.
Coloured chalk drawing
Estimate:
€ 6,000 / $ 7,020
Sold:

€ 11,590 / $ 13.560
(incl. 22% surcharge)
You might also be interested in

Jean Cocteau - lots sold by Ketterer Kunst