Sale: 355 / Old Masters and Art of the 19th Century, June 19. 2009 in Munich

Lot 331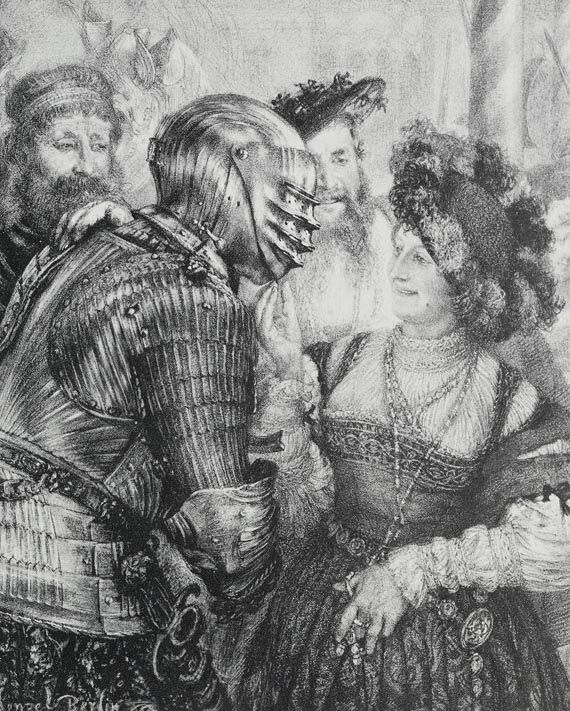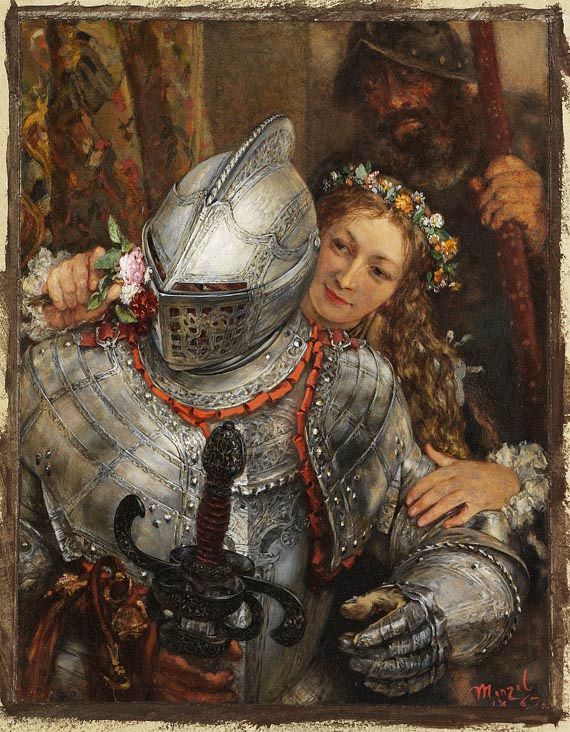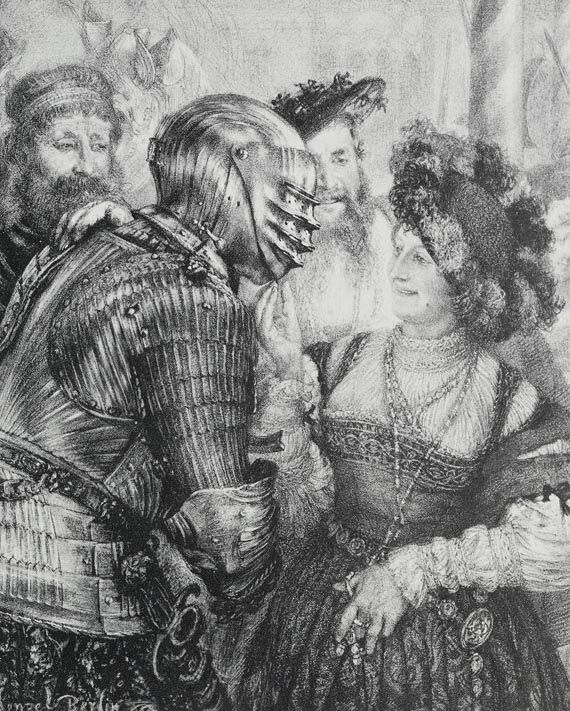 331
Blindekuh, 1867.
Gouache
Estimate:
€ 80,000 / $ 81,600
Sold:

€ 97,600 / $ 99.552
(incl. 22% surcharge)
Lot: 331
Adolph von Menzel
1815 Breslau - 1905 Berlin
Blindekuh. 1867.
Gouache on paper.
Signed and dated lower right. Laid on firm cardboard all around margins at a breadth of ca. 2 cm. 29,4 x 22,7 cm (11,5 x 8,9 in).

PROVENANCE: Adalbert Freiherr von Lanna, Prag.
Regierungsrat Alfred Sommerguth, Berlin.
Private collection Germany.
Villa Grisebach auctions, Berlin, no. 112, 28 November 2003, lot 4.
Private collection Germany.

EXHIBITION: Ausstellung von Werken Adolph von Menzels. Königliche Nationalgalerie, Berlin 1905, p. XXIII, cat.-no. 275.
Adolph von Menzel 1815-1905. Ausstellung von Gemälden, Gouachen, Pastellen, Zeichnungen, Galerie Thannhauser, Berlin 1928, cat. no. 99.

LITERATURE: Max Jordan and Robert Dohme, Das Werk Adolph Menzels. Vom Künstler autorisierte Ausgabe. Munich 1890, vol. II, plate 59. Max Jordan, Das Werk Adolph Menzels. Eine Festgabe zum achtzigsten Geburtstage des Künstlers. Munichünchen 1895, p. 69, illustration p. 36. Friedrich von Boetticher, Malerwerke des neunzehnten Jahrhunderts. Hofheim am Taunus 1979, vol. II, p. 19, cat. no. 47. Max Jordan, Das Werk Adolph Menzels 1815-1905. Munich 1905, illustration p. 66. Hugo von Tschudi, Adolph von Menzel. Abbildungen seiner Gemälde und Studien. Munich 1906, p. XIII, cat. no. 558 with illustration. Hermann Knackfuß, A. von Menzel. Bielefeld and Leipzig 1906, p. 76. Rudolph Lepke's art auction house catalogue, collection of Freiherr Adalbert von Lanna, Prague, part II, no. 1605, 21-28 March 1911, cat. no. 335, plate 32. Elfried Bock, Adolph Menzel. Verzeichnis seines graphischen Werkes, Berlin 1923, p. 74. Hans W. Lange Berlin auction catalogue, private collection Berlin. 28 Gemälde, Gouachen, Aquarelle und Handzeichnungen von Adolph von Menzel. Gemälde deutscher Meister, 7 Frbruary 1939, cat. no. 26 with illustration in ex. cat, Adolph Menzel 1815-1905. Das Labyrinth der Wirklichkeit, Musée d'Orsay, Paris, National Gallery of Art, Washington, Nationalgalerie and Kupferstichkabinett, Berlin 1996/97, p. 57.

[CM].

Colors in very good and frsh condition. Minimal closed horizontal split to upper edge. Isolated spots with minor craquelé.

EUR: 80.000 - 120.000 DIFF.(19%)
US$: 109.120 - 163.680


331
Blindekuh, 1867.
Gouache
Estimate:
€ 80,000 / $ 81,600
Sold:

€ 97,600 / $ 99.552
(incl. 22% surcharge)
Adolph von Menzel - lots sold by Ketterer Kunst