Sale: 361 / Post War/ Contemporary Art, Dec. 12. 2009 in Munich

Lot 301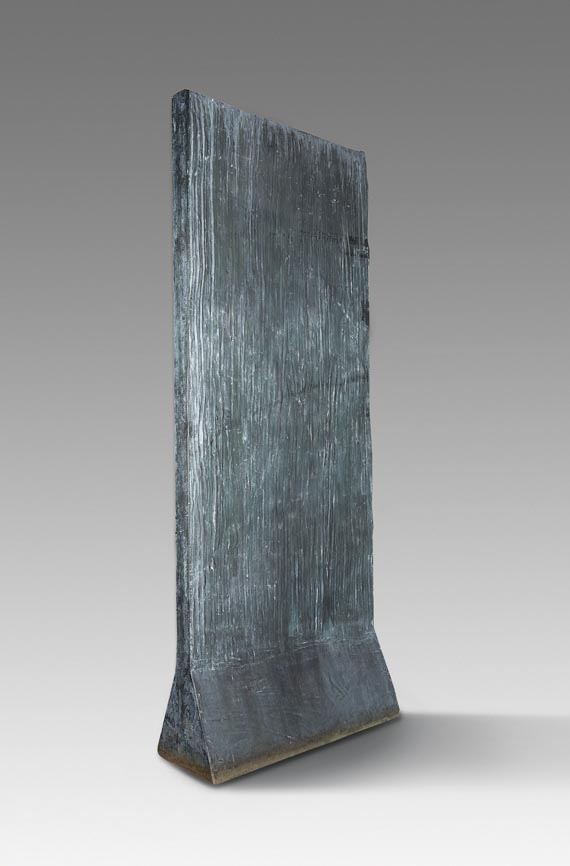 301
Ohne Titel (Stele), 2000.
Bronze
Estimate:
€ 10,000 / $ 9,400
Sold:

€ 42,700 / $ 40,138
(incl. 22% surcharge)

Bronze with green black patina
272 x 112 x 40 cm (107 x 44 x 15,7 in)

PROVENANCE: Private collection South Germany.

Günther Förg was born in Füssen in 1952. In 1973 he began to study art under Karl Fred Dahmen at the Munich Academy of Fine Arts. The first single exhibition took place at the gallery Rüdiger Schöttle in Munich in 1980. Further exhibitions, among others in Chicago, Zurich, Munich, Cologne followed. In 1992 his work could be seen at the documenta IX. Another important exhibition is also shown in the Stedelijk Museum in Amsterdam in 1995. The ZKM Karlsruhe appointed Günther Förg to be professor in 1993. He was awarded the Wolfgang Hahn Prize in 1996. He has been teaching at the Munich Academy of Fine Arts since 1999. In his work, Günther Förg always goes beyond the limits of the individual genres of art, such as painting, photography, graphic art and sculpting, he is always in search of new positions regarding form, color and expression. It is not the individual work that is in the foreground, but rather group of works. On the basis of his serially made works, he illustrates the coexistence of similar principles. As of 1992 he began making the so-called Gitterbilder (Grid Pictures ) in which he structured the image surface by entangling horizontal and vertical rulings, however, without notions of Constructivism.

The stele is a self-contained bronze plate ascending fropm a trapezoidal base. Its surface shows a linear lengthwise structure, originating from the plaster bed's processing in the forundry. The spontaneous aspect has been objectified by the conversion to the bronze. The surface is in a dialog with the stele, which mediates a notion of calmness and solidness.

Experimenting and changing the surface conditions of his works is vital part of Förg's artistic creativity. Accordingly, he also made works in wood or sheet lead. Sporadically applied strokes of the brush alternating with color clusters on an open priming can be found in his later works. Günter Förg lives and works in Munich and Columbier. [EH].


301
Ohne Titel (Stele), 2000.
Bronze
Estimate:
€ 10,000 / $ 9,400
Sold:

€ 42,700 / $ 40,138
(incl. 22% surcharge)
You might also be interested in
Günther Förg - lots sold by Ketterer Kunst