Sale: 361 / Post War/ Contemporary Art, Dec. 12. 2009 in Munich

Lot 347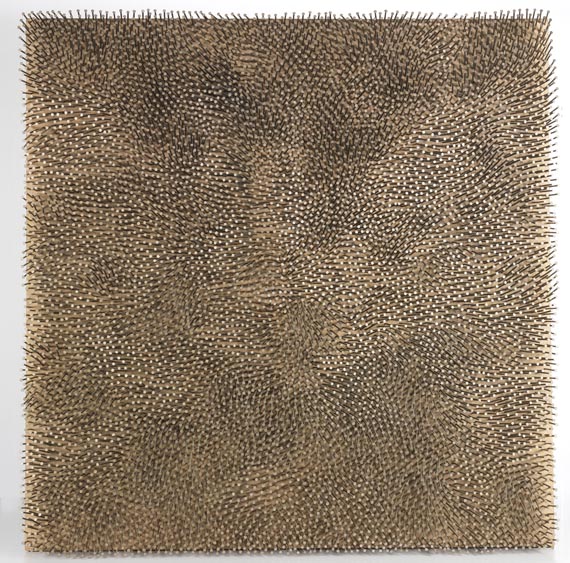 347
Field (Feld), 1977.
Estimate:
€ 80,000 / $ 95,200
Sold:

€ 237,900 / $ 283.101
(incl. 22% surcharge)
Lot description

Oil on canvas and wood
Honisch 953. Signed, dated and titled "Feld" on verso of the wood. 120 x 120 x 12 cm (47,2 x 47,2 x 4,7 in)

PROVENANCE: Private collection South Germany.

LITERATURE: Uecker-Zeitung 7, released by Günther Uecker, Düsseldorf 1978.

Günther Uecker was born in Wendorf, Mecklenburg on 13 March 1930. He began his artistic education in 1949 in Wismar and at the art school in Berlin-Weißensee, in 1955 he went to Düsseldorf, where Uecker studied under Otto Pankok at the Academy, which is where he was also teaching from 1974 to 1995. He made his first nail pictures towards the end of the 1950s. Uecker met the group ZERO which had formed around Heinz Mack and Otto Piene, with whom he propagated a new beginning of art in opposition to the German Informel. He sees his work in the tradition of the politically motivated Eastern European avant-garde of the 1920s and 1930s (Malewitsch, Strzeminski). He occupied himself with the medium of light, studied optical phenomena, series of structures and the realms of oscillation which actively integrate the viewer and enable him to influence the visual process by kinetic or manual interference. Since the early 1960s, particularly after the group ZERO broke up in 1966, Uecker increasingly used nails as an artistic means of expression, which is still in the center of his artistic creation today.

Besides arranging nails on the image carrier in a serial order, Uecker has also created various so-called "Feld"-Bilder (Field Pictures) which seem to be unordered. In his typical manner, light and shade activate the area of the enormous nails , thus creating a field of powerful motion, which changes according to the perspective. The intensity of the process of creation endures in the work. The subtle choppiness of the surface makes for a conflictive relationship to the material's rigidity.

Günther Uecker's oeuvre includes painting, object art, installations as well as stage designs and films. His works can be seen in collections and large fairs in the West as well as the East. Uecker's artistic creativity reached its peak in the prayer room he designed for the Berlin Reichstag building from 1998 to 2000. Günther Uecker lives and works in Düsseldorf and St. Gallen. [EH].


347
Field (Feld), 1977.
Estimate:
€ 80,000 / $ 95,200
Sold:

€ 237,900 / $ 283.101
(incl. 22% surcharge)
More Images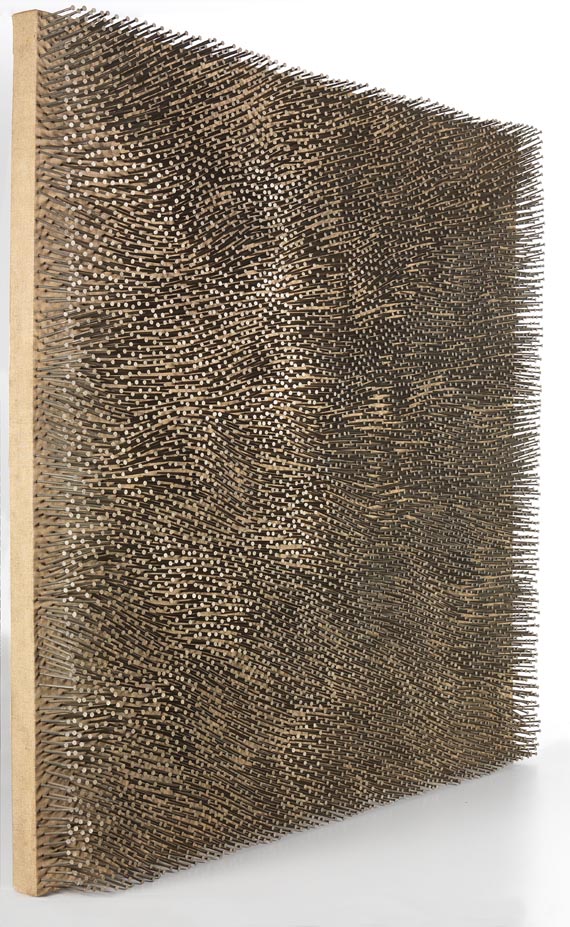 More offers for Günther Uecker

You might also be interested in

Günther Uecker - lots sold by Ketterer Kunst