Sale: 360 / Modern Art, Dec. 12. 2009 in Munich

Lot 217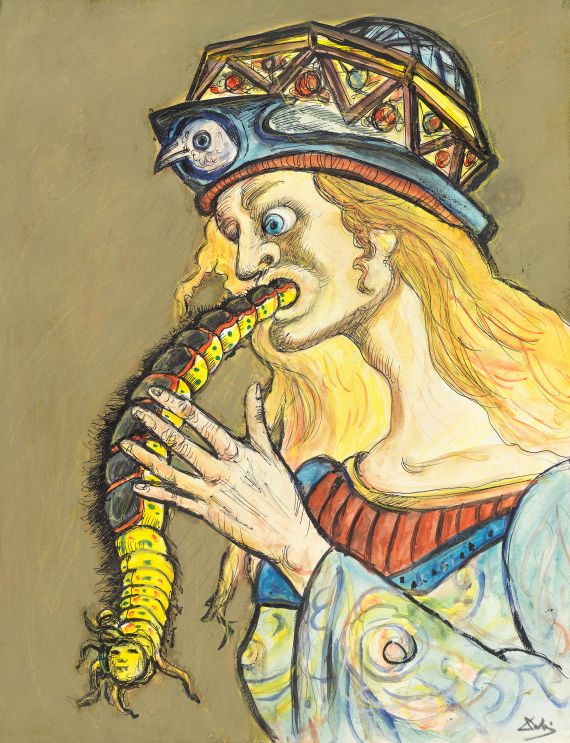 217
Projet pour "La Flûte enchantée", 1941.
Gouache
Estimate:
€ 45,000 / $ 47,250
Sold:

€ 61,000 / $ 64,050
(incl. 22% surcharge)

Gouache, watercolor, pencil and ball-point pen
Additionally signed lower right. On wove paper. 50,6 x 39,9 cm (19,9 x 15,7 in), the full sheet
Poster design for the "Magic Flute" by W.A. Mozart at the Metropolitan Opera New York, around 1941.

This work is accompanied by a photo expertise by Robert P. and Nicolas R. Descharnes, Paris, no date. The work is registered under the archive number d4264.

Salvador Felipe Jacinto Dalí y Domenech already attended painting classes at the municipal art school in his home town Figueras at the age of fourteen. He began studying at the Art Academy in Madrid in 1921, where he met members of the avant-garde movement such as Luis Buñuel and Federico Garcia Lorca and was increasingly impressed by Giorgio de Chirico and Carlo Carrà's Pittura Metafisica. Expelled from the academy, Dalí turned towards Italian Futurism in 1926 and moved to Paris in 1928 where he joined the Surrealist movement around André Breton. Familiar with Sigmund Freud's works, Dalí increasingly combined dream elements with the artistic means of Automatism, paranoid delusions with elements of the subconscious and surreal fantasies with a meticulous painting technique in the style of the old masters. His first exhibition in Paris at the Galerie Geomans in 1929 was a huge success. He made two Surrealist films together with Buñuel during this period. Dalí's first exposure to the American public was his participation in the exhibition 'Surrealist Paintings, Drawings and Photographs' at the Julien Levy Gallery in New York. He broke off contact with the surrealist group around Breton in 1934.

Salvador Dalí and Gala went into exile to America in 1940, they stayed for eight years. The years in New York were spent unresting, as Dali was working on a variety of projects, he made jewelry designs, released his autobiography "The secret life of Salvador Dalí" and made costumes and stage design for the ballet "Sentimental Colloquy". Dalí loved opera and ballets with its opulent performances. This work is Dali's interpretation of the Magic Flute, originating from the artist's so-called classic period, during which he recollected the aesthetic of Italian Renaissance. Accordingly, prince Tamino, who plays on the Magic Flute in the shape of a caterpillar, is dressed in a medieval garment.

The artist returned to Spain in 1948. Here his late work is increasingly determined by religious-mystic elements, which Dalí, who closely studied physical theories during this period, combined with scientific elements. In the following years Dalí presented his current works in several large exhibitions, among others in Rome, Venice and New York. During the late 1950s the artist made 'provocation his prophetic system' and celebrated this principle in numerous happenings which caused public controversies during the 1960s. He was honored with the Medal of Queen Isabella in 1964, and was acceptance into the Académie des Beaux-Arts de l'Institut de France in 1978; as of he 1982 he has held the title 'Marquis de Púbol'. The Salvador Dalí Museum was opened in Cleveland in 1971. Dalí was honored with several retrospective exhibitions in the following years, at the Centre Pompidou, Paris and the Tate Gallery, London in 1979, in Madrid and Barcelona in 1983. His last great work was the Theatre Museum in his birth town Figueras which preoccupied the artist in the 1970s. [SM].


217
Projet pour "La Flûte enchantée", 1941.
Gouache
Estimate:
€ 45,000 / $ 47,250
Sold:

€ 61,000 / $ 64,050
(incl. 22% surcharge)
More offers for Salvador Dalí
You might also be interested in
Salvador Dalí - lots sold by Ketterer Kunst