Sale: 360 / Modern Art, Dec. 12. 2009 in Munich

Lot 210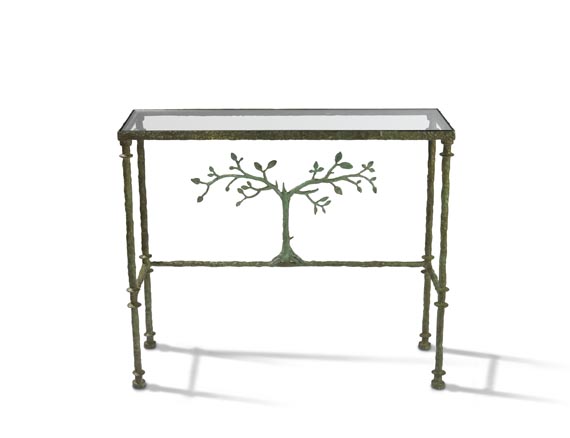 210
2 Konsolen "Arbre de vie", 1978.
Bronze
Estimate:
€ 100,000 / $ 106,000
Sold:

€ 113,460 / $ 120,267
(incl. 22% surcharge)

Bronze, greenish patina. With glass plate
Each 81 x 95,5 x 30 cm (31,8 x 37,5 x 11,8 in)

This work is accompanied by a photo expertise by James Lord, Paris, from 26 February 2001.

LITERATURE: Cf. Daniel Marchesseau, Diego Giacometti, Paris 1986, reprint 2005, pp. 100/101. This execution is the 3rd variant of the tree decorations mentioned in the book.

On 15 November 1902 Diego Giacometti was born the son of the painter Giovanni Giacometti and the brother of the sculptor Alberto Giacometti into a famous family of artists, which came from the valley Bergell in the Italian speaking part of Switzerland. Diego attended schools in Stampa, Schiers, Sankt Gallen and Basel. Then he initially learned the profession of a merchant before he moved to Paris and became consultant and companion of his brother Alberto in 1925. Diego Giacometti was the closest assistant of his brother, made plaster casts and frameworks for Alberto's fragile statues and patinated all the bronze sculptures. Furthermore, he posed for his brother every day until the death of Alberto in 1966. During World War II from 1939 until 1945, Diego Giacometti began with his own sculptural works of art. From 1950 onwards he increasingly created furniture and objects, mostly works commissioned by interior designers, art collectors and gallery owners. After his brother's death, Diego Giacometti completely concentrated on his own art. He presumably created 4000 to 5000 objects and sculptures, which he sold to friends and acquaintances still in his lifetime.

Bronze is Diego Giacometti's predominant artistic element. He used it to make furniture, lamps and small objects. His pieces of furniture call reminiscence of filigree and elegant Art Nouveau and Art Déco works of art. The pieces, which have a rustic appeal because of their material, develop a unique charm due to their open structures and uneven surfaces. With the "Arbre de vie" consoles the tree of life is not only part of the table rack, but at the same time an attractive wall decoration.

His last, big commission made him well known with a wide public. Diego Giacometti was responsible for the interior décor of the Picasso museum in Paris, which opened in September 1985. The furniture, banisters, metal fittings on the doors and ceiling lamps are works done by the artist. Diego Giacometti, who died in Paris on 15 July 1985, was not able to see the opening of the museum. His works of art are highly rated today and make him - the so-called "other Giacometti", who was outshone by brother for 40 years - an independent artist. [SM].


210
2 Konsolen "Arbre de vie", 1978.
Bronze
Estimate:
€ 100,000 / $ 106,000
Sold:

€ 113,460 / $ 120,267
(incl. 22% surcharge)
You might also be interested in
Diego Giacometti - lots sold by Ketterer Kunst