Sale: 360 / Modern Art, Dec. 12. 2009 in Munich

Lot 123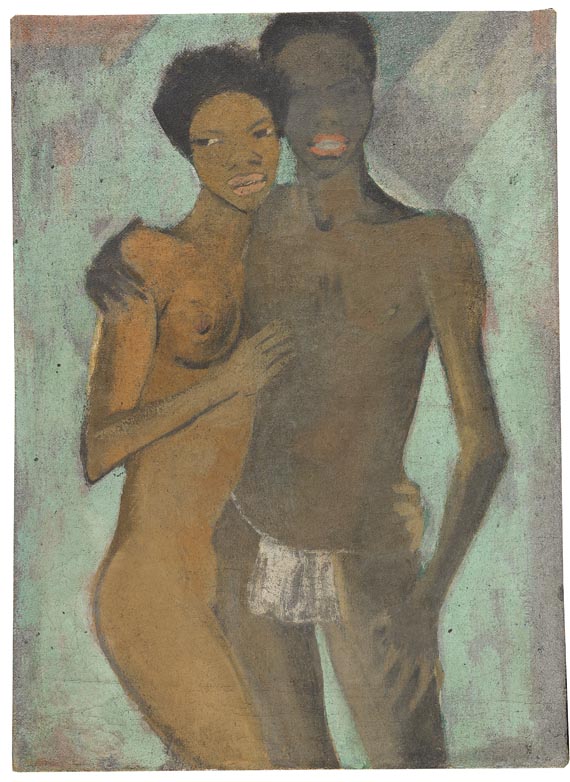 123
Artistenpaar, 1910.
Glue-bound distemper on burlap
Estimate:
€ 600,000 / $ 636,000
Sold:

€ 780,000 / $ 826,800
(incl. 20% surcharge)

Glue-bound distemper on burlap
Von Lüttichau 692. 120,5 x 87,3 cm (47,4 x 34,3 in)
Only two other paintings by Otto Mueller that originate from his important time with the 'Brücke' from 1920 to 1912 have been offered on the international auction market over the past 24 years (source: Artnet).

PROVENANCE: Estate Otto Mueller.
Josef Mueller-Herbig, Karlsruhe/Lubeck.
Galerie Günther Franke, Munich, 1969.
Private collection Ernesto Blohm, Caracas.
Private collection South Germany.

EXHIBITION: Otto Mueller. Eine Retrospektive, Kunsthalle der Hypo-Kulturstiftung, Munich, 21 March - 22 June 2003/Museum Folkwang Essen, 4 July - 28 September 2003, with plate in colors 162.
Deutsche Expressionisten mit Meisterwerken aus der Sammlung Thyssen-Bornemisza, Leopold Museum, Vienna, 28 September 2006 - 10 January 2007 (with fullpage illu. in colors p. 115).

LITERATURE: Erich Heckel, Liste des Künstlerischen Nachlasses von Otto Mueller.

Born on in Liebau in the Giant Mountains in 1874, Otto Mueller spent his early years with his mother, brothers and sisters at his grandparents' Liebau estate. In 1882 he moved away to join his father in Görlitz, where he attended primary and higher secondary school. Between 1890 and 1892 he trained in lithography in Görlitz and Breslau. From 1894 until presumably 1897, Mueller studied at the Dresden Art Academy under Georg Hermann Freye and briefly under Carl Ludwig Noah Bantzer. In 1898/99 Mueller and his friend Paul Kother went to Munich to study. Although Gerhart Hauptmann interceded on Mueller's behalf, he was not taken on as pupil by Franz von Stuck in winter term since the class was already full. Stuck advised him to try again for the summer term, but Mueller preferred to educate himself and moved to Wolfratshausen, south of Munich. In autumn 1899 he set out by bicycle for Dresden. He worked mainly there and in the surrounding region until 1908, when he moved to Berlin.

Our expressive nude, dated 1910/11, was made during the most important and decisive period of Otto Mueller's artistic creation. In 1910 Mueller becomes acquainted with the founding members of the 'Brücke' and was accepted as a new member. A close co-operation with his 'Brücke' colleagues Ernst Ludwig Kirchner, Erich Heckel, Hermann Max Pechstein and Karl Schmidt-Rottluff. Unfolds in the following time. By working together on the Baltic Sea coast and the Moritzburg Lakes, as well as by exhibiting their works together and collective journeys, it is particularly the friendship between Mueller and Kirchner that consolidated. A friendship that even outlived the early end of the ''Brücke" community in early 1913.
This painting shows a black couple that is nestled together. The intimate contact and their protective gestures let the observer assume that there is a close intimacy between the two of them. The upright posture and the provocative looks emanate both temper and self confidence. Regarding the time the work was made, the depiction of black can generally be considered a sensation, which went far beyond the limits of the audience's common viewing habits. Unlike his artist friends Kirchner and Heckel, who were also occupied with black models, Otto Mueller avoided any kind of spatial reference and shows the nudes in an unusual immediacy lacking the distance of an executed image space. This outstanding work from Otto Mueller's days with the 'Brücke' is a clear example of his mastery in nude depictions that was unmatched by his contemporaries and that also had strong impact on other members of the 'Brücke.

After spending two years in war, from 1916 to 1918, he was appointed professor at the Breslau academy where he continued to teach until his death in 1930.NB].


123
Artistenpaar, 1910.
Glue-bound distemper on burlap
Estimate:
€ 600,000 / $ 636,000
Sold:

€ 780,000 / $ 826,800
(incl. 20% surcharge)
More offers for Otto Mueller
You might also be interested in
Otto Mueller - lots sold by Ketterer Kunst