Sale: 360 / Modern Art, Dec. 12. 2009 in Munich

Lot 133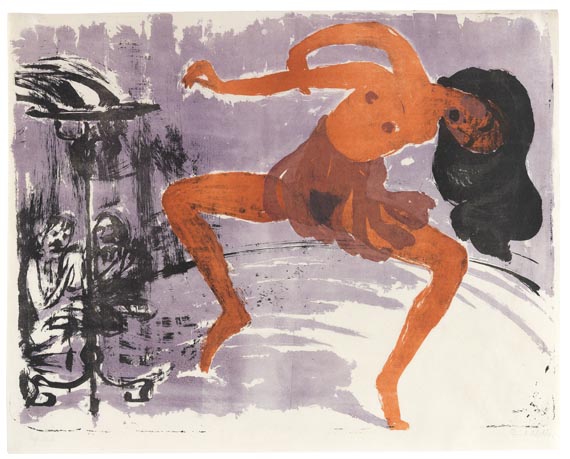 133
Tänzerin, 1913.
Lithograph in colours
Estimate:
€ 100,000 / $ 100,000
Sold:

€ 292,800 / $ 292.800
(incl. 22% surcharge)

Lithograph in colors
Schiefler/Mosel L 56. Signed and numbered "Aufl. Nr. 6" by a hand other than that of the artist. Copy no. 6 (of an edition of 35 in five colors). Excellent and fresh impression on delicate Japon 53 x 69,4 cm (20,8 x 27,3 in). Sheet: 56 x 70,5 cm (22 x 27,8 in)
Please note the provenance.

PROVENANCE: Collection Bernhard Sprengel, since the late 1920s.
Private collection Lower Saxony
Private collection South Germany.

Emil Hansen was born near the German-Danish border on 7 August 1867. He adopted the name of his birth town as his artist name at a later date. Nolde completed an apprenticeship as a furniture designer and wood carver in Flensburg between 1884 and 1888 and then worked for various furniture factories in Munich, Karlsruhe and Berlin. Nolde finally moved to Munich after deciding to become a painter, but the academy under Franz von Stuck dismissed him. He joined Adolf Hölzel's private art school in Dachau in 1899 and went to Paris in 1900 to increase his knowledge at the Académie Julien. In 1900 he rented a studio in Copenhagen and moved to the island of Alsen in 1903. Nolde studied the Neo-Impressionists Vincent van Gogh, Edvard Munch and James Ensor, which, around 1905, gradually led him away from his early Romantic Naturalism and to the discovery of his own style with a strong emphasis on color, colorful and glowing flower pictures came into existence. During a sojourn in Alsen in 1906 Nolde met the painters of 'Die Brücke', a group he joined briefly. After a dispute with Max Liebermann, Nolde was excluded from the 'Berlin Secession' and founded together with other dismissed artists the 'New Secession' in 1910 and participated in their exhibition until 1912. Less fascinated by the city-life of Berlin, which he recorded in expressionistic pictures, than by primitivism, Nolde painted still lives with exotic figures and mask pictures. He returned from an expedition to New Guinea in 1913 with lots of study material, which he worked up in numerous works until 1915.

Emil Nolde rendered homage to dance as one of the few forms of expression that entirely succumb to spontaneous emotions. As early as in 1909 he painted "Wild tanzende Kinder" (Wildly Dancing Children ), a year later he made the vibrant "Tanz um das Goldene Kalb" (Dance Around the Golden Calf ). In his painting "Kerzentänzerinnen" (Candle Dancers ) from 1912 the ecstatic moment becomes particularly obvious, a feature that can also be observed in the lithograph in colors "Tänzerin" (Dancer ).
Nolde, who actually had a rather shy Nordic character, regarded dance not in the classical sense as a perfection of control of the body, but felt more attracted by the archaic-primal form of expression. His dancers are not from this world. They embody a state of transition to a sphere of the transcendental, which excludes all human ratio. Nolde's "Tänzerin" belongs to the most liberal figure pictures of his graphic oeuvre. Additionally, the erotic element, which is notably addressed in the lithograph in colors, is an important component that Nolde deliberately brought into play. Even before he had embarked on his extensive journey to the South Seas in from 1913 to 1915, he had, following a trend in those days, been interested in the culture of the natives. This interest, without any doubt, shows a clear influence in this work. Nolde created his most beautiful lithographs during an only eight week long cooperation with the lithography studio Westphalen in Flensburg. These works count among the most important accomplishments of expressionist graphic art. Being the last of those sheet, the "Tänzerin" is commonly regarded as the highlight.

Since 1916, he spent his summers on the island Föhr and settled in Seebüll in 1928. In his last years, primarily watercolors with flower and landscape motifs from the neighborhood of his house in Seebüll, where Nolde died on 13 April 1956, came into existence. [KD].


133
Tänzerin, 1913.
Lithograph in colours
Estimate:
€ 100,000 / $ 100,000
Sold:

€ 292,800 / $ 292.800
(incl. 22% surcharge)
You might also be interested in
Emil Nolde - lots sold by Ketterer Kunst