Sale: 368 / Modern Art, June 12. 2010 in Munich

Lot 12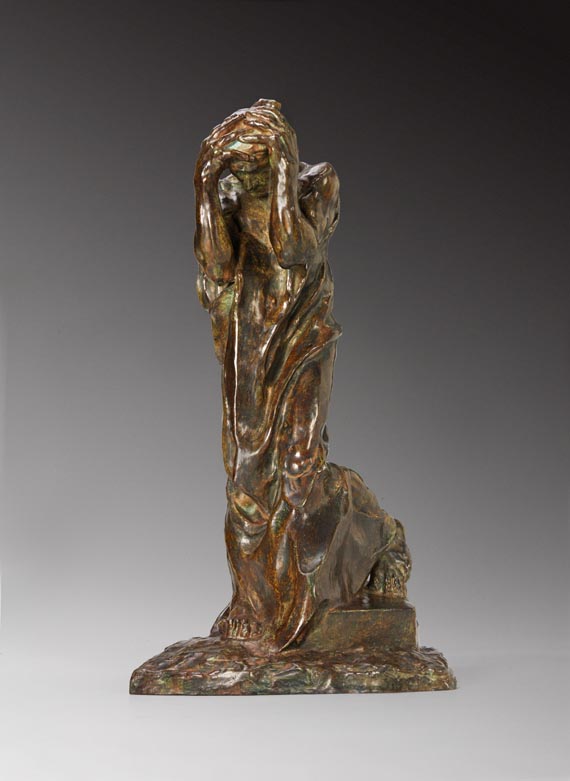 12
Andrieu d'Andres (Les bourgeois de Calais), 1895.
Bronze
Estimate:
€ 70,000 / $ 73,500
Sold:

€ 189,100 / $ 198,555
(incl. 22% surcharge)

Bronze with red brown patina
With name on base and on underside, rear of base inscribed "Alexis Rudier, Fondeur, Paris". 42,5 x 21,5 x 19 cm (16,7 x 8,4 x 7,4 in)
The diminuished form was presumably made around 1900. Cast, presumably posthumous, by Alexis Rudier, Paris.

PROVENANCE: Private collection Germany.

LITERATURE: John L. Tancock, The sculpture of Auguste Rodin, Philadelphia 1976, no. 67-69-13, p. 390 (other copy).

Rodin discovered his interest in sculpting during a three-year training at the Petite Ecole, actually a training school for craftsmen, which he began in 1854. He applied at the Grande Ecole, but failed the entrance examination three times. As a classical education was not possible, he began working as a decorator in order to survive as an independent artist. His public success as a sculptor only came towards the end of the 1880s, when an exhibition of 36 works in 1889 finally had the deserved positive response. Before then, until the 1870s, Rodin worked as an architectural sculptor in Brussels and later at the manufacture in Sèvres. The following decade brought state commissions for the 'Hell's Gate', the 'Burghers of Calais', the monument for Victor Hugo and the large marble version of the sculpture 'The Kiss'. In 1883 Rodin met Camille Claudel, who became his assistant, his model and his lover for the next 15 years. He continued his relationship with Rose Beuret, whom he had met in 1864 and who stayed his partner until their marriage in 1917.

In 1884 the city of Calais decide to set up a monument for its heroic citizen Eustache de St. Pierre. It was for this patrician's commitment that the people of Calais were saved from starvation. The town was besieged for eleven months in 1146-47 by English troops under King Edward III. The king asked for an unusual form of capitulation, he wanted six patricians dressed in sackcloth to hand him the city's key. One of the city's richest citizens, Eustache de St. Pierre, was the first who showed his willingness to bring this sacrifice, which would mean death but also the city's salvation. Five other citizens soon followed him , among them Andrieu d'Andres. When Rodin applied for this commission, he right away had ideas for all six citizens in mind. He made several models for the individual figures, it was just our person, the 'doubter' with his hands in front of his head, that was not altered. Rodin was convinced by the figure from the first model on. The artist loved the dramatic gestures as well as the use of forms. It is for these reasons that contemporaries regarded Rodin as an interpreter of plastic Impressionism. His will to express an enhanced pathos and a dramatic meaning can be well observed with the figure of Andrieu d'Andres.

The 1890s began with the commission for a monument of Balzac. While working on this object, Rodin developed a sculpture which was supposed to reflect the poet's inner spiritual life. Rilke became Rodin's secretary in 1905, but was dismissed again in 1906. 'The Thinker' was erected in front of the Pantheon the same year. The most important source of Rodin's art theory, 'L'Art' was published in 1911. The Musée Rodin was constituted at the Hôtel Biron in 1916, one year before Rodin's death, after the artist had donated his works to the state. Rodin died in Meudon on 17 November at 4 in the morning. [SM].


12
Andrieu d'Andres (Les bourgeois de Calais), 1895.
Bronze
Estimate:
€ 70,000 / $ 73,500
Sold:

€ 189,100 / $ 198,555
(incl. 22% surcharge)
You might also be interested in
Auguste Rodin - lots sold by Ketterer Kunst