Sale: 375 / Post War / Contemporary Art, Dec. 04. 2010 in Munich

Lot 208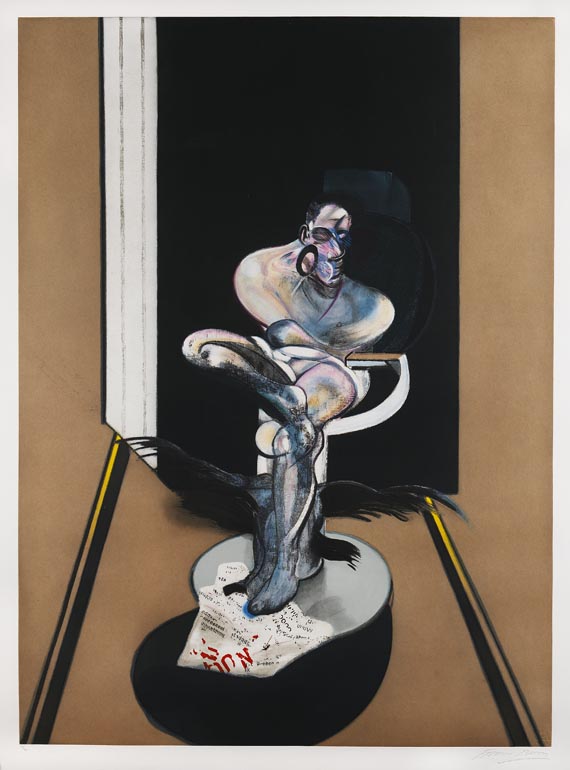 208
Seated Figure, 1977.
Etching and aquatint
Estimate:
€ 18,000 / $ 19,800
Sold:

€ 25,000 / $ 27,500
(incl. 25% surcharge)
Etching and aquatint in colors
Numbered 58/90. With embossed name and the blindstamp of the Francis Bacon Estate. On wove paper. 133,7 x 98 cm (52,6 x 38,5 in)Sheet: 162,5 x 120 cm (63,9 x 47,2 in).
Printed by the Stamperia d'arte Vigna Antoniniana (with blindstamp).

The English painter Francis Bacon was born in Dublin on October 28, 1909. He belongs to the most important representational painters of the 20th century. As an artist, Bacon was an autodidact. In the year 1925, he moved to London. Later he lived briefly in Berlin and Paris. He began to draw and paint watercolors and earned his living as an interior designer. The Picasso exhibit in the Paul Rosenberg Gallery awakened Bacon's interest in painting. In addition, he visited the exhibits of Fernand Léger (1881 - 1955), Joan Miro (1893 - 1983), Max Ernst (1891 - 1976) and Giorgio de Chirico (1888 – 1978). In 1928, he moved to London and took up residence in a garage that had been converted into a studio. Beginning in 1930, Bacon worked with painting. He created autodidactic oil paintings in which he dealt with cubism and surrealism. It is only Roy de Maistre (1894 - 1968) who instructed him in how to work with oil colors. After his exhibits failed to find any resonance, he returned to his work as a furniture designer. For the most part he earned his living in the 1930's by taking on different odd jobs. Because of his lack of success, he was discouraged, painted less, and allowed his passion for gambling to gain the upper hand. In 1936, Bacon wanted to show some of his earlier works at an international surrealist exhibition in the New Burlington Galleries. His participation, however, was declined with the explanation that his work was not sufficiently surrealistic. In 1941, the artist was called up for civil defense service. When he returned to London at the end of 1942, he destroyed almost all of the works he had created up to that point. Not until 1944 did Bacon turn once again to painting. The triptych "Three Studies for Figures at the Base of a Crucifixion" (1944) appeared, which used a theme that would figure in the rest of his work, crucifixion. The artist himself placed this work at the beginning of his artistic development. Eric Hall's purchase of the picture meant Bacon's first success. In 1946, he moved to Monte Carlo and devoted himself here to his love of gambling. In the same year, his "Painting 1946" appeared, a key picture in Bacon's oeuvre. Beginning in 1950, he was in London again for a longer period, and for a short time he taught at the London Royal College of Art. From 1951 to 1965, a series of papal pictures appeared based on the subject of Pope Innocent X. With Lucian Freund (*1922) and Ben Nicholson (1894 - 1982), he designed the British Pavilion in 1954 at the 27th Biennale in Venice. In 1955, the first retrospective of Bacon took place in London; many others followed. In the next years, numerous solo exhibitions of his works occurred in Italy, England, France, and the United States. In the years 1959, 1964, 1977 and 1992, the artist participated in the documenta in Kassel. After the death of his life partner Peter Lacy in 1962, he began a relationship with George Dyer. [SM].


208
Seated Figure, 1977.
Etching and aquatint
Estimate:
€ 18,000 / $ 19,800
Sold:

€ 25,000 / $ 27,500
(incl. 25% surcharge)
You might also be interested in
Francis Bacon - lots sold by Ketterer Kunst