Sale: 280 / XXth Century Classics and Munich School, June 06. 2003

Lot 37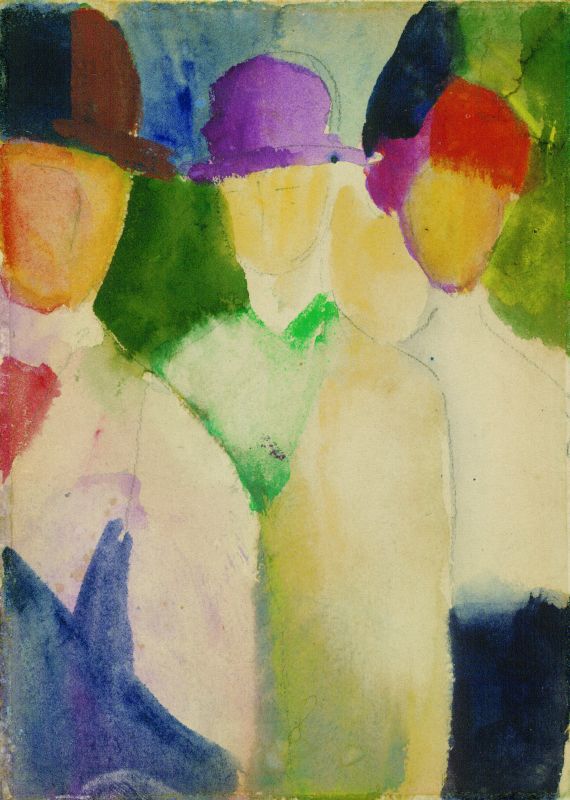 37
Zwei Männer mit Frau (klein), 1913.
Watercolour
Estimate:
€ 150,000 / $ 157,500
Sold:

€ 276,000 / $ 289,800
(incl. 15% surcharge)
Zwei Männer mit Frau (klein)
Aquarell über Bleistift, 1913
Vriesen 297, Heiderich Aquarelle 393. Verso bezeichnet "2 Männer mit Frau". Auf dem Passepartout verso mit dem Nachlassstempel sowie hs. mit der Nachlassnummer "91" und der Bezeichnung "August Macke, Aquarelle aus der Schweiz 1913, Zwei Männer mit Frau (klein)" versehen. Auf Aquarellbütten 17,8 x 12,7 cm ( 7 x 5 in), blattgroß.
Das Motiv wurde mehrfach in andere Kompositionen einbezogen, so in das 1913 datierte Aquarell "Mit gelber Jacke" (H. Aquarelle 394) und die im gleichen Jahr entstandene Kreidezeichnung "Promenade" (H. Zeichnungen 2099).
PROVENIENZ: Von Kiemannsegg, Essen, 1922/23.
Walter Schüler, Berlin, 1948.
Privatsammlung Berlin.
Galerie Pels-Leusden, Berlin, 1977/78.
Privatsammlung Süddeutschland.
Ausstellung: Gedächtnis-Ausstellung August Macke, Ausst.Kat. Kunstverein Frankfurt/M. 1920, Kat.Nr. 16.
Gedächtnis-Ausstellung August Macke, Ausst.Kat. Museum Wiesbaden, Nassauischer Kunstverein/Wiesbadener Gesellschaft für bildende Kunst, Wiesbaden 1920, Kat.Nr. 16.
Macke, Aquarell-Ausstellung, Städtisches Kunsthaus Bielefeld 1957, Kat.Nr. 297 (Abb. S. 37).
Franz Marc - August Macke, Ausst.Kat. Galerie Pels-Leusden, Berlin 1977/78, Kat.Nr. 93.
LITERATUR: Wolfgang Macke, August Macke - Aquarelle, München 1958, Nr. 1 (mit Farbabb.).
Janice Mary McCullagh, August Macke and the Vision of Paradise: An Iconographic Analysis, Diss. Austin (Texas) 1980, S. 143, Abb. 118, S. 261.
Janice Mary McGullagh, The Element of Time in August Macke's Urban Paradise, in: Art's Magazine, Heft September, New York 1981, S. 141.
Nach der Zeit des intensiven künstlerischen Austausches im Kreis des "Blauen Reiter" grenzt sich August Macke zunehmend in seiner Kunstauffassung von Marc und Kandinsky ab und beabsichtigt einen Neuanfang in Ruhe und Besinnung. So sucht er im Anschluss an eine arbeitsreiche Ausstellungstätigkeit, u.a. mit Organisation und Teilnahme am "Ersten Deutschen Herbstsalon" in Berlin 1913, am Thuner See Abstand vom Berliner Kulturbetrieb. Hier zieht der Künstler das Resümee seines bisherigen Schaffens und gelangt so zu einem neuen Aufbruch. Die Gegenwart seiner Familie, die Zeit mit Freunden und die Nähe zur Natur machen den Aufenthalt in Hilterfingen zu einer besonders glücklich empfundenen Periode im Leben Mackes. Es ist die richtige Umgebung, um seinem gewachsenen Selbstverständnis als Maler entsprechend "die Welt anzustaunen mit all ihren Schönheiten." (Heiderich Aquarelle, S. 35). In der Hilterfinger Zeit blüht die Aquarellkunst Mackes auf. Hier verarbeitet er spontan die neuartigen Landschafts- und Architekturmotive in charakteristischen Abfolgen von zeichnerischer Skizze über das Aquarell und variiert in geradezu serieller Entwicklung seine Bilderfindungen. Zu diesen "Werk-Familien" zählen auch weiterhin die immer wieder neu kombinierten Motive von Spaziergängern im Freien, von Passanten auf der Straße und Betrachtern von Schaufenstern. Beeinflusst vom Naturvorbild und mit großer Schaffenskraft werden Formen und Farben in den Aquarellen dieser Zeit fortentwickelt. Eine "große, ungebrochene Lebensliebe strahlt aus den Kunstwerken zurück, sie blieb während der kurzen Lebenszeit des Künstlers unbeschädigt, und sie bleibt lebendig, solange diese Kunstwerke existieren." (Heiderich, S. 35). [AS]
37
Zwei Männer mit Frau (klein), 1913.
Watercolour
Estimate:
€ 150,000 / $ 157,500
Sold:

€ 276,000 / $ 289,800
(incl. 15% surcharge)
More offers for August Macke
You might also be interested in
August Macke - lots sold by Ketterer Kunst