Sale: 381 / Post War / Contemporary Art, June 04. 2011 in Munich

Lot 218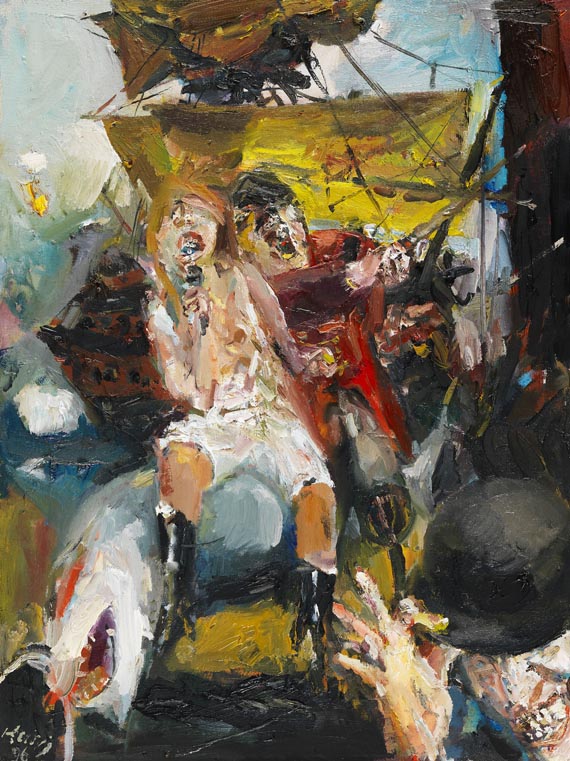 218
Die Seeräuberjenny, 1996.
Oil on canvas
Estimate:
€ 20,000 / $ 20,000
Sold:

€ 35,380 / $ 35.380
(incl. 22% surcharge)
Oil on canvas
Signed and dated lower left. 80 x 60 cm (31,4 x 23,6 in)

PROVENANCE: Private collection Southern Germany.

Bernhard Heisig was born the son of a painter in Breslau in 1925, in 1941, following first art lessons taken with his father, he began to study commercial art at the Breslau Master School. However, a little later he decided to volunteer in World War II. In 1945 he was relased disabled from Russian war captivity. Finally, in 1948, he continued his studies at the Leipzig School of Arts and Crafts and one year later at the Leipzig Academy of Graphic Art and Book Art. In 1961 he was appointed professor at this school. A few years later he was awarded the gold medal at the International Book Art Exhibition in Leipzig for his illustrations of Berthold Brecht's " Mother Courage and Her Children". In 1973 the artist had his first big one-man show in the 'Gemäldegalerie Neuer Meister', Dresden, and in the 'Museum der bildenden Künste', Leipzig. Four years later Heising was one of the few GDR artists top participate in the "documenta 6" in Kassel. In the following West German museums acquired works by Bernhard Heising. In 1989 the 'Berlinische Galerie' and the Martin-Gropius-Bau, Berlin, organized a first comprehensive Bernhard Heisig retrospective, which was also shown in the 'Rheinische Landesmuseum, Bonn, as well as in the 'Bayrische Staatsgemäldesammlungen' and in the Munich 'Haus der Kunst'.

The figure Pirate Jenny from Berthold Brecht's Threepenny Opera is one of the main motifs in the work of Heisig. She was first depicted in the painting "Neues vom Turmbau" from 1977. Several versions of this socio-critical theme were made over the following years, of which one is in possession of the Sprengel Museum in Hanover. Heisig also titled them "Traum eines Küchenmädchens" (A Scullery-Maid's Dream) at a later point. In Brecht's Threepenny Opera, which premiered in Berlin in 1928 and was one of the most successful German plays of the 20\up5 th century, the scullery-maid in the ballad of "Pirate Jenny" dreams of being a pirate, in order to be able to be the judge of a society, whose victim she is:
By noontime the dock Is a-swarmin' with men / Comin' out from the ghostly freighter / They move in the shadows / Where no one can see/And they're chainin' up people / And they're bringin' em to me / Askin' me, "Kill them NOW, or LATER?" /
Askin' ME!" Kill them now, or later?" / Noon by the clock / And so still at the dock / You can hear a foghorn miles away / And in that quiet of death /
I'll say, "Right now. Right now!".
From the snarl of colors, applied in an easy stroke of the brush, Heisig lets the lascivously triumphant maid rise with a wide open red mouth in a terrifying immediacy.

A large retrospective was shown on occasion of his 80\up5 th birthday in Leipzig, Berlin, Düsseldorf and his birthtown Wroclaw. Bernhard Heisig, along with Werner Tübke and Wolfgang Mattheuer, counts among the protagonists of the Leipzig School and the most important representatives of GDR art. [JS].


218
Die Seeräuberjenny, 1996.
Oil on canvas
Estimate:
€ 20,000 / $ 20,000
Sold:

€ 35,380 / $ 35.380
(incl. 22% surcharge)
You might also be interested in
Bernhard Heisig - lots sold by Ketterer Kunst