Sale: 380 / Modern Art, June 04. 2011 in Munich

Lot 90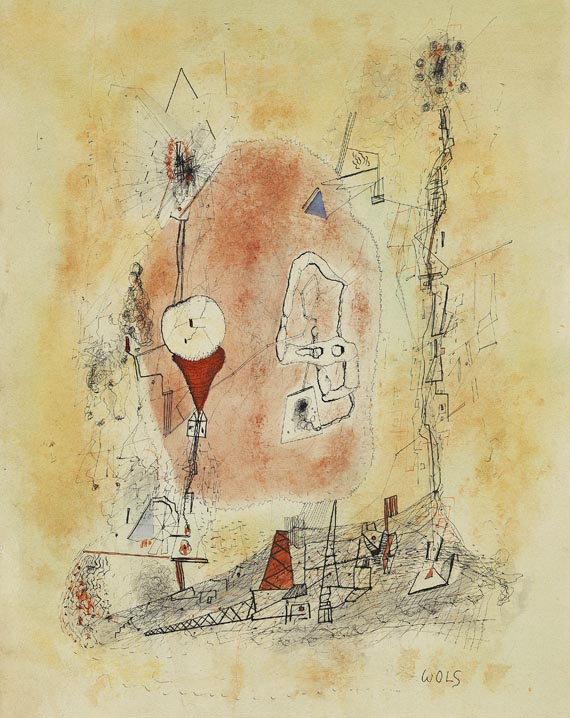 90
Wols (d.i. Wolfgang Schulze)
Constructions hazardeuses, 1940.
Pen and India ink drawing
Estimate:
€ 30,000 / $ 33,000
Sold:

€ 51,240 / $ 56,364
(incl. 22% surcharge)
Pen and India ink drawing and watercolor
Signed lower right. Titled on verso by a hand other than that of the artist. On firm gray green laid paper. 34 x 26,7 cm (13,3 x 10,5 in), size of sheet

Accompanied by a photo expertise from Dr. Ewald Rathke, Frankfurt am Main, dated 7 November 1986.

PROVENANCE: Worthington Gallery, Chicago.
Private collection.

EXHIBITION: Wols. Gouaches et aquarelles surréalistes, Galerie Bonnier, Geneva, 11 November - 5 December 1971, cat. no. 29.
Wols. Gouaches et aquarelles surréalistes, Galerie Kornfeld, Zurich, 6 February - 3 March 1973, cat. no. 23.

Wols - born as Alfred Otto Wolfgang Schulze in Paris in 1913 - is considered one of the most important modern artists. Wols moved to Dresden with his family in 1919, where he discovered his lively interest in painting in 1927. He was impressed above all by Paul Klee, Otto Dix and George Grosz. The artist began an apprenticeship as a photographer in 1930 and attended classes at the Reiman-Schule, the Berlin school of applied arts. Moholy-Nagy advised Wols, who had applied at the Bauhaus, to go to Paris. Here he painted and worked as a portrait photographer and a German teacher. He was given his first large commission as a photographer in 1937 at the Paris World Exhibition. At the outbreak of the war Wols was sent to an internment camp near Aix-en-Provence. He managed to flee in 1940 and hid in Cassis near Marseilles.

As of 1939/40 the most productive period in the creation of Wols began, a period that would last on almost uninterruptedly until his death. In this time the artist made bizarre-fanciful drawings and watercolors in a delicate coloring. Dr. Ewald Rathke wrote in his photo expertise for this work: "The sheet carries the typical stylistic features of works by Wols made in the first months of the year 1940. The details echo the forms of Tanguy. The spatial development also hints at this source of inspiration that Wols received from Tanguy. On the other hand, the drawings non-representational elements show the characteristics of Wols' style of those days." In these works a subtle network of lines is spread out over the watercolor ground, painting and drawing synthesize. Negative feelings such as anxiety and disgust are expressed by leitmotifs that call reminiscence of physical extremities, insects, plants, mazy cities and rigging. However, there is always a poetic abstraction and a grim sense of humor. Jean-Paul Sartre characterized them strikingly: "They are scary and yet beautiful." (Translation of quote after: Klaus Weber, introduction, in: Wols 1913 - 1951. Aquarelle, Druckgraphik, ex. cat. Staatliche Kunstsammlungen Kassel, 1985, p. 10).

He had to flee from the Germans in 1942 and went to Montélimar. After his return to Paris he had his first exhibition of water-colors in 1945 at the Galerie Drouin, which was not very successful, however. A second exhibition in the same gallery two years later, on the other hand, was a sensational success. His encounter with J.-P. Sartre and S. de Beauvoir awakened a lively interest in Existentialist philosophy which is also reflected in Wols' artistic work. As a precursor of the Informel and one of the main artists of Tachisme Wols produced a rich oeuvre he refers to as 'Zirkus Wols', which was initially inspired by the Surrealist psychic Automatism. The different aspects in his work seem to continually inspire one another. Wols occupied himself not only with painting and graphic art but also with photography. His musical and literary talents are also reflected in his art. His painted work contains figurative elements as well as free improvisations and abstract elements. Spontaneity and immediateness determine the creative work of Wols, who never underwent any formal artistic training. Randomness plays an important role in his unstructured compositions. In later years Wols was particularly interested in the combination of powerful brushstrokes with a relief-like painted surface structure. After his death in 1951 works by Wols were shown at the Kassel documenta II - III between 1955 and 1964. [NB].


90
Wols (d.i. Wolfgang Schulze)
Constructions hazardeuses, 1940.
Pen and India ink drawing
Estimate:
€ 30,000 / $ 33,000
Sold:

€ 51,240 / $ 56,364
(incl. 22% surcharge)
You might also be interested in
Wols (d.i. Wolfgang Schulze) - lots sold by Ketterer Kunst