Sale: 380 / Modern Art, June 04. 2011 in Munich

Lot 7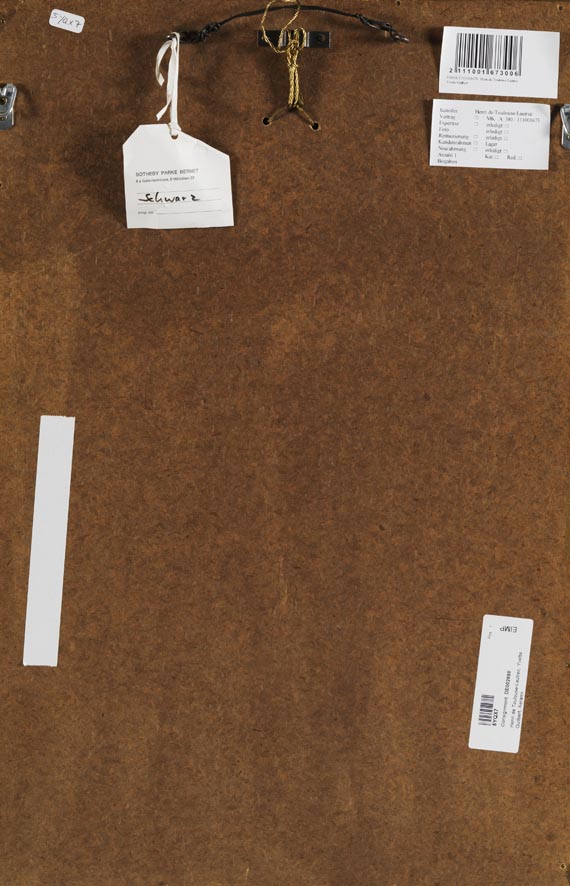 Back side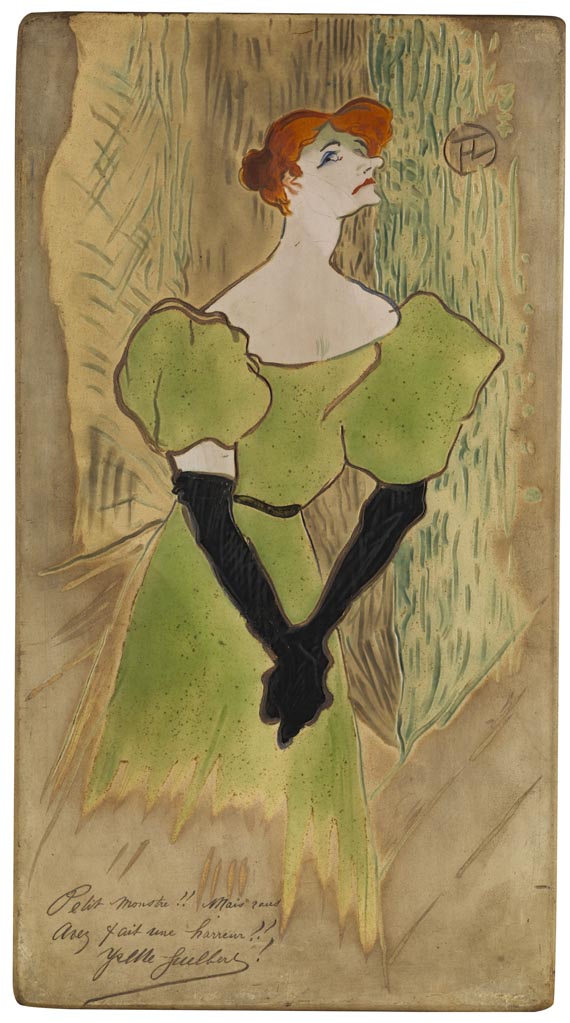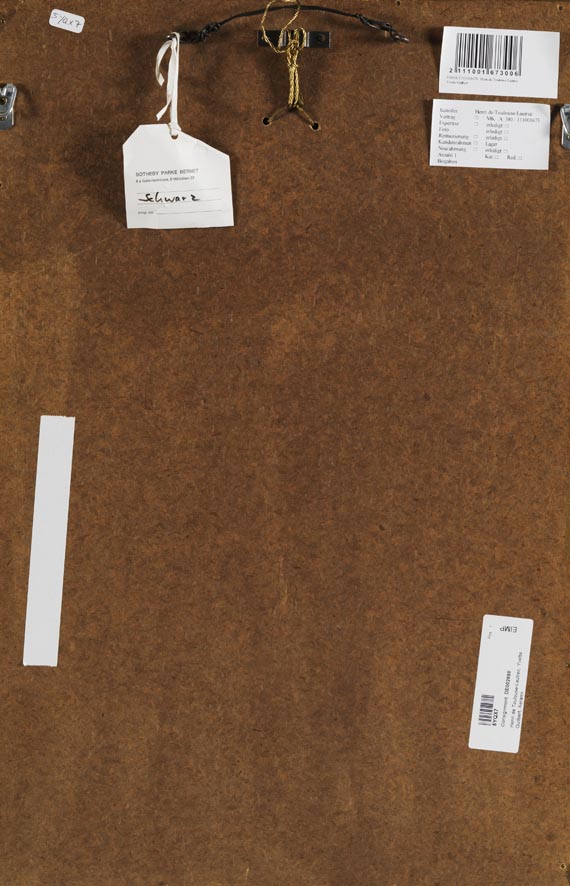 7
Henri de Toulouse-Lautrec
Yvette Guilbert, 1895.
terracotta
Estimate:
€ 30,000 / $ 29,700
Sold:

€ 51,240 / $ 50,727
(incl. 22% surcharge)
terracottaplate, painted and glazed
With artist's monogram as well as scratched inscription "Petit monstre!! Mais vous avez fait une horreur!! Yvette Guilbert" in the plate. One of 12 copies, all of which painted by hand and thus slightly differing from one another. 51 x 28 x 2 cm (20 x 11 x 0,7 in)
With embossing stamp "Emile Muller" on underside.

PROVENANCE: Collection Erik Charell.
Private collection Southern Germany.

LITERATURE: Gustave Coquiot, Lautrec, Paris 1913 (with illu. p. 131, other copy).
Théodore Duret, Lautrec, Paris 1920 (with illu., different copy).
Maurice Joyant, Henri de Toulouse-Lautrec, Paris 1927, vol. II, p. 47 and 208 (with illu., different copy).
Art Digest, July 1935 (with illu. pp. 9/10, different copy).
Gerstle Mack, Toulouse-Lautrec, New York 1938, pp. 200f.
M.G. Dortu, Toulouse-Lautrec, Paris 1952 (illu. 34, different copy).
Douglas Cooper, Toulouse-Lautrec, London 1955 (with ill. p 30, different copy).
Henri Perruchot, La vie de Toulouse-Lautrec, Paris 1958, p. 244.
M.G. Dortu, Toulouse-Lautrec et son œuvre, vol. III, New York 1971, p. 534, no. C.1 (with illu. p. 535, different copy).

Henri de Toulouse-Lautrec was a member of one of the oldest noble families in France. He was brought up by his mother who took Henri to Paris at the age of four. Two broken legs in a short period of time in 1878 and 1879 never healed properly and his lower extremities stopped growing. Toulouse-Lautrec's drawing talents were recognized and encouraged at an early age. The painter René Princeteau, a family friend, recommended the boy to Léon Bonnat, from whom Henri moved on to Cormon in 1884. He left Cormon one year later to continue training on his own. Toulouse-Lautrec was inspired by Degas and Japanese woodcuts, in which areas of color are a decisive structural element. Toulouse-Lautrec developed a similar formal way of expression which led to his characteristic artistic style. His motifs were inspired by the colorful world of Montmartre with its typical institutions like the famous Moulin-Rouge. Toulouse-Lautrec loved this milieu and was able to capture it better than any other. He never ceased sketching scenes which he then elaborated in his works in different techniques. His most favorite technique, however, was the lithograph, which he discovered in the early 1890s and soon mastered. He was immensely productive. When Toulouse-Lautrec organized an exhibition of around 30 paintings at the art dealer Goupil in February 1893, he was much appraised by Degas, whom he himself admired so much.

This work was commissioned by Yvette Guilbert (1867-1944), a popular French singer and actress, who ordered the ceramic as a table plate from Toulouse-Lautrec in 1895. She made the humorous commentary on the plate. Yvette Guilbert was often portrayed by Toulouse-Lautrec.

His health began deteriorating in 1897 as a result of the irregular nightly activities and alcoholism. His physical and psychological health was soon so bad that he had to spend several months in a hospital in St.-James near Neuilly in 1899. He never really recovered and his ailments had a considerable effect on his productivity. The artist left Paris towards Malromé Palace in 1901, where he died in the same year at the age of 37. [KD].


7
Henri de Toulouse-Lautrec
Yvette Guilbert, 1895.
terracotta
Estimate:
€ 30,000 / $ 29,700
Sold:

€ 51,240 / $ 50,727
(incl. 22% surcharge)
You might also be interested in
Henri de Toulouse-Lautrec - lots sold by Ketterer Kunst