Sale: 380 / Modern Art, June 04. 2011 in Munich

Lot 79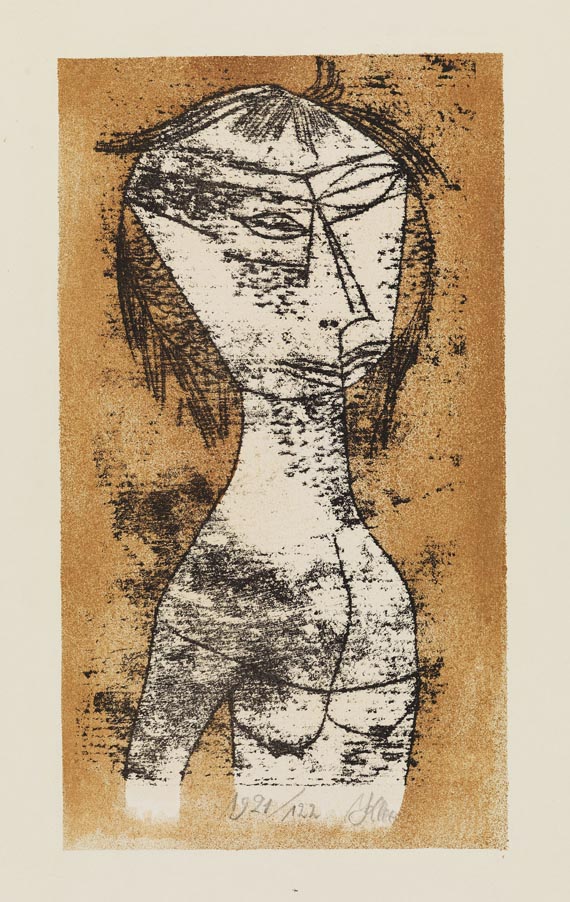 79
Die Heilige vom innern Licht, 1921.
Lithograph in colors
Estimate:
€ 20,000 / $ 24,200
Sold:

€ 30,000 / $ 36.300
(incl. 25% surcharge)
Lot description
Lithograph in colors
Klee 2713. Kornfeld (1963) 81 II c (of II c). Söhn Handbuch der Original-Graphik 101-5. Signed and dated and with work number "122". One of 100 copies. On cardboard-like wove paper. 30,8 x 17,2 cm (12,1 x 6,7 in)Sheet: 38,5 x 26,4 cm (15,2 x 10,4 in).
Sheet 5 from the first Bauhaus portfolio "Bauhaus-Drucke. Neue Europäische Graphik. Erste Mappe. Meister des Staatlichen Bauhauses in Weimar", Potsdam, publishing house Müller & Co., 1921.

The portfolios "Neue Europäische Graphik" doubtlessly belong to the greatest achievements of the Staatliche Bauhaus in Weimar. It was both German and international artists of Modernism who contributed to its creation. The lithograph in colors "Die Heilige vom innern Licht " by Paul Klee belongs among the series' most important sheets by far. The slightly odd title alone points to a phenomenon that can be found in many of Paul Klee's works: Irony. In this case it is presented with caution, however, it makes for the composition's meaning and message. The hovering saint, whose abdomen ends in nothingness, is an allegory for an introvertness that cannot only be found with potential saints. The implied halo seems to be more imagination than reality, with the whole head bound in and the rejection of all worldly pleasures this saint seems to be more of a victim. All of this is presented with a radical stroke of the brush that just curtly outlines the figure. Paul Klee managed to concentrate on what is essential, thus he attained a kind of symbolic alienation with an unmatched stringency of meaning. [KD].


79
Die Heilige vom innern Licht, 1921.
Lithograph in colors
Estimate:
€ 20,000 / $ 24,200
Sold:

€ 30,000 / $ 36.300
(incl. 25% surcharge)
You might also be interested in

Paul Klee - lots sold by Ketterer Kunst