Sale: 386 / Modern Art, Dec. 10. 2011 in Munich

Lot 38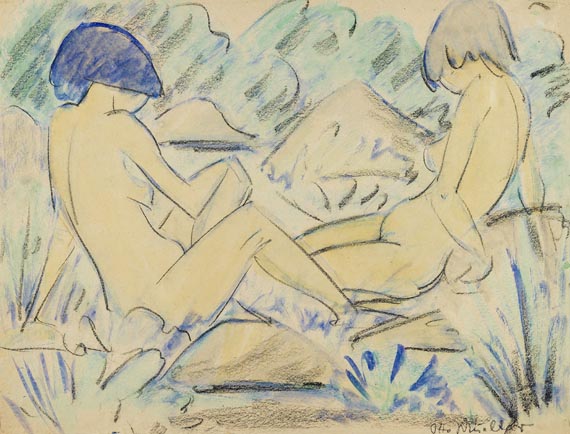 38
Zwei Mädchenakte/ Zwei sitzende Akte, 1926.
Watercolor
Estimate:
€ 80,000 / $ 88,000
Sold:

€ 244,000 / $ 268,400
(incl. 22% surcharge)
Watercolor and drawing with charcoal and blue chalk.
Von Lüttichau 662. Rechts unten signiert. Verso handschriftlich bezeichnet "J.M. 12". On creme laid paper. 52,5 x 68,4 cm (20,6 x 26,9 in), the full sheet.

PROVENANCE: Galerie Alex Vömel, Düsseldorf, 1951.
Private collection North-Rhine Westphalia.

Born on 16 October 1874 in Liebau in the Sudeten Mountains, Otto Mueller spent his early years with his mother, brothers and sisters at his grandparents' Liebau estate. In 1882 he moved away to join his father at Görlitz, where he attended primary and higher secondary school. Between 1890-92 he trained in lithography in Görlitz and Breslau. From 1894 until, it is believed, 1897 Mueller studied at the Dresden Art Academy under Georg Hermann Freye and, briefly, Carl Ludwig Noah Bantzer. In 1898/99 Mueller and his friend Paul Kother went to Munich to study. Although Gerhart Hauptmann interceded on Mueller's behalf, he was not taken on as pupil by Franz von Stuck in winter term since the class was already full although Stuck advised him to try again in for summer term. Preferring to educate himself, Mueller moved to Wolfratshausen, south of Munich. In autumn 1899 he set out by bicycle for Dresden. He worked mainly there and in the surrounding region until 1908, when he moved to Berlin. There he met Wilhelm Lehmbruck and the 'Brücke' painter Erich Heckel. Two years later Mueller met other 'Brücke' artists and joined this artist group in 1910. Mueller's artistic origin lies in Art Nouveau, which explains the decorative and linear aspect of his art. The way he emphasised the silhouette and the classical, elegant and graceful appearance of his figures reveal another important influence: Wilhelm Lehmbruck. Mueller's style underwent a significant change when he turned towards Expressionism. His forms were now broader, the contours more emphasized. Mueller is an important representative of German Expressionism, even though his ideas also differed considerably from those of other leading Expressionists. He focused on a harmonious simplification of form, color and contours rather than on passion. After military service from 1916 to 1918 Mueller followed a call to the Breslau Academy.

Influenced by his colleagues Ernst Ludwig Kirchner and Erich Heckel, who had discovered a new world of plein-air painting with their bathing nudes on the Moritzburg lakes, Otto Mueller interpreted their parameters in an individual and unknown manner. While Kirchner and Heckel visualized the lusty and animalistic in their works, Mueller's bathing nudes emanate slight melancholy that is hard to explain. The surrounding nature is far more dominating than it is the case with Kirchner and Heckel. Otto Mueller's nudes abide in it as if they had been born into it. Mueller did not take pleasure in his colleagues' bold colorfulness, his works, always dominated by a strong pictorial duct, are inspirited by a palette that finds its basic expression in the balance of opposites. Mueller sees man and nature as a whole and visualizes this sensation by means of simple forms.

Otto Mueller remained professor at the Breslau Academy until his death in 1930. [KD].


38
Zwei Mädchenakte/ Zwei sitzende Akte, 1926.
Watercolor
Estimate:
€ 80,000 / $ 88,000
Sold:

€ 244,000 / $ 268,400
(incl. 22% surcharge)
More offers for Otto Mueller
You might also be interested in
Otto Mueller - lots sold by Ketterer Kunst