Sale: 386 / Modern Art, Dec. 10. 2011 in Munich

Lot 79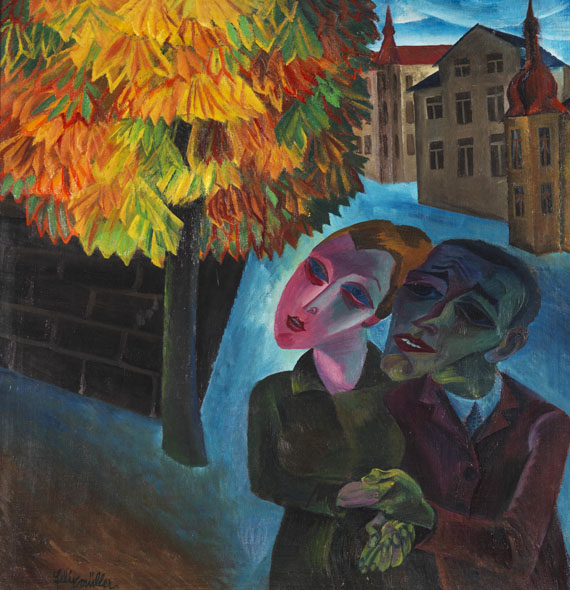 79
Herbst in Klotzsche. Verso: Das eingeschlafene Modell II, 1920.
Oil on canvas
Estimate:
€ 250,000 / $ 247,500
Sold:

€ 610,000 / $ 603,900
(incl. 22% surcharge)
Oil on canvas, with painting on both sides.
Felixmüller 223 (color plate 16, p. 71) and 847 (color plate 93, p. 155). "Herbst in Klotzsche" signed lower left; "Das eingeschlafene Modell" signed and dated lower left. Each ca. 95 x 95 cm (37,4 x 37,4 in).

PROVENANCE: Graetz, Berlin-Grunewald.
1939 with the artist again.
1940 painted on rear.
Collection H.C. von der Gabelentz, Poschwitz near Altenburg.
Private collection Saxony-Anhalt, in family ownership since 1970.

EXHIBITION: Conrad Felixmüller, Kunstsalon Ludwig Schames, Frankfurt/Main 1921, cat. no. 22.
44th exhibition in two sections - Conrad Felixmüller, Kestner Gesellschaft, Hanover/Düsseldorf/Hamburg 1921, cat. no. 214.
Felixmüller-Ausstellung, Graphisches Kabinett J. B. Neumann, Berlin 1921, cat. no. 6.

After attending drawing classes at the Dresden Kunstgewerbeschule [School of Applied Arts] for one year, Felixmüller enrolled in the private school of the artist Ferdinand Dorsch in 1912 and, in the same year, the class of Professor Carl Bantzer at the Königliche Akademie [Royal Academy] in Dresden, where he began his training as a painter. When Felixmüller left the Academy in 1915 he worked as an independent artist in Dresden, but also spent much of his time in Berlin, where he painted in Ludwig Meidner's studio. Here he also worked for Herwarth Walden's journal 'Der Sturm' as a graphic designer. Together with the book seller Felix Stiemer the artist founded the art and literature journal 'MENSCHEN' in 1917. He was responsible for the graphic design of this journal. He had exhibitions at Hans Goltz' gallery in Munich and, together with Heckel, Kirchner and Schmidt-Rottluff, at the Galerie Arnold in Dresden. Felixmüller moved to Dresden in 1918. He was a founding and board member of the 'Dresden Sezession' and a member of the 'November Gruppe'. At the same time he worked for various journals (such as 'Die Sichel', Regensburg; 'Rote Erde', Hamburg) and published his own texts, such as his autobiography 'Mein Werden' (Kunstblatt), or his thoughts about 'Künstlerische Gestaltung' [Artistic Design] (Kestnerbuch, Hannover). Felixmüller's early work is strongly influenced by Expressionism which he understood in a socio-critical context and transformed into his own expressive realism. The powerful lines of his woodcuts depict scenes of every-day life.

In "Das eingeschlafene Modell" (The Sleeping Model), a decorative scene in a subtle coloring, Felixm ü ller created a kind of Neorealism that is in line with the general taste of those days. However, the writhing nude is devoid of anything licentious. The then often adjured importance of health prevails. It is just the diagonal that adds a certain tension to the composition, an element of optical seduction. Felixm ü ller asserts his great poise in the depiction of materiality in this work. It adds an optical effect of a certain subtlety to the subject.

There was a change around 1930, evident in increasingly genre-like, narrative subjects and a calmer pictorial language. 40 works by Felixm ü ller were included in the 1933 exhibition of 'Degenerate Art' in Dresden. The artist moved to Berlin-Charlottenburg in 1934, hoping that the working environment would be more liberal here. 151 of his works in public collections were confiscated in 1937. When his Berlin domicile was destroyed by a bomb in 1941 Felixm ü ller sought refuge in Damsdorf in the Mark. He moved to Tautenhain in 1944, but was called-up for military service in the same year. He returned to Tautenhain in 1945 after a brief period as a prisoner-of-war in Russia. He was appointed professor at the Martin-Luther-University in Halle in 1949, teaching drawing and painting in the faculty of education. Felixm ü ller returned to Berlin after his retirement in 1961. Numerous exhibitions have been dedicated to the artist between the end of the war and the artist's death in both parts of Germany as well as in Paris, Rome, Bologna and Florence. [KD].


79
Herbst in Klotzsche. Verso: Das eingeschlafene Modell II, 1920.
Oil on canvas
Estimate:
€ 250,000 / $ 247,500
Sold:

€ 610,000 / $ 603,900
(incl. 22% surcharge)
More offers for Conrad Felixmüller
You might also be interested in
Conrad Felixmüller - lots sold by Ketterer Kunst