Sale: 386 / Modern Art, Dec. 10. 2011 in Munich

Lot 109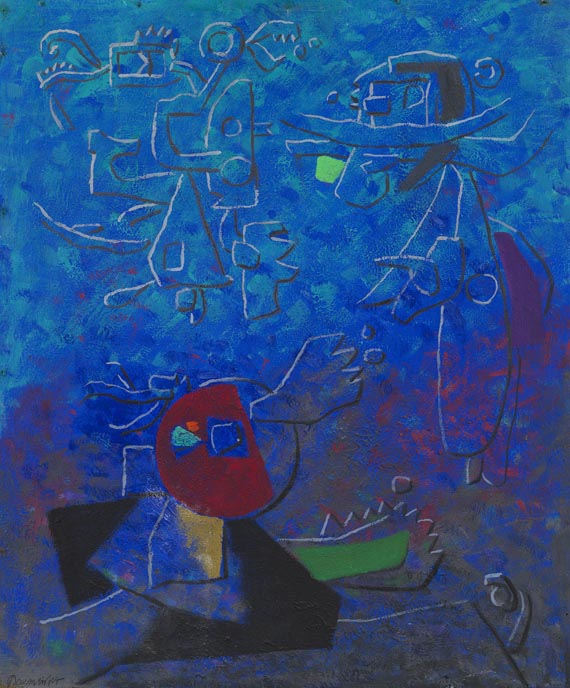 109
Nocturno mit rotem Segment, 1953.
Oil
Estimate:
€ 70,000 / $ 74,200
Sold:

€ 207,400 / $ 219,844
(incl. 22% surcharge)
Oil and synthetic resin on hard fibre board.
Beye/Baumeister 1814. Grohmann 1349 (there with title: "Scheinrelief Nocturno II"). Signed lower left. Dated and titled on verso. 65 x 54,1 cm (25,5 x 21,2 in).
Baumeister's colorful compositions from the 1950s are the artist's most sought after works on the international auction market.

PROVENANCE: Estate Sophia-Maria von Waldthausen-Brede (aka Fia Ernst as student of Baumeister).

During his apprenticeship as a decorative painter Willi Baumeister already visited evening classes at the Stuttgart Kunstakademie. From 1909 to 1912 he attended Adolf Hölzel's composition class where he first met the later Bauhaus painter Oskar Schlemmer who was to become a life-long friend. In 1919/20 he produced his first 'Mauerbilder', panels with a wall-like relief structure - created by adding sand and putty to the paint - and cubist forms. These works brought about Baumeister's international breakthrough. In 1928 the Frankfurt Städelschule appointed the artist to run the applied arts, typography and fabric printing class. Baumeister joined the 'Cercle Carré' in 1930 and in 1931 he became a member of 'Abstraction Création'. During the 'Third Reich' Baumeister was banned as a 'degenerate' artist and rarely showed himself in public. During the war Baumeister wrote the book 'Das Unbekannte in der Kunst' (The Unknown in Art) which was first published in 1947. During these years as a 'degenerate artist' he spent his time studying prehistoric and Oriental art, which was to provide him with the motifs for his 'Eidos' pictures and 'Ideogrammes'. He resumed teaching after the war when he accepted a post at the Kunstakademie in Stuttgart.

Will Grohmann describes the quasi-reliefs, among this work also counts, as an "extensive group of 35 works". "The technique is the basis for the design. Baumeister wants to mock a relief [..] and he adds a light and dark contour to the colors, just as he often does in his drawings, as if he had to mind an actual source of light." (Translated from Will Grohmann, Willi Baumeister. Leben und Werk, Cologne 1963, p. 124). Playing with colors and forms, often referencing text from the Old Testament, is an important element in Willi Baumeister's artistic creation in the early 1950s. Figuration and abstraction merge and make for a felicitous symbiosis. In these works Baumeister evokes primeval worlds, their charm can be found in the self-contained expression.

With his extensive oeuvre and his art-theoretic publications Baumeister is considered one of the most important modern German artists. His varied oeuvre ranges from figurative works at the beginning to increasingly abstract forms. Baumeister died in Stuttgart in 1955. [KD].


109
Nocturno mit rotem Segment, 1953.
Oil
Estimate:
€ 70,000 / $ 74,200
Sold:

€ 207,400 / $ 219,844
(incl. 22% surcharge)
You might also be interested in
Willi Baumeister - lots sold by Ketterer Kunst