Sale: 386 / Modern Art, Dec. 10. 2011 in Munich

Lot 43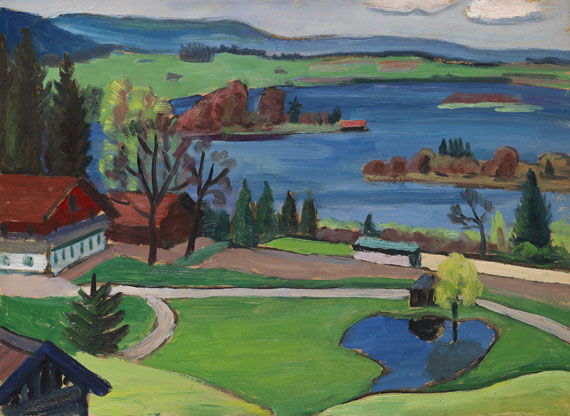 43
Murnauer Landschaft (Staffelsee), 1924.
Oil on cardboard
Estimate:
€ 180,000 / $ 198,000
Sold:

€ 390,400 / $ 429,440
(incl. 22% surcharge)
Oil on cardboard.
With estate stamp on verso. There also with an old adhesive label with stamped number "1046" and an adhesive label, partly with hand-written, partly with stamped number "Bl L 289". 33 x 45 cm (12,9 x 17,7 in).
With fragments of an old label on verso, there typographically dated "1924", titled and inscribed.

PROVENANCE: Private collection Southern Germany, acquired from Galerie Hanna Bekker vom Rath, Frankfurt/Main in 1976.

EXHIBITION: Ölbilder von Gabriele Münter, Galerie Vömel, Düsseldorf, in cooperation with Galerie Gunzenhauser, Munich, November 1974, cat. no. 29 (with illu.).

Gabriele Münter received her first art lessons at the 'Damen-Kunstschule' (Ladies Art School) in Düsseldorf and then attended the Society of Woman Artists as M. Dasio's and A. Jank's pupil. Then she went to Munich where she visited the private art school 'Phalanx' which was run by Wassily Kandinsky. In 1904 Münter and Kandinsky began travelling together: to Holland, Italy, France - where they met Rousseau and Matisse - and elsewhere. Stylistically she now distanced herself from Impressionism and her works began showing Fauve and Expressionist influences. In 1908 she and Kandinsky began leading a calmer life in their apartment in Munich. They often met with Klee, Marc, Macke, Jawlensky and Marianne von Werefkin. The country house Münter bought in Murnau provided an ideal working environment. In 1909 the artist began painting glass, a medium which would later also be adopted by Kandinsky, Marc, Macke and Campendonk. Münter was a member of the 'Neue Künstlervereinigung München' for two years and in 1911 she joined the 'Blaue Reiter', the artist group founded by Kandinsky and Marc. She was interested in Kandinsky's development towards abstract art, but her own works continued to be figurative. Her landscapes, figurative scenes and portraits show a reduction to the essential with an inclination towards humorous characterisation. When war broke out, Münter and Kandinsky at first moved to Switzerland. Münter, however, decided a year later to go to Stockholm, where she separated from Kandinsky. In late autumn 1917 she moved to Copenhagen.

After her return from Scandinavia Gabriele Münter once more sought to find her motifs in the familiar surroundings at the foothills of the Alps. The view onto the Staffelsee is one of her favorite motifs. Time and again she made the charming view onto the water surface with the small islands subject of her art. A strong graphic contour that Münter particularly preferred to depict in the foreground is now abandoned in favor of a calm surface painting. Working out a spatial distance from the surface, one of her greatest accomplishments in landscape painting, is also achieved with simple means in this work. Münter is captured by the harmony of her works, she renders it quite unspectacularly without showing a special artistic attitude and thus attains a familiarity that is made of both distance and closeness. Devoid of all experimental after effects from the days before World War I, Münter found an own style of interpretation that would guide her later artistic creation.

After 1931 she spent most of her time in Murnau and Munich. In 1956 she received the Culture Prize of the City of Munich. The year 1960 saw the first exhibition of Münter's work in the US, followed in 1961 by a large show in the Mannheim Kunsthalle. The artist died in her house at Murnau on 19 May 1962. [KD].


43
Murnauer Landschaft (Staffelsee), 1924.
Oil on cardboard
Estimate:
€ 180,000 / $ 198,000
Sold:

€ 390,400 / $ 429,440
(incl. 22% surcharge)
More offers for Gabriele Münter
You might also be interested in
Gabriele Münter - lots sold by Ketterer Kunst