Sale: 394 / Old Masters and Art of the 19th Century, Nov. 23. 2012 in Munich

Lot 90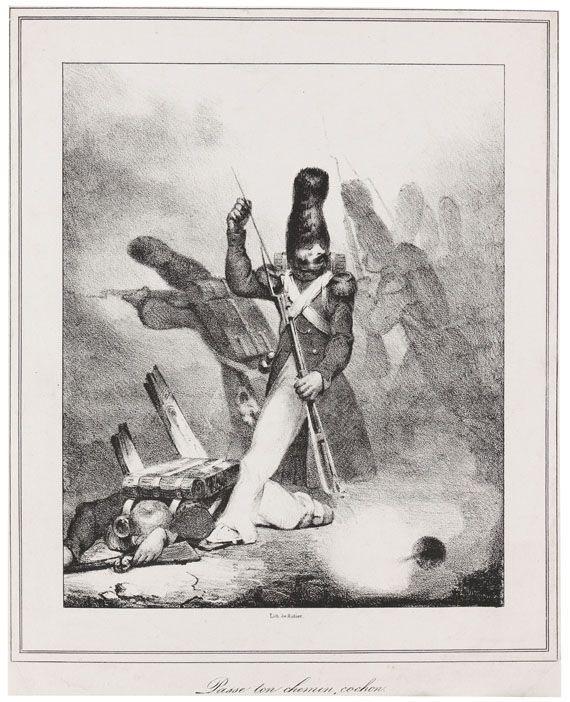 90
Passe ton Chemin, Cochon, 1830.
Lithograph
Sold:

€ 913 / $ 967
(incl. 25% surcharge)
Passe ton Chemin, Cochon. 1830.
Lithograph.
Delteil 1 II (of II). Typographically titled and inscribed outside of image. Rare and splendid impression on wove paper sur blanc. 17,1 x 14 cm (6,7 x 5,5 in). Sheet: 22 x 17,6 cm (8,7 x 6,9 in).
Published in magazine "La Silhouette", 22 July, 1830.

PROVENANCE: Private collection Baden-Württemberg (with collector stamp on verso, not in Lugt).

This sheet is regarded one of Honoré Daumier's first lithographs. It was published in the magazine "La Silhouette", France's first satirical weekly magazine, just five days before the July Revolution in 1830. It shows French infantrymen with the typical bear fur hat in battle in the Napoleonic War, around July 1830. The guardsman yells "Go to hell, swine!", he refers to the canon ball that almost hits his comrade. A few days later street fighting began in Paris. Daumier also fought in the streets of Paris and was hit in the head with a saber, according to a police log. He had to serve a sentence in the Paris prison Sainte-Pélagie. [CB].


90
Passe ton Chemin, Cochon, 1830.
Lithograph
Sold:

€ 913 / $ 967
(incl. 25% surcharge)
Honoré Daumier - lots sold by Ketterer Kunst