Sale: 393 / Post War/Contemporary Art, June 09. 2012 in Munich

Lot 234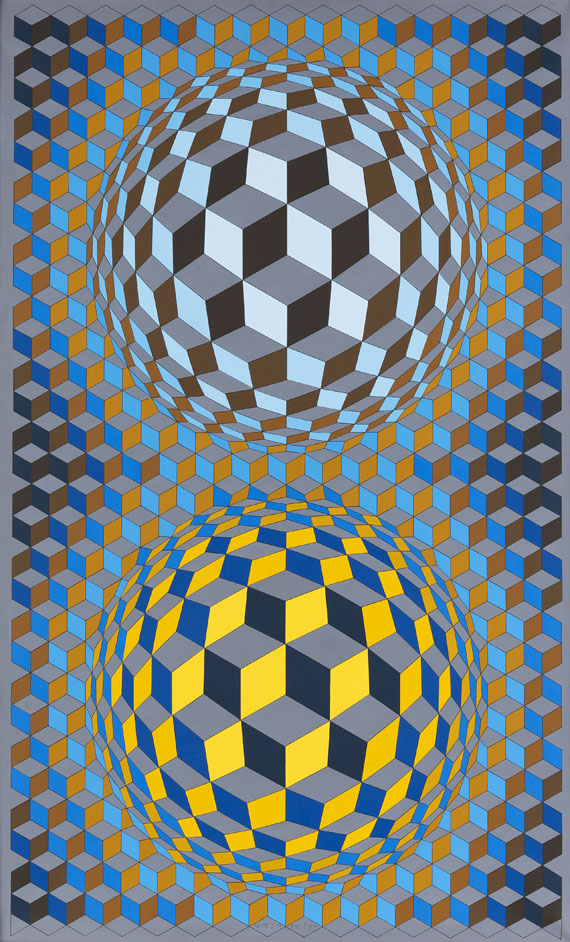 234
Oet-Oet, 1984.
Acrylic on canvas
Estimate:
€ 45,000 / $ 49,500
Sold:

€ 78,080 / $ 85,888
(incl. 22% surcharge)
Oet-Oet. 1984.
Acrylic on canvas.
Signed lower center. Signed, dated, numbered "3378" and titled on verso. With title and inscription on folded canvas. 100 x 62 cm (39,3 x 24,4 in).

We are grateful to Mr. Pierre Vasarely, sole heir and sole owner of Victor Vasarely's copyrights, for his kind oral confirmation of this work's authenticity. The work will be included into the forthcoming catalog raisonne which is prepared by Fondation Vasarely, Aix-en-Provence.

Victor Vasarely, whose original name was Gyözö Vásárhelyi, was born in Pécs, Hungary on 9 April 1908. In 1927 Vasarely began his artistic training at a private drawing school in Budapest. One year later he joined the training centre 'Mühely' (German 'workshop') which was run by Sándor Bortnyik and taught the ideas of the Bauhaus. After moving to Paris in 1930 Vasarely was successful as a graphic designer and systematically explored the optical and emotional scope of the different graphic techniques. This led to his understanding in 1947 that geometric forms could evoke a sensory perception conveying new ideas of space, matter and energy. He developed his own geometric form of abstraction, which he varied to create different optical patterns with a kinetic effect. The artist makes a grid in which he arranges geometric forms in brilliant colors in such a way that the eye perceives a fluctuating movement. This was a major contribution to the development of Op Art. The decoration of Caracas University in 1954 was the beginning of Vasarely's active support of art in public spaces. He designed murals of metal and ceramic, mainly for buildings in France. He exhibited works regularly at the documenta in Kassel between 1955 and 1968. The official spiral-shaped logo of the 20th Olympic games in Munich was designed by Vasarely. In 1976 the artist founded the Fondation Vasarely in Aix-en-Provence which supported the creation of an institute for contemporary design and architecture in 1981. The Vasarely Museum in the artist's birth-town Pécs was opened in 1976, followed by the opening of a second museum in Zichy Palace in Budapest in 1987.

In his geometric-abstract works like our "Oet-Oet" Vasarely created a grid of geometric forms in lucent colors, which he arranged in a way so that the eye perceives a spatial fluctuating motion. In this work some cubes seem to come out of the image, at times they seem to retreat into the image space, at the same time they form two protruding plastic hemispheres. This way Vasarely plays with the observer's perception. The latter is clearly aware of the two-dimensional representation of the picture, however, it is only possible to perceive it as a 3-dimensional representation, on top, the observer is confused by the permanently changing spatial representation. In Vasarely's image worlds there is no final truth of perception, in his works he transfers the scientific relativity theory to art-philosophic realms: "My visual riddles have expressed the relativity of truth in pictorial language in every field." (Victor Vasarely: Gäa. Bilder und Meditationen, Freiburg i. Br. 1983, p. 95, quote after: Ralph Köhnen, Eine (Sozial-)Geschichte des Auges, in: Künstler Kritisches Lexikon der Gegenwartskunst, edition 15, p. 20).

Victor Vasarely died in Paris on 15 March 1997, his foundation had to be closed soon after his death, but the care for the artist's appreciated image world was secured by the refurbishment of Vasarely's estate by his daughter Michelle. [KH].


234
Oet-Oet, 1984.
Acrylic on canvas
Estimate:
€ 45,000 / $ 49,500
Sold:

€ 78,080 / $ 85,888
(incl. 22% surcharge)
You might also be interested in
Victor Vasarely - lots sold by Ketterer Kunst