Sale: 434 / Rare Books, Nov. 21./22. 2016 in Hamburg

Lot 157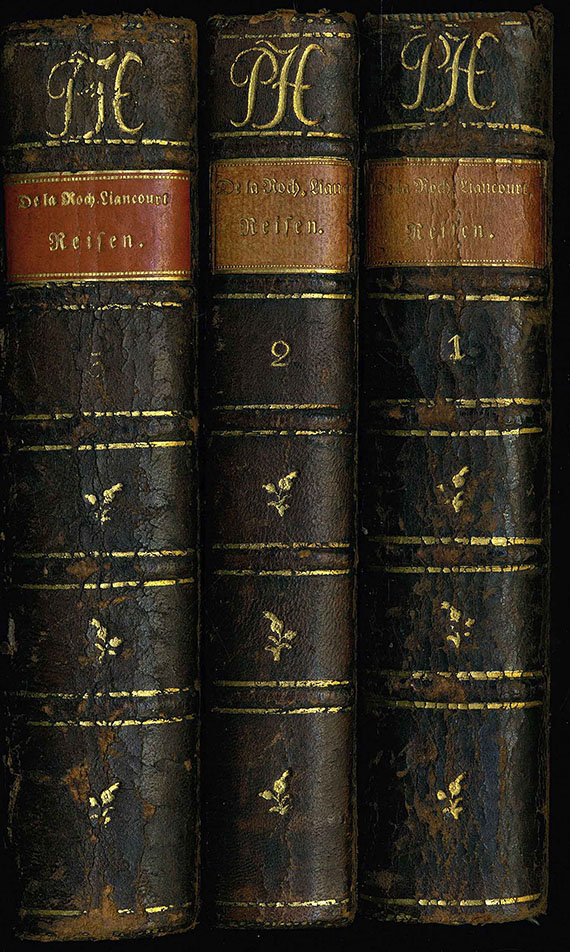 157
Francois Alex. F. de La Rochefoucauld Liancourt
Neuere Geschichte der See- und Land-Reisen. 3 Bde., 1799.
Sold:

€ 384 / $ 456
(incl. 20% surcharge)
Lot description
La Rochefaucauld Liancourt, Francois Alexandre Frederic de,
Reisen in den Jahren 1795, 1796 und 1797 durch alle an der See belegenen Staaten der Nordamerikanischen Republik; imgleichen durch Ober-Canada und das Land der Irokesen. Nebst zuverläßigen Nachrichten von Unter-Canada. 3 Bde. Hamburg, B. G. Hoffmann 1799.

Neuere Geschichte der See- und Landreisen Bd. IX-XI. - Erste deutsche Ausgabe des wichtigen und seinerzeit umfangreichsten Reiseberichtes zum nordamerikanischen Kontinent, - "one of the source books for American history at the close of the eighteenth century". Die Übersetzung aus dem Französischen stammt von R. G. Behrmann. - Einbde. beschabt. Ansonsten gutes sauberes Exemplar aus der Bibliothek von Großherzog Peter I. von Oldenburg (1755-1829) mit dessen goldgepr. Monogramm "PH" (= Peter von Holstein) auf den Buchrücken und kl. gekröntem Monogr.-Stempel auf 2 Titelblättern.

EINBAND: Zeitgenöss. Ldr. mit goldgepr. Rückenmonogramm. 8vo. 2 Bll., XX S., 1 Bl., 629 S.; 2 Bll., IV, 588 S.; 1 Bl., VIII, 784 S. - ILLUSTRATIONEN: Mit 1 Falttabelle.

LITERATUR: Sabin 39058. - Howes L 106. - Amtmann 596. - Fromm 14324. - Vgl. Staton/Tremaine 681 und Cox II, 175.


157
Francois Alex. F. de La Rochefoucauld Liancourt
Neuere Geschichte der See- und Land-Reisen. 3 Bde., 1799.
Sold:

€ 384 / $ 456
(incl. 20% surcharge)
You might also be interested in

Francois Alex. F. de La Rochefoucauld Liancourt - lots sold by Ketterer Kunst