Sale: 461 / Post War I, Dec. 09. 2017 in Munich

Lot 850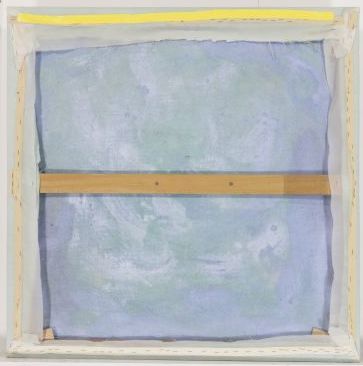 850
Kissenbild, 1966.
Object
Estimate:
€ 30,000 / $ 33,000
Sold:

€ 68,750 / $ 75,625
(incl. 25% surcharge)
Kissenbild. 1966.
Object . Painted plastic foam cushion on canvas, covered with nylon.
Verso signed and barely legibly dated. 80 x 80 cm (31.4 x 31.4 in).

PROVENANCE: Collection Ellen Sauter, Badenweiler.


In the years from 1955 to 1957 Graubner's pictorial language became detached from the geometrical color forms he had employed until then. Initially in watercolors and later on the canvas, he examined new forms of the application of colors which ensured priority to the color layers compared to their definition in forms and image borders. In the early 1960s Graubner began to mount the soaked cushions he used for dabbing his "Sponge Gouaches" in the picture in order to increase the color fields' spatial effect. Later he covered them with nylon gauze. These so-called cushion pictures were initially exhibited at the gallery of Alfred Schmela in Düssseldorf and soon became the most characteristic creations in Graubner's oeuvre. Graubner described the compacted, multilayer color spaces of his "Cushion Pictures", which have great art-historical significance, as follows: "The development of my works happens in several steps. Color unfolds as a color organism; I observe its own internal dynamics and respect its inherent laws. This was how the two-dimensional form became compacted and formed a body, which, in return, dissolves as an immaterial haze. The haze is the most absolute expression of my painting and requires all senses[..]." (Gotthard Graubner, quote after: Künstler. Kritisches Lexikon der Gegenwartskunst, volume16, Munich 1991, p. 15). Owed to the usage of the nylon gauze, Graubner's creations visualize peculiar color worlds, which sort of continue Mark Rothko's accomplishments in color field painting. By breaking the surface's two-dimensional delimitation, he created three-dimensional color-space-bodies. [JS]
850
Kissenbild, 1966.
Object
Estimate:
€ 30,000 / $ 33,000
Sold:

€ 68,750 / $ 75,625
(incl. 25% surcharge)
More offers for Gotthard Graubner
You might also be interested in
Gotthard Graubner - lots sold by Ketterer Kunst