Sale: 271 / Art of the 19th and 20th Centuries, Sept. 28. 2002

Lot 661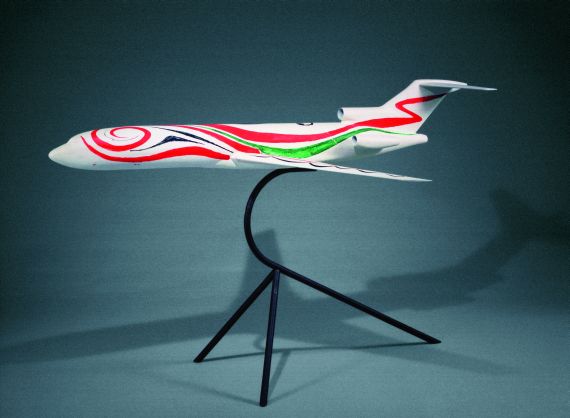 661
Mexico #1, 1975.
Estimate:
€ 27,000 / $ 27,000
Sold:

€ 50,600 / $ 50.600
(incl. 15% surcharge)
Mexico #1
Acrylüber Fiberglas-Modell eines Boeing 727-200 Jets auf Metallständer, 1975
Länge: 235 cm (92,5 in). Breite: 165 cm (65 in). Höhe mit Ständer: 141 cm (55,5 in) cm ( in)
Mit einer Foto-Expertise von Klaus Perls, Perls Galleries, New York, vom 23. Oktober 1996
PROVENIENZ: Privatbesitz Niedersachsen.
Vom Vorbesitzer direkt beim Künstler erworben.
Im Jahr 1973 erhält Calder den ersten Auftrag der amerikanischen Fluggesellschaft Braniff International Airlines. Er soll den McDonnell Douglas DC-8-62 Jet 'Flying Colors' gestalten. Das Projekt dient als Werbestrategie für die südamerikanischen Flüge der Airline. Ziel der Kampagne ist es, Kunst am Objekt, ausgeführt von einem international anerkannten amerikanischen Künstler, als neues und innovatives Werbemittel einzusetzen. Das gestaltete Flugzeug soll als klare Chiffre für Braniff und Calder stehen, da auf das Logo der Fluggesellschaft und Schriftzug des Künstlers vollkommen verzichtet wird. Für Calder, aber auch für andere Künstler, eröffnet sich hierdurch ein völlig neues Feld der künstlerischen Tätigkeit. Insgesamt 8 Entwürfe entstehen, von denen einer umgesetzt wird. 1975 tritt Braniff erneut an Calder heran, der daraufhin das Design für die 'Flying Colors of the United States', dem Flagschiff der US-Linie, kreiert. Der dritte Auftrag, der ihm erteilt und jedoch nie zur Ausführung kommt, ist die 'Flying Colors of Mexico', zu dessen Modellen unser Werk zählt. Der Künstler benutzt hier Grün, das er sonst nie verwendet, für sein Design, um die Nationalfarben Mexicos zu symbolisieren. Calder verbindet in seinen Modellen Kunst und Design, künstlerisches Schaffen und Dekoration gehen eine symbiotische Beziehung ein. [DP]
661
Mexico #1, 1975.
Estimate:
€ 27,000 / $ 27,000
Sold:

€ 50,600 / $ 50.600
(incl. 15% surcharge)
You might also be interested in
Alexander Calder - lots sold by Ketterer Kunst