Sale: 287 / Rare Books, May 24./25. 2004

Lot 493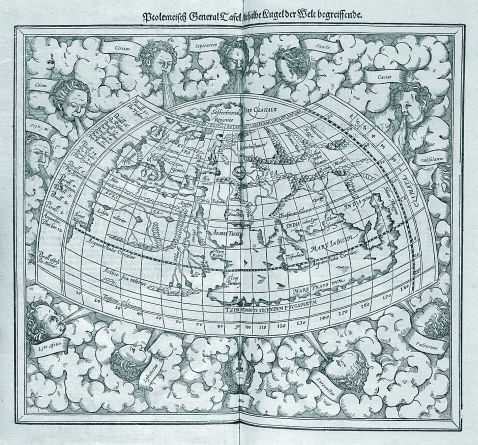 493
Cosmographey. 1598., 1598.
Estimate:
€ 4,000 / $ 3,960
Sold:

€ 7,371 / $ 7,297
(incl. 17% surcharge)
Münster, S.,
Cosmographey.. Mit
Holzschnitt-Porträt auf dem Titel, 26 doppelblattgr. Holzschnitt-Karten zu Beginn (Vortextkarten), 59 (st. 67) doppelseit. Ansichten, Karten und Plänen in Holzschnitt, 1 (st. 2) gr. gefalt. Holzschnitt-Ansicht sowie 1036 Textholzschnitten
. Basel, S. Henric-Petri 1598.Blindgepr. Schweinsldr. d. Zt. über Holzdeckeln auf 5 Bünden, mit Messing-Schließe. Folio. 14 Bll., 52 Bll. (Vortextkarten), 1431 (st. 1461) röm. pag. S., 1 Bl.
Burmeister 83. - VD 16, M 6706. - BM STC, German Books S. 632. - Sabin 51395. - Eine der umfangreichsten Ausgaben von Sebastian Münsters berühmter Kosmographie in der deutschen Ausgabe. - Zu Beginn die zwei prachtvollen Weltkarten, des weiteren Holzschnitt-Karten von Europa, Asien, Afrika und Amerika, Deutschland, Frankreich, Italien, England, Polen und anderen europäischen Ländern sowie von Schwaben und Bayern, Franken, Pommern, Schlesien und 3 Rheinkarten. Unter den doppelseitigen Ansichten und Plänen finden sich Jerusalem, Konstantinopel, Kairo, Rom, Florenz, Venedig, Neapel, Paris, Lyon, Bordeaux, London, Basel, Genf, Augsburg, Erfurt, Frankfurt a. d. O., Koblenz, Köln, Lübeck, Straßburg und Ulm; die vierseitige Ansicht zeigt Heidelberg. - Münsters Kosmographie, in der er sich auf namhafte Gelehrte stützte und die 1544 erstmals erschien, behandelt vor allem die deutschen Länder (zahlr. weitere Ansichten im Text). Bei der Beschreibung der außereuropäischen Länder gibt Münster auch die Berichte wieder, in denen von Einhörnern, Drachen und sagenhaften Völkern die Rede ist (mit Illustrationen); gezeigt werden exotische Tiere wie Elefanten, Rhinozeros, Krokodil etc. - Fehlen insges. 30 Bll. (darunter 8 doppelblattgr. Holzschnitte), weitere 10 Bll. mit breitem Abriß- oder Abschnitt (Vortextkarten nicht betroffen); die vierseit. Ansicht von Heidelberg mit kl. Einriß. - Im Kopfsteg durchgeh. wasserrandig, vereinz. etw. gebräunt oder stockfleckig, ca. 10 Bll. mit leichtem Braunfleck; Titel im Bund hinterlegt, doppelblattgr. Holzschnitte tlw. alt angefalzt. Einbd. etw. fleckig und berieben sowie Ecken und Kanten stellenw. ergänzt; 1 Schließe (von 2) entfernt.
German edition Basle 1598, one of the most extensive editions of the famous cosmography. About 1250 woodcuts, incl. 1 portrait on title, 26 doublepage maps, 1 (of 2) four page view, and 59 (of 67) doublepage views, maps and schemes in the text. Contemp. rollstamped pigskin over wooden boards on raised bands. - Lacking 30 leaves (among them 8 doublepage woodcuts), 10 leaves damaged (doublepage maps at begin not affected), the large view of Heidelberg with little tear. Upper margin with waterstain, here and there somewhat brownstaining or foxing; title in the gutter backed. Binding somewhat stained and rubbed, edges partly mended, 1 clasp (of 2) removed.
493
Cosmographey. 1598., 1598.
Estimate:
€ 4,000 / $ 3,960
Sold:

€ 7,371 / $ 7,297
(incl. 17% surcharge)
You might also be interested in
Sebastian Münster - lots sold by Ketterer Kunst