Sale: 289 / Rare Books, Nov. 22./23. 2004

Lot 43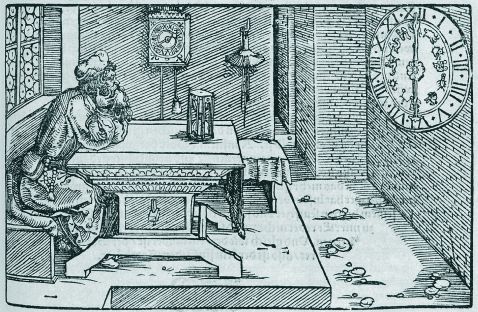 43
Trostspiegel / De rebus memorandis. 1572/1566., 1572.
Estimate:
€ 1,800 / $ 2,106
Sold:

€ 4,212 / $ 4.928
(incl. 17% surcharge)
Lot description
Petrarca, F.,
Trostspiegel in Glück und Unglück.. Trostspiegel in Glück und Unglück ... zwey Trostbücher, von Artznei und Rath, beydes in gutem und widerwertigem Glück ... Allen Hausvättern, und Regiments personen ... sehr nütz und tröstlich zuwissen. Jetzund von newem widerumb zugericht.Mit
Titelholzschnitt und 261 (st. 262) tlw. ganzseit. Textholzschnitten
des Petrarca-Meisters (H. Weiditz). Frankfurt, Chr. Egenolff Erben 1572.4 nn., 222 röm. num., 4 nn. Bll. (d. l. w.). -
Angeb.: Ders.
, De rebus memorandis. Mit
4 Textholzschnitten
und 1 Holzschnitt-Druckermarke
am Ende. Ebd. 1566. 6 nn., 102 num., 6 nn. Bll. (ohne d. l. w.) - Blindgepr. Schweinsldr. d. Zt. Folio.
I:
VD 16, P 1729. - Speck/Neumann 54. - Rötting (Weiditz) 72. - Zweite bei Egenolff erschienene Ausgabe eines der berühmtesten und schönsten Holzschnittbücher der Dürerzeit, Hauptwerk von Hans Weiditz. Mit Einführungsgedicht und Kapiteleinleitungen von Sebastian Brant. - Titel in Rot und Schwarz. - "Die Illustrationen geben ein anschauliches Bild ihrer Zeit. In lebhaft bewegten Kompositionen werden Menschen aller Stände bei ihrer Arbeit, bei der kultischen Feier, beim Streit und im Krieg, in Glück und Not geschildert ... auch in der Wiedergabe von Gestik und Mimik erweist sich der Künstler als den besten Künstlern seiner Zeit ebenbürtig." (Slg. Schäfer zur Ausg. 1532) - "Die Druckstöcke der Holzschnitte wurden nach dem Tod von Heinrich Steyner 1548 vom Frankfurter Drucker Christian Egenolff erstanden, dessen Erben sie weiter verwendeten." (Speck/N.) -
II:
VD 16, P 1737. - Speck/Neumann 54. - Goedeke II, 126, 3. - Musper 208. - BM STC, German Books S. 685. - Zweite deutsche Ausgabe, die erste bei Egenolff; zuerst 1536 in Ausgburg bei H. Steiner erschienen. - "Die Holzschnitte entsprechen denen, die Heinrich Steyner für seine deutsche Ausgabe der
Rerum memorandarum libri
verwendet hatte, von denen vier aus seiner illustrierten Ausgabe von
De remediis
stammen." (Speck/N.) - Zustand für beide Werke: Etw. gebräunt (vereinz. stärker), Titel von I mit alten Besitzvermerken (tls. gelöscht). Einbd. fleckig und etw. beschabt, Rücken und Vorsätze erneuert.
Second edition by Egenolff. - Title-woodcut, 262 partly full-page woodcuts. Contemp. blindstamped pigskin. - Browned, title with annotations by old hand, endpapers renewed. Binding stained and somewhat scraped, Spine renewed.
43
Trostspiegel / De rebus memorandis. 1572/1566., 1572.
Estimate:
€ 1,800 / $ 2,106
Sold:

€ 4,212 / $ 4.928
(incl. 17% surcharge)
More offers for Francesco Petrarca
You might also be interested in
Francesco Petrarca - lots sold by Ketterer Kunst