Sale: 289 / Rare Books, Nov. 22./23. 2004

Lot 1499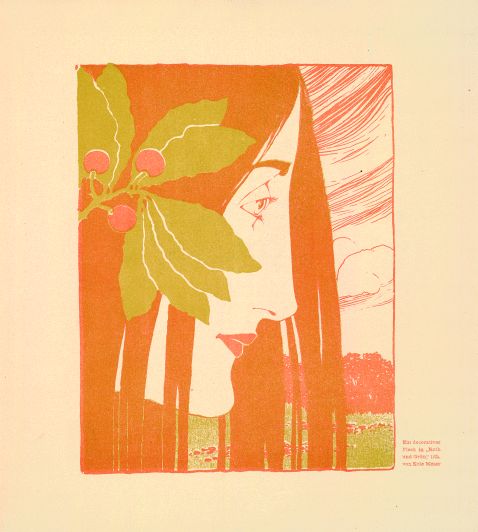 1499
Ver sacrum. Jg. 1-6. 1898ff.
Estimate:
€ 7,000 / $ 8,330
Sold:

€ 19,890 / $ 23.669
(incl. 17% surcharge)
Lot description
Ver Sacrum.
Ver Sacrum, 1898-1903, 6 Bde.. Organ (ab Jg. II: Zeitschrift, ab Jg. III: Mitteilungen) der Vereinigung Bildender Kuenstler Österreichs. Jgge. I-VI, 119 Hefte in 6 Bdn.Mit
154 Orig.-Graphiken
u. a. von K. Moser, E. Orlik, F. Andri, H. Henneberg, A. Nowak und R. Jettmar sowie zahlr. tlw. farb. Tafeln und Abbildungen. Wien, Gerlach & Schenk u. a. 1898-1903.Stoffmuster-Einbde. d. Zt. (illustr. OUmschläge eingeb.) 4to.
Garvey/Wick 120:
" ... one of the most significant journals of the period."
- Schauer I, 40 und II, 7. - Schlawe I, 59/60. - Reed 37. - Kirchner 23050. - Hofstätter S. 219ff. - Seltenes, nahezu vollständiges Exemplar der bedeutendsten Wiener Jugendstil-Zeitschrift, die neben dem 'Pan' zu den schönsten Publikationen dieser Epoche gehört. - Während der erste Jahrgang vor allem Kunst- und Kulturbeiträge enthält, sind im zweiten Jahrgang die literarischen Beiträge stärker vertreten, sie stammen u. a. von R. Dehmel, R. M. Rilke, H. von Hofmannsthal, R. Huch und M. Maeterlink. Ab dem dritten Jahrgang wurde die Zeitschrift in bescheidenerem Format als 'Mitteilungen' weitergeführt. Zu den künstlerischen Mitarbeitern gehörten u. a. J. Hoffmann, G. Klimt und K. Moser. - "Diese zeittypische, offenbar von 'Pan' und 'Jugend' gleichermaßen beeinflußte Kunstzeitschrift bringt im 1. Band vor allem Arbeiten kunstkritischen, kunsthistorischen und kulturell-lokalen Inhalts, im Wechsel mit reichsten z. T. ganzseitigen auch farbigen Bildbeigaben bei außerordentlichem Buchschmuck." (Schlawe) - Sämtliche illustrierte Originalumschläge nach Entwürfen u. a. von G. Klimt, F. Khnopff und K. Moser sind mit eingebunden, Jg. I mit dem Sonderheft. - Es fehlt lediglich Heft 24 des 3. Jg. Nur stellenw. geringfüg. stock- und schmutzfl. bzw. leicht gebräunt, 2 Umschläge und 2 Bll. mit kl. Randeinriß, 3 Bll. gelöst. Insgesamt wohl erhaltenes Exemplar.
1499
Ver sacrum. Jg. 1-6. 1898ff.
Estimate:
€ 7,000 / $ 8,330
Sold:

€ 19,890 / $ 23.669
(incl. 17% surcharge)
- - lots sold by Ketterer Kunst