Sale: 289 / Rare Books, Nov. 22./23. 2004

Lot 52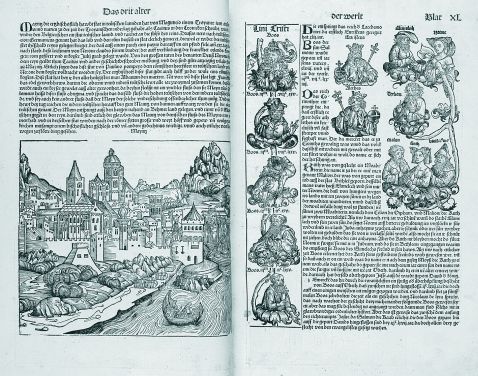 52
Buch der Chroniken. Dez. 1493. Dt. Ausg., 1493.
Estimate:
€ 25,000 / $ 23,000
Sold:

€ 28,080 / $ 25,833
(incl. 17% surcharge)
Schedel, H.,
Liber chronicarum.. Das Buch der Chroniken und Geschichten.Mit
2 doppelblattgr. Holzschnittkarten und über 1800 Textholzschnitten
(tlw. wdh.) von M. Wohlgemuth und W. Pleydenwurff sowie
2 eingemalten Zierinitialen
in Blau und Rot mit Federwerk und Randausläufern. Nürnberg, A. Koberger, 23. Dez. 1493.Ldr. d. 17. Jhs. im got. Stil über Holzdeckeln mit reicher Blind- und Rollenpräg. sowie 2 Schließen. Gr.-Folio. 10 nn., 286 num., 1 nn. Bll. Got. Type, 59 Zeilen.
Hain 14510. - Goff S-309. - BMC II, 437. - Polain 3471. - Schramm XVIII, S. 9. - Muther 424. - Rücker S. 143. - Erste deutsche Ausgabe, sechs Monate nach der lateinischen Originalausgabe erschienen. - Das "größte Buchunternehmen der Zeit" (Rücker) und die am reichsten illustrierte Inkunabel überhaupt. Die künstlerisch hochrangigen Holzschnitte stammen von dem deutschen Maler und Holzschneider W. Pleydenwurff und dessen Schwiegervater M. Wohlgemuth, in dessen Nürnberger Werkstatt auch Albrecht Dürer lernte. Der bis heute anhaltende Ruhm der 'Weltchronik' beruht hauptsächlich auf dieser opulenten künstlerischen Ausstattung, bei der Wort und Bild sich einzigartig ergänzen und eine wohlbedachte, ausgewogene Einheit bilden. Unter den prachtvollen Abbildungen sind die zahlr. Städteansichten von besonderem Interesse, da sich hier, neben bloßen Phantasieansichten, die
ersten authentischen Ansichten deutscher Städte
finden, darunter Augsburg, Bamberg, Breslau, Köln, Konstanz, Lübeck, München, Nürnberg, Passau, Prag, Regensburg, Salzburg, Ulm, Wien, Würzburg u. a. Besonders erwähnenswert die doppelblattgr. Holzschnitt-Weltkarte nach Pomponius Mela zu Beginn und die doppelblattgr. Deutschlandkarte am Schluß. - Gering fleckig, durchgeh. mit sorgfältig restaurierten Randschäden, meist fachgerecht und unauffällig gereinigt; Titel mit kl. Stempel. Einbd. sorgfältig restauriert, vereinz. eng gebunden. Insgesamt gutes Exemplar. - Beilieg. 2 leere Bll. aus der lat. Orig.-Ausgabe (Bll. 260 und 261, Kolumnentitel 'Sexta etas mundi') mit Ergänzungen einer zeitgenöss. Hand.
First German edition, published six months after the original Latin edition. With 2 woodcut maps and about 1800 woodcut illustrations depicting numerous portraits, views etc. Many of these are the first printed views of these towns and the earliest in exact topographic details. 17th cent. calf in contemp. style over wooden boards, richly blind- and rollstamped, with 2 clasps. - Minor staining, throughout carefully restored marginal defects, skillfully and discreetly cleaned; little stamp to title. Binding restored, some leaves closely bound.
52
Buch der Chroniken. Dez. 1493. Dt. Ausg., 1493.
Estimate:
€ 25,000 / $ 23,000
Sold:

€ 28,080 / $ 25,833
(incl. 17% surcharge)
Hartmann Schedel - lots sold by Ketterer Kunst