Sale: 305 / Rare Books, Nov. 13./14. 2006

Lot 53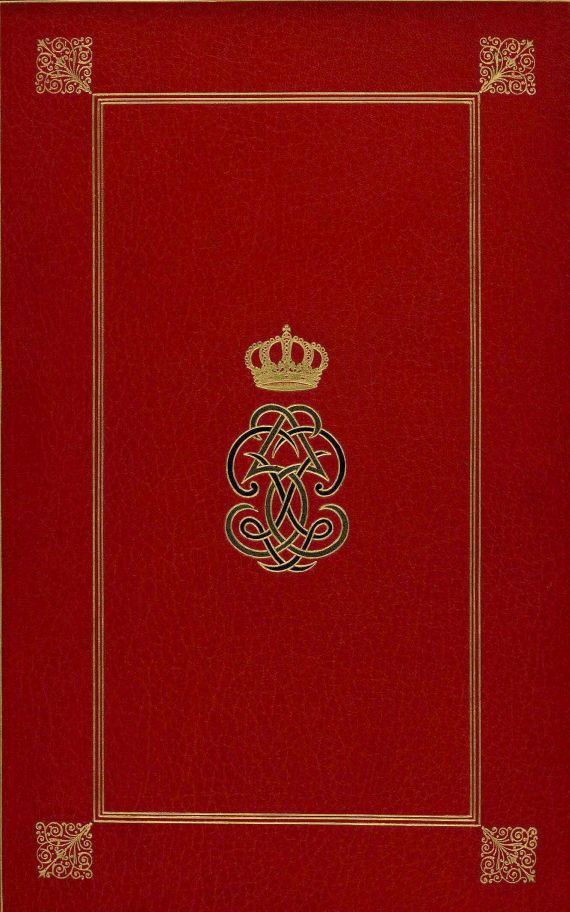 53
L'instruction du Roy. 1627.
Estimate:
€ 8,000 / $ 9,600
Sold:

€ 7,735 / $ 9.282
(incl. 19% surcharge)
Lot description
Pluvinel, A. de,
L'instruction du Roy en l'exercice de monter à cheval. Mit
doppelblattgr. gest. Titel, 4 gest. Porträts und 57 doppelblattgr. Kupfertafeln von C. de Passe.
Paris, P. Rocolet 1627. Roter Maroquin des späten 19. Jhs. (sign. "L. Claessens & Fils") mit reicher filigraner RVerg., goldgepr. Deckelfileten mit Eckfleurons, schwarz und grau intarsiertem Mittelstück mit Goldeinfassung und goldgepr. Krone, reicher Steh- und Innenkantenverg. sowie GGoldschnitt. Folio. Typogr. Titel, 7 Bll. (tlw. inkl. Porträts), 207 S.
Mennessier de la Lance II, 330. - Lipperheide Tc 25. - Brunet IV, 750. - Vgl. Nissen 3200 und Huth 41. - Zweite Ausgabe unter diesem Titel mit den prächtigen Reitschulkupfern von Crispin de Passe. Nach dem Tod des Verfassers wurde das Werk von R. de Menou herausgegeben. Dargestellt wird eine der berühmtesten und einflußreichsten Reitschulen, die in Dialogform zwischen dem König und dem Verfasser die Kunst des Reitens behandelt. "Auf den nach der Natur gezeichn. Taf. stellt Crispin de Passe d. J., Zeichenlehrer beim Stallmeister Ludwigs XIII., den König bei seinen Reitübungen dar" (Lipperheide). Die Porträts zeigen Ludwig XIII., Roger de Bellegarde, A. de Pluvinel und René Menou. Neben den Reitschul- und Tunierdarstellungen zeigen 6 Tafeln auch Zaumzeuge. Die prächtigen Kupfer wurden vorwieg. von 2 Platten gedruckt und sind mit sich tlw. wdh. breiten, prachtvollen architektonischen Bordüren versehen. Sämtl. Tafeln wurden aus Pluvinels textlich geringerwertiger
Le Maneige Royal
(1623) übernommen. Das vorlieg. Exemplar angereichert mit
5 doppelblattgr. Kupfertafeln von C. de Passe
, zus. daher 62 Kupfertafeln.
- Tlw. mit fachgerecht restaurierten Einrissen (betrifft meist die Plattenränder), 2 Taf. und 1 Textbl. mit ergänztem kl. Randabriß. Kanten tlw. gering berieben. Insges. schönes, sorgfältig gereinigtes Exemplar in einem prachtvollen Einband.
Second edition with the famous riding school copperplates by Crispin de Passe. With
double-page engr. title, 4 engr. portraits and 57 double-page copperplates by C. de Passe.
Late 19th cent. red morocco (signed "L. Claessens & Fils") with rich gilt decoration. The portraits show Louis XIII., Roger de Bellegarde, A. de Pluvinel and René Menou. 6 plates with bridles. The splendid copperplates, predominantly printed from two plates, are taken from Pluvinels 'Le Maneige Royal' (1623). The present copy enriched with
5 double-page copperplates
by C. de Passe, together 62 copperplates. - Partly skilled restored tears (mostly in the plate marks), 2 plates and 1 l. with carefully rebacked marginal defect. Edges rubbed. Fine, carefully cleaned copy in a decorative binding.
53
L'instruction du Roy. 1627.
Estimate:
€ 8,000 / $ 9,600
Sold:

€ 7,735 / $ 9.282
(incl. 19% surcharge)
Antoine de Pluvinel - lots sold by Ketterer Kunst