Sale: 309 / Rare Books, May 21./22. 2007 in Hamburg

Lot 390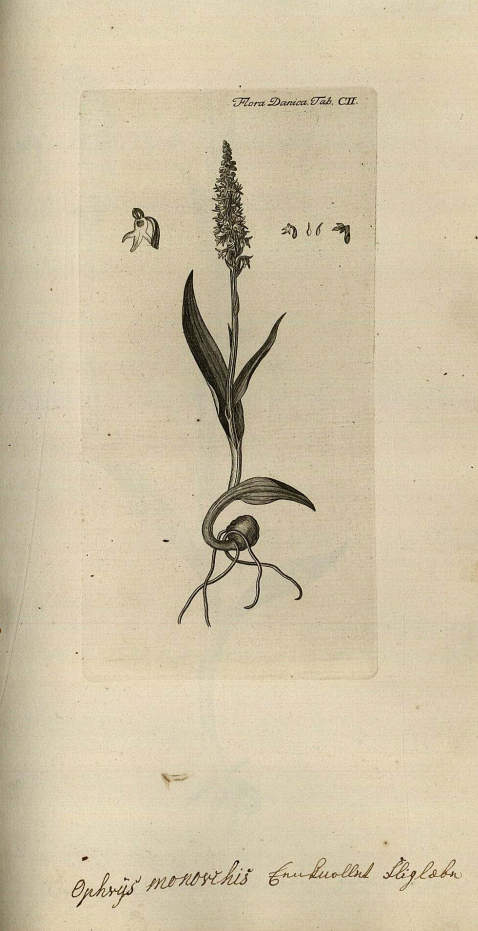 390
Flora Danica, 10 Bde. 1766-1823
Estimate:
€ 8,500 / $ 10,200
Sold:

€ 8,520 / $ 10.224
(incl. 20% surcharge)
Lot description
Flora Danica. -
Aftegninger paa de Planter, som vore vildt i Kongerigerne Danmark og Norge, i Hertugdommene Slesvig og Holsteen og i Grevskaberne Oldenborg og Delmenhorst, til at oplyse det under Titel Flora Danica. Hrsg. von G. C. Oeder u. a. Bd. I-X (von 17). Mit
1800 Kupfertafeln.
Kopenhagen, Moeller (Bd. IX u. X: Schultz) 1761-1823. HLdr. d. Zt. Folio.
Vgl. Nissen 2249; Pritzel 6799; Sitwell/Blunt S. 124; De Belder 259; Dunthorne 218. - Vollständige dänische Ausgabe von Bd. I-X des bedeutenden botanischen Werkes, noch heute die umfassendste Darstellung der dänischen, norwegischen und norddeutschen Pflanzenwelt. - Hrsg. von G. C. Oeder (Bd. I-III), O. Fr. Müller (Bd. IV u. V), M. Vahl (Bd. VI u. VII) und J. W. Hornemann (Bd. VII-X). - Das komplette Werk erschien 1761 bis 1883 in 17 Bänden und Supplementband. Der Herausgeber der ersten 10 Hefte, der Ansbacher Arzt Chr. G. Oeder, war zur Gründung eines Botanischen Garten und einer ausführlichen Beschreibung der dänischen Flora 1752 nach Kopenhagen geholt worden, mußte die Vollendung des Werkes jedoch später abgeben. Die schönen Tafeln stammen u. a. von Martin und Michael Rößler aus Nürnberg, die Oeder auch auf seinen botan. Reisen begleiteten. "Ihre Figuren verbinden mit großen ästhetischen Vorzügen, die bei der meisterhaft gehandhabten Radiertechnik noch besonders zum Ausdruck kommen, eine bis ins letzte gehende wissenschaftliche Genauigkeit, so daß sie zu den Besten ihrer Art gehören, nicht nur innerhalb des Werkes ... sondern überhaupt." (Nissen S. 227). - Jede Tafel mit Nomenklatur von sauberer zeitgenöss. Hd. Überwieg. im Rand tlw. leicht stockfleckig, wenige Tafeln (v. a. in Bd. VIII) stärker, 5 T. mit kl. Stoßspur im äußeren Rand, mehrere Tafeln knapp beschnitten. Einbde. beschabt und bestoßen. Insgesamt schönes sauberes Exemplar mit den Kupfertafeln in kräftigen Abdrücken. - Exlibris Richard Falck.
Complete Danish edition of vols. I-X of this magnificent botanical work about the Scandinavian and North German Flora. 1800 engr. botanical plates. Contemp. half calf. - Each plate with nomenclature in a neat contemp. hand. Partly slightly foxing mostly in the margins, few plates (esp. of vol. VIII) stronger, 5 plates with small trace of bumping in the margin, several plates closely cut. Binding scraped and bumped. Overall a fine clean copy with the plates in strong impressions. Ex libris.
390
Flora Danica, 10 Bde. 1766-1823
Estimate:
€ 8,500 / $ 10,200
Sold:

€ 8,520 / $ 10.224
(incl. 20% surcharge)