Sale: 328 / Rare Books, Nov. 19./20. 2007 in Hamburg

Lot 136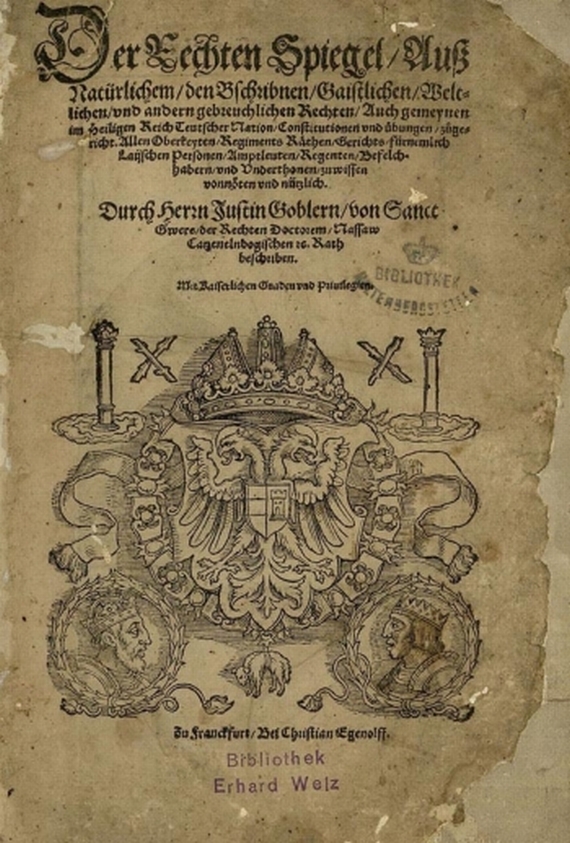 136
Der Rechten Spiegel. 1550
Sold:

€ 900 / $ 1.026
(incl. 20% surcharge)
Lot description
Gobler, J.,
Der Rechten Spiegel, Auß Natürlichem, den Bschribnen, Gaistlichen, Weltlichen, und andern gebreuchlichen Rechten, Auch gemeynen im Heiligen Reich Teutscher Nation, Constitutionen und übungen, zugericht ... Mit
Holzschnitt-Wappen
auf dem Titel,
1 Stammbaum-Holzschnitt
,
1 Holzschnitt-Porträt
und
40 Textholzschnitten
. Frankfurt, Chr. Egenolff [1552]. HLdr. im Stil d. 18. Jhs. mit farb. RSch. und reicher floraler RVerg. Folio. 3 (st. 4) nn. Bll. (2 am Ende eingeb.), 274 (st. 275) num. Bll., 1 w. Bl.
VD 16, G 2314. - BM STC, German Books S. 362. - Oldenbourg L 177. - Kaspers S. 121. - Vgl. Stinzing/L. I, 584, 8. - Diese Ausgabe nicht bei Adams. - Zweite Ausgabe des Klassikers, erschien erstmals zwei Jahre zuvor. - Der Rechtsspiegel gilt als ein "umfassendes Handbuch des geltenden Rechts, welches Tengler's Layenspiegel und Perneder's Werke zu ersetzen bestimmt war." (Stintzing/L.) - Behandelt in 10 Teilen Landesherren und Beamte, Rechtsquellen, Kontrakte, Erbrecht, Eigentum und dingliche Rechte, Klagen, Zivilprozesse, Strafrecht und -prozesse, Lehnrecht sowie Landfrieden und Polizei. Die goldene Bulle ist angehängt. - Titel mit gr. Reichswappen. Das Porträt des Autors (vo. Titel) wurde von Georg Thomas von Basel geschnitten. Die großen Holzschnitte von dem Petrarcameister, H. Weiditz und H. Schäufelein mit meist alltägl. gerichtlichen Szenen, darunter Darstellungen vom Steuerzahlen, Testamentaufsetzen, gerichtlichem Prozeß, Diebstahl, Folter, Hinrichtung, Gefängnis u. a. - Ohne das Bl. 275 mit der Holzschnitt-Druckermarke und 1 Bl. Register. Widmung und 1 Registerblatt am Ende eingebunden. Leicht fleckig, vereinz. Marginalien von alter Hd., 14 Bll. mit hinterl. bzw. ergänzten Randläsuren (davon 7 Bll. (inkl. Titel) fast durchgehend angerändert), Stammbaum im Kopfsteg knapp beschnitten (Bildverlust), Bl. XIV mit kl. Fehlstelle (Bild und vo. Textverlust), Vorsätze gestempelt. Einbd. tls. berieben, Außengelenke eingerissen, 1 Kap. mit kl. Läsur.
Second edition. With armorial woodcut on title, 1 genealogical woodcut (cropped close in the head margin), 1 woodcut portrait and 40 woodcuts in text. Half calf in 18th cent. style with col. label and rich floral gilt spine. - Lacking leaf 275 with woodcut printer's device and 1 l. index. Dedication and 1 l. index bound in at the end. Slight staining, partly with marginalia by old hand, 14 ll. with backed or rebacked damages (7 ll. of them (incl. title) remargined), l. XIV with small defective spot (loss of printed matter), endpapers stamped. Binding slightly rubbed, outer joints torn, lower spine end chipped.
136
Der Rechten Spiegel. 1550
Sold:

€ 900 / $ 1.026
(incl. 20% surcharge)
You might also be interested in