Sale: 309 / Rare Books, May 21./22. 2007 in Hamburg

Lot 19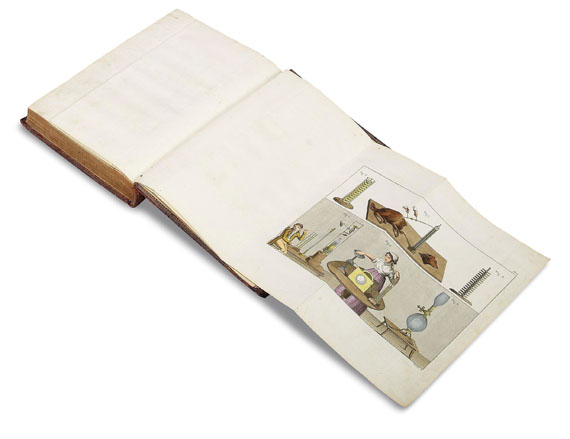 19
Essai sur le Galvanisme, 1804.
Estimate:
€ 2,500 / $ 3,050
Sold:

€ 4,440 / $ 5.416
(incl. 20% surcharge)
Lot description
Aldini, J. [d. i. Giovanni],
Essai théoretique et expérimental sur le galvanisme, avec une série d'expériences. 2 Tle. in 1 Bd. Mit
10 gefalt. Kupfertafeln.
Paris, Fournier Fils 1804. Roter langnarb. Maroquin d. Zt. mit reicher RVerg., goldgepr. doppelten kl. Deckelfileten, reicher Innenkantenverg., hellblauen Seidenmoirée-Innenspiegeln und Vorsätzen sowie GGoldschnitt. VDeckel mit
goldgepr. Widmung des Autors an Alexanders I. Pawlowitch
(1777-1825), Kaiser von Rußland: "Alexandro. I / Inclyto Russiarum / Imperatori / Auctoris obsequium". 4to. 3 Bll., X, 398 S.
Wheeler Gift 660. - DSB I, 108. - Poggendorff I, 27. - Waller 11268. -
Erste Ausgabe
. - "The effects of the electric current on the animal system; the velocity of electricity through water; electrical fishes, conductivity of flames [etc.]" (Wheeler Gift). - Giovanni Aldini (1762-1834), Neffe von Luigi Galvani (1737-98), Entdecker des nach ihm benannten Phänomens des Galvanismus, machte sich in der wissenschaftlichen Auseinandersetzung mit A. Volta vor allem in den 90er Jahren des 17. Jhs. zum Anwalt seines Onkels. "In the controversy over Galvani's 'animal electricity' and Volta's 'galvanic current', it was not the modest Galvani but his lusty nephew who wrote, lectured, and published ... on the theories and experiments of both his uncle and himself. Aldini added notes and a commentary to the second edition of Galvani's important De viribus electricitatis in motu musculari (1792). An ardent partisan of his uncle's cause, he followed this supplement with De animale electricitate, dissertatione duae (1794) and his best-known work, Essai théoretique et expérimentale sur le galvanisme (1804)." (DSB) - Zeitgleich erschien auch eine zweibändige Oktavo-Ausgabe. - Die Tafeln mit versch. Versuchsreihen und einer Hafenansicht. - Tlw. etw. stockfl. (Text vereinz. deutlicher), 1 w. Vorbl. mit Numierung in Farbstift, 1 festes Vorsatz gelöst. Einbd. leicht berieben und minim. fleckig.
First edition. With 10 folding copperplates. Contemp. red morocco with rich gilt spine, gilt double fillet border and inside gilt border, light blue silk moire endpapers and gilt edges. Front cover with gilt pressed dedication of the author to Alexander I. Pawlowitch (1777-1825), Russian emperor: "Alexandro. I / Inclyto Russiarum / Imperatori / Auctoris obsequium". - Partly slight foxing (few ll. stronger), 1 blank leaf with shelfmark in crayon, 1 pastedown detached. Binding slightly rubbed and minim. stained.
19
Essai sur le Galvanisme, 1804.
Estimate:
€ 2,500 / $ 3,050
Sold:

€ 4,440 / $ 5.416
(incl. 20% surcharge)