Sale: 316 / Post War, June 12. 2007 in Munich

Lot 347.10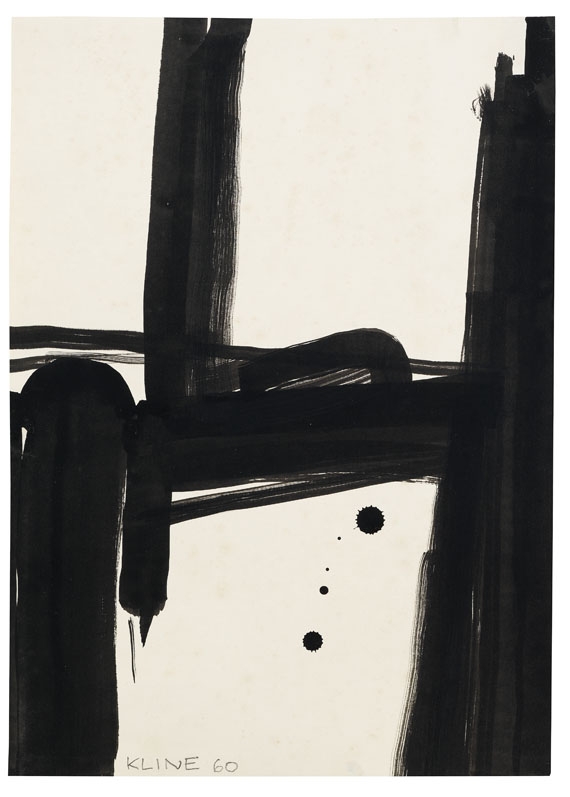 347.10
Study for "Black and White No. 2", 1960.
Brush and India ink drawing
Estimate:
€ 70,000 / $ 70,000
Sold:

€ 140,400 / $ 140.400
(incl. 20% surcharge)
Study for "Black and White No. 2". 1960.
Tuschpinselzeichnung.
Links unten signiert und datiert. Auf chamoisfarbenem Bütten 34,8 x 25 cm ( 13,7 x 9,8 in), blattgroß.
Unsere Arbeit entstand als Vorstudie zu dem Gemälde "Black and White No. 2", das sich heute im Jack S. Blanton Museum of Art, The University of Texas at Austin, befindet.
PROVENIENZ: Helen Serger, La Boetie, New York (verso mit dem Etikett).
Z. Michael Legutko, Lipert Gallery, Brooklyn/New York.
Privatsammlung Süddeutschland.
LITERATUR: Franz Kline. 1910-1962, Ausst.Kat. Museo d'Arte Contemporanea, Turin 2004, S. 270 (mit Abb. des Ölgemäldes)
Franz Kline wird 1910 in Wilkes-Barre/Pennsylvania geboren und zählt zu den führenden Vertretern des Abstrakten Expressionismus in den USA. Der Amerikaner studiert 1931 in Boston an der School of Fine and Applied Arts. 1937 wechselt er an die Heatherly School of Fine Arts in London. 1938 kehrt Kline in seine Heimat zurück. Seine Werke sind ab den 1940er Jahren stark vom Expressionismus und Kubismus beeinflusst. Ab den 1950er Jahren verändert er seinen Stil und orientiert sich an seinen Vorbildern Bradley Walker Tomlin und Wilhelm de Kooning. Es entstehen großformatige, abstrakte Schwarz-Weiß-Bilder, die der Künstler in seiner ersten Einzelausstellung in der Egan Gallery in New York präsentiert. Die schwungvolle und markante Pinselführung seiner großflächigen Bildkonstruktionen machen Kline neben Jackson Pollock zu einem der wichtigsten Vertreter des Action-Painting.
"Kline war sich seines Verfahrens bewußt. Seine Malerei lebt aus der absoluten Gleichrangigkeit der dominanten Formverspannungen und ihres Umfeldes. Das hebt sie grundsätzlich von fernöstlicher Kalligrafie ab. Der Künstler kann nicht in die Rubrik einer skripturalen Malerei eingeordnet werden. Denn er ist kein Maler von Zeichen, sondern er evoziert Räumlichkeit auf der Bildfläche. Im räumlichen Kontext gesehen, besitzen die zeichenhaft wirkenden Formbehauptungen den Charakter von Figurationen." (Andreas Franzke, Der explosive Malprozeß als Formen stiftende Kategorie des Ausdrucks, in: Künstler. Kritisches Lexikon der Gegenwartskunst, Ausgabe 30, Heft 14, 2. Quartal 1995, S. 6). Wie in unserer Arbeit begreift Kline das Weiß nicht als "Leerfläche", sondern als Farbe und damit als gestaltendes Element. Indem es die schwarzen Formen umschließt und in ihrer Kontur hervorhebt, dominiert es die kompositorische Gestaltung.
Das Museum Ludwig in Köln widmet Franz Kline 1960 eine Einzelausstellung. Ein Jahr später erkrankt er und verstirbt 1962 in New York. [RS]
Zustand: Guter Gesamteindruck. Ränder verso punktuell in Passepartout montiert. Weiße Partien schwach stockfleckig. Im rechter Kante oben zwei winzige Retuschen. Unterkante mit winziger sorgsam restaurierter Fehlstelle.
347.10
Study for "Black and White No. 2", 1960.
Brush and India ink drawing
Estimate:
€ 70,000 / $ 70,000
Sold:

€ 140,400 / $ 140.400
(incl. 20% surcharge)
You might also be interested in
Franz Kline - lots sold by Ketterer Kunst