Sale: 328 / Rare Books, Nov. 19./20. 2007 in Hamburg

Lot 296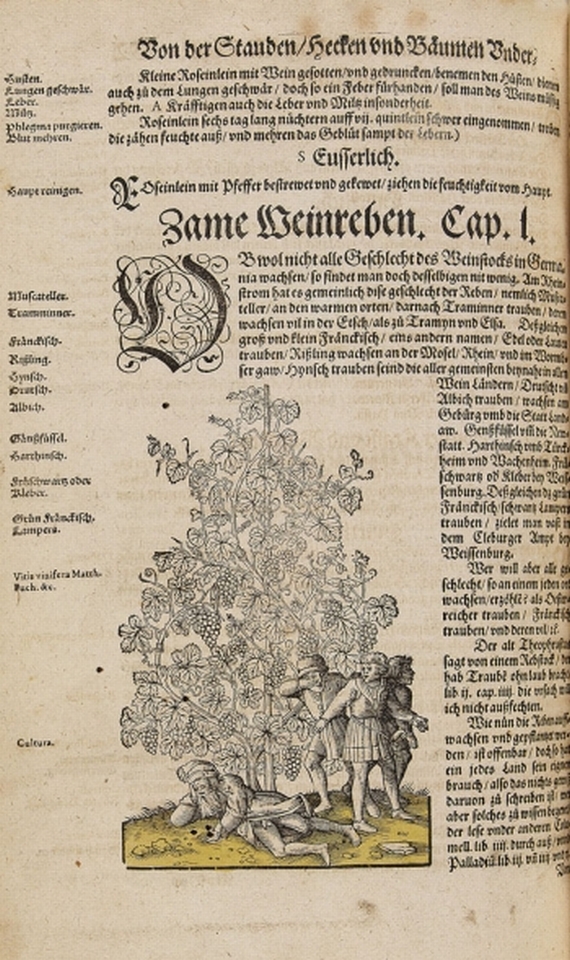 296
Kreütterbuch. 1595
Estimate:
€ 2,000 / $ 2,380
Sold:

€ 4,320 / $ 5.140
(incl. 20% surcharge)
Lot description
Bock, H.,
Kreütterbuch, darin underscheidt Nammen und Würckung der Kreütter, Stauden, Hecken und Bäumen, mit ihren Früchten, so in Teutschen Landen wachsen ... Item von den vier Elementen, zamen und wilden Thieren, auch Vöglen und Fischen, Milch, Käß, Butter, Honig, Wachs, Zucker, Saltz, Brot, Wein, Essig, Oely, Eyer, Blut, Schmaltz, Unschlit, allerhand Kochkreutter ... Hernacher mit vilen nutzlichen Experimenten gemehret, durch den M. Sebizium ... Jetzundt aber auffs new, mit aller deren Kreutter Namen ... zu finden ... Sampt sechs nützlichen Registern. Mit
Holzschnitt-Porträt, Wappenholzschnitt und ca. 570 Textholzschnitten
(tlw. ocker ankoloriert), meist von David Kandel. Straßburg, J. Rihel 28. VIII. 1595. Blindgepr. Schweinsldr. d. Zt. über Holzdeckeln. Folio. 36 nn., 470 num., 24 nn. Bll.
VD 16, B 6025 und B 6007. - BM STC, German Books S. 130. - Index Aurel. 120.601. - Nissen 182. - Muller 532, 266. - Vgl. Weiss 427; Horn/Arndt 21. - Nicht bei Adams. - Fünfte von Melchior Sebitz besorgte Ausgabe des berühmten Kochbuches, insgesamt die 14. und vorletzte. Der vierte Teil (Bll. 420-70) des Werkes behandelt die
Teutsche Speißkammer
, in der zahlr. landwirtschaftliche Erzeugnisse, Lebensmittel, Getränke und Gewürze beschrieben werden. Die
Speißkammer
erschien erstmals 1550 als separates Werk (vgl. Cagle 85), ab 1577 nahm Bock dieses Traktat in sein Kräuterbuch auf. Bocks Kräuterbuch erschien erstmals 1539, jedoch ohne Abbildungen, das erste illustrierte Werk wurde 1546 veröffentlicht. "Während sich seine medizinischen Zeitgenossen ... noch mit der Dioskurides-Exegese und -Kommentierung plagten, lenkte er sein Augenmerk allein auf die heimische Flora, die er als Botaniker erlebte, erwanderte und kultivierte. Die humorgewürzte, anschauliche Art seiner Schilderung ist im besten Sinne populär, ebenso sind es die oft genreartig ausgeschmückten Figuren, die sein Zeichner ... z. T. nach Weiditz, mehr noch nach Meyer und Füllmaurer entworfen hat." (Nissen, Kreuterb. S. 44) - Leicht gebräunt und wurmstichig, nur wenig fleckig, 1 Bl. gelöst, 1 Bl. mit Brandfleck (etw. Buchstabenverlust), 1 Bl. mit längerem Randeinriß, Buchblock angebrochen, Vorsätze erneuert. Einbd. sorgfältig restauriert und gefirnist sowie tlw. wurmstichig, Schließen entfernt. - Exlibris "Horticultuaral Society of New York - Gift of Massachusetts Horticultural Society 1926". Insgesamt gutes Exemplar.
296
Kreütterbuch. 1595
Estimate:
€ 2,000 / $ 2,380
Sold:

€ 4,320 / $ 5.140
(incl. 20% surcharge)
Hironymus Bock - lots sold by Ketterer Kunst