Sale: 328 / Rare Books, Nov. 19./20. 2007 in Hamburg

Lot 349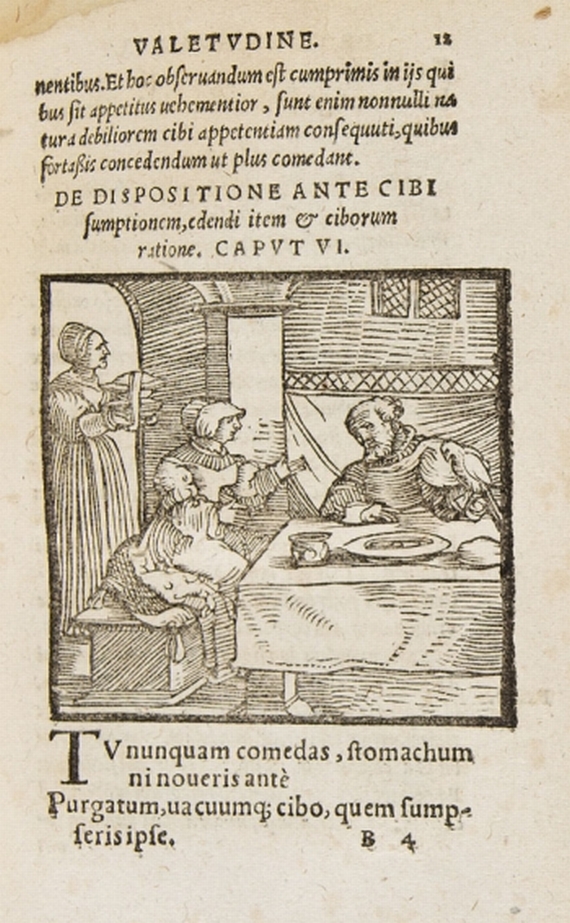 349
Regimen sanitatis Salernitanum
De conservanda bona valetudine. 1551
Sold:

€ 1,320 / $ 1.504
(incl. 20% surcharge)
Lot description
Curio, J. und J. Crell,
De conservanda bona valetudine. Opusculum Scholae Salernitanae, ad regem Angliae, versibus conscriptum ... Mit
74 Textholzschnitten
von H. S. Beham u. a. Frankfurt, Chr. Egenolff 1551. Ldr. d. Zt. (Rücken und Kanten erneuert). 8vo. 8 nn., 147 num., 5 nn. Bll.
VD 16, ZV 25564. - BM STC, German Books S. 773. - Adams S 104. - Simon, Bibl. Bacchica II, 174. - Oberlé 320: "Cette édition est très séduisante". - Pauli, Beham S. 411, VII und 493. - Vgl. Horn/Arndt 40; Schoene 5774. - Zweite Ausgabe bei Egenolff. Berühmtes medizinisches Diätkochbuch, das von der med. Schule von Salerno für die engl. Königin entwickelt wurde, vorlieg. in einer Neubearbeitung des Arztes Curio. Die erste Ausgabe dieser Bearbeitung erschien 1538, wegen seiner großen Popularität wurde es im 16. und 17. Jh. mehrf. verlegt. Behandelt ebenso Lebensmittel wie Wein und Medizin. - Die schönen Holzschnitte zeigen Tischgesellschaften, Weinbereitung, Weinfässer, Schlachtung, diverse Kräuter, Früchte und Gemüse, Brote, Fische, Tiere u. v. m. - 11 Holzschnitte stammen von Hans Sebald Beham; davon 9 aus den
Neun Monatsbilder
(Pauli 1211, 1213, 1214, 1216, 1217, 1219; 3 wdh.) sowie 2 weitere Einzelblätter (Pauli 1241 und 1242). - Leicht gebräunt und wasserrandig (tlw. stärker), 3 Holzschnitt mit kl. Rasur in der Darstellung, 1 Holzschnitt mit Eintragung von alter Hd., hint. Vorsätze erneuert.
Second edition by Egenoff. With 74 woodcuts in text by H. S. Behan et al. Contemp. calf (spine and edges renewed). - Slightly browned, waterstained (partly stronger), 3 woodcuts with small erasings in the illustration, 1 woodcut with inscriptions by an early hand, back endpapers renewed.
349
Regimen sanitatis Salernitanum
De conservanda bona valetudine. 1551
Sold:

€ 1,320 / $ 1.504
(incl. 20% surcharge)