Sale: 328 / Rare Books, Nov. 19./20. 2007 in Hamburg

Lot 541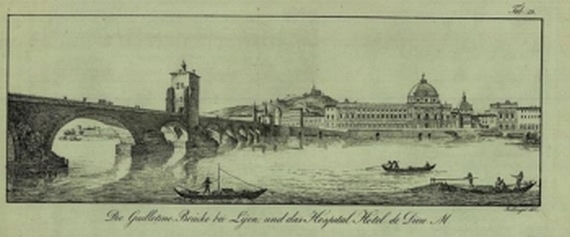 541
Fußreise durch das südl. Frankreich. Atlasbd., 1818.
Sold:

€ 528 / $ 638
(incl. 20% surcharge)
Lot description
[Mylius, Chr. Fr.,
Malerische Fußreise durch das Südliche Frankreich und einen Theil von Ober-Italien]. Plate vol. With
1 lithogr. plan
and
93 (of 89) lithogr. plates
. [Karlsruhe, self-published. 1818-19]. Contemp. half calf. Oblong folio. 1 l. plate index.
Rümann 380. - Dussler p. 78, 1-100. - Winkler 960. - First edition. - Plate vol. of the literary travelogue. Among the illustration is a plan of Lyon, antiquities, costumes, views of rivers, nice views of Arles, Avignon, Besançon, Creusot, Grenoble, Lyon, Marseille, Monaco, Nice, Turin etc. - Plates numb. 1-88 (61 and 73 omitted) with 18b & c, 39b and nn. plan of Lyon. 4 additional nn. plates bound in: View of the royal square in Lyon, grotto of Besançon, the three basalt rocks near Rochemaure on the Rhone, the pyramidal rock Oeillet near Grenoble. - Binding scraped and bumped, spine with defective spot.
Well-preserved inside and wide margined copy
, plates partly on bluish paper.
541
Fußreise durch das südl. Frankreich. Atlasbd., 1818.
Sold:

€ 528 / $ 638
(incl. 20% surcharge)