Sale: 328 / Rare Books, Nov. 19./20. 2007 in Hamburg

Lot 126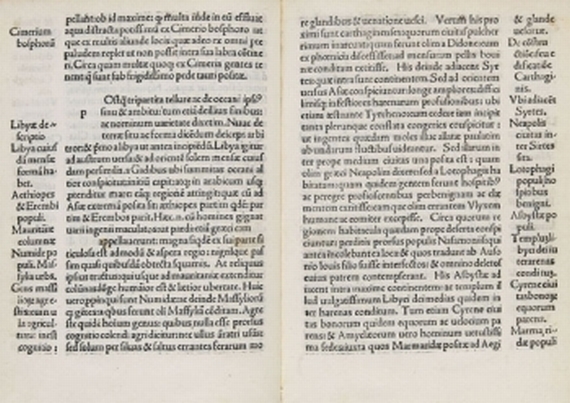 126
De situ Orbis. 1598., 1498.
Estimate:
€ 3,500 / $ 3,990
Sold:

€ 3,240 / $ 3.693
(incl. 20% surcharge)
Lot description
Dionysius Periegetes,
De situ orbis.Venedig, Christophorus de Pensis 1498. Spät. Pgt. 4to. 32 nn. Bll. (d. l. w.)
GW 8428. - Hain 6229. - BSB Ink. D-180. - BMC V, 472. - Proctor 5246. - Goff D 255. - Pellechet 4295. - Schönes Exemplar dieser lateinischen Inkunabelausgabe der berühmten Weltbeschreibung des Dionysius Periegetes. Der ursprüngliche Text des Dionysius Africanus entstand in griechischen Hexametern, diese lateinische Version geht auf Ant. Becharius zurück und erschien 1478 zuerst in Venedig. - Vollständiges Exemplar des venezianischen Wiegendrucks aus der Offizin von Christoforo de Pensi (Mandello), dessen Arbeiten in der Stadt für die Jahre von 1487 bis 1506 nachgewiesen sind. Koll.: a-h/4, h/4 weiß. - Nur leicht fleckig, die letzten 4 Bll. mit minim. Wurmspuren. Im vord. Innendeckel das gr. gest. Wappenexlibris des Duke of Sussex, Sohn Georgs III. von England.
Complete Venetian incunabulum, nice copy of this Latin edition of the famous description of the world by Dionysius Periegetes. The original text by Dionysius Africanus was written in Greek hexametre, this Latin version can be traced back to Ant. Becharius and was first published in Venice in 1478. Later vellum. - Just slightly foxed, the last 4 ll. with minimal traces of worming. The engr. armorial bookplate of the Duke of Sussex, son of George III. of England on the front inside cover.
126
De situ Orbis. 1598., 1498.
Estimate:
€ 3,500 / $ 3,990
Sold:

€ 3,240 / $ 3.693
(incl. 20% surcharge)