Sale: 328 / Rare Books, Nov. 19./20. 2007 in Hamburg

Lot 98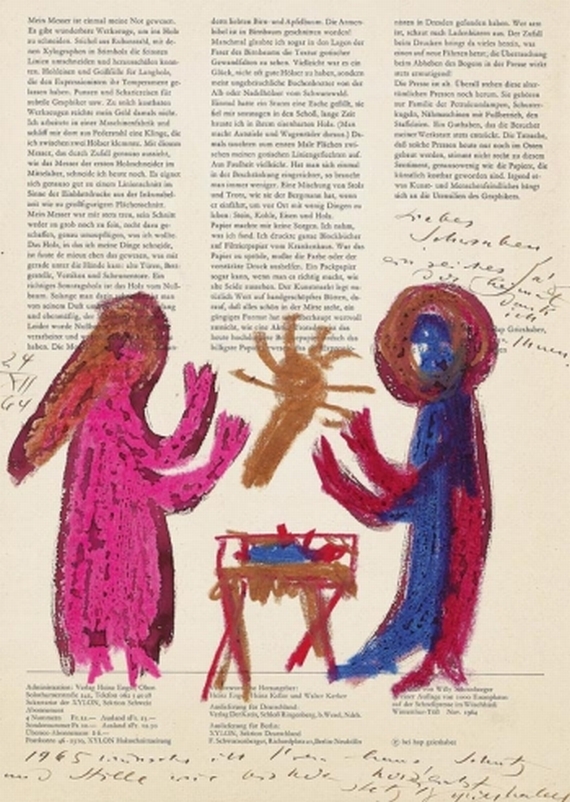 98
3 Holzschnitte, 6 Orig.-Zeichnungen, ca. 25 Briefe + Beig., 1964.
Estimate:
€ 5,000 / $ 5,000
Sold:

€ 8,160 / $ 8,160
(incl. 20% surcharge)
Grieshaber, HAP. -
Sammlung von
9 Orig.-Malbriefen
m. U. (6 überwieg. farb. Orig.-Zeichnungen und 3 Orig.-Farbgraphiken) und
22 eigh. Briefen und Karten
m. U. sowie mehreren
Orig.-Fotografien
.Ca. aus den Jahren 1964-73.
Interessante und künstlerisch eindrucksvoll gestaltete Brieffolge an die mit Grieshaber befreundete Isolde Schöttle in Backnang. Neben Dankesgrüßen für zugesandte Geschenke, darunter vor allem Schallplatten mit klassischer Musik, berichtet Grieshaber über einzelne Werke, politische Aktivitäten und häusliche Neuigkeiten, insbesondere seine 'Haus'-Tiere (Wildschwein, Pfau, Karukalschaf etc.). Einige Auszüge:
"Es ist keine revolutionäre Zeit, man kann sich mit nichts in die Brust werfen, und doch, braucht man den Wind, der von allem her weht was man schon als Kind geliebt hat ..." (22. XI. 1963). - "Ihr vieux [Grieshaber] war weit weg um eine Bittschrift an S. E. den Präsidenten Lopez Matteos von Mexico zu verfassen. Vor allem einen Holzschnitt dafür zu machen. Siqueiros, der Maler um den es dabei geht, ist sicher einmal ein Schwein ... gewesen, trotzdem wollte ich, musste ich um Gnade bitten. Im Holz zuvörderst. Ich denke es hat mich weiter gebracht ... - Die Einsamkeit des Ateliers darf nicht von irgendeiner Autorität lebenslang bestraft werden. Es wäre eine Härte gegen die Natur des Künstlers in jedem Land. Eine fremde Autorität, die uns zu Unmenschen stempelt. Ich habe es selbst erlebt und möchte es nie mehr sanktioniert sehen ..." (2. II. 1964). - "... was liess Sie ahnen, dass ich an einer grossen Mappe Carmina Burana zum Geburtstag für Carl Orff arbeite? Ich hatte nur die Cantiones Profanae des Philadelphia Orchesters dirigiert von Eugene Ormandy. Sie haben mir eine Stereoeinrichtung gebracht! (Wissen Sie, wie schüchtern der vieux ist, etwas zu kaufen?) Ihre Geschenke zwangen mich dazu ..." (24. I. 1965; auf dem Farbholzschnitt Neujahrsritt 1964). - "... Ihr vieux ist fast unterwegs mit seiner Schmerzmaschine um 40 tanzende Todespaare zu finden für Dresden. Da wirken Violinsonaten noch Wunder ..." (5. XII. 1968).
Enthält 9 sogenannte Malbriefe, das sind Zeichnungen oder Graphiken mit eigh. Zeilen: 6 Orig.-Aquarelle (5 im Format 29,5 : 21 cm, 1 in 49,3 : 35 cm, dieses auf der letzten Seite der Zeitschrift Xylon 8), davon 2 mit Wachskreide, 1 mit Tuschfeder, 1 mit Bleistift, 1 mit kl. Farbholzschnitt sowie 1 collagiert mit getrockneten Haferrispen und Wiesenblumen (gerahmt); 1 Orig.-Farbholzschnitt (Fürst 64/137), 1 farb. Orig.-Radierung (Fürst 69/26) sowie 1 Orig.-Farblithographie mit Filzstift (nicht bei Fürst; Format 24,5 : 21,3 cm).
Ferner: 13 eigh. Briefe m. U. (ca. 16 S., 4to), davon 3 mit mont. Orig.-Fotografien und 1 auf der Zeitschrift reutlinger drucke (März 1969). - 9 eigh. Karten mit Holzschnitten (1 mit Buntstift übermalt) u. a. Abbildungen (tls. mit eigh. Umschlag) sowie 1 eigh. Schriftstück. - 8 Orig.-Fotografien (überwieg. Porträts), davon 2 mit eigh. Zeilen auf der Rückseite. - Mehrere Beigaben, darunter 12 sign. Kunstpostkarten mit Orig.-Holzschnitten (Fürst 71/80-91).
Interesting and impressively designed set of letters by Grieshaber from the years 1964-73. Collection of 9 orig. signed letters with drawings (6 orig. drawings, mainly in colours and 3 orig. printings in colours) and 22 autographed and signed letters and cards and several orig. photographs.
98
3 Holzschnitte, 6 Orig.-Zeichnungen, ca. 25 Briefe + Beig., 1964.
Estimate:
€ 5,000 / $ 5,000
Sold:

€ 8,160 / $ 8,160
(incl. 20% surcharge)
You might also be interested in
HAP Grieshaber - lots sold by Ketterer Kunst