Sale: 328 / Rare Books, Nov. 19./20. 2007 in Hamburg

Lot 155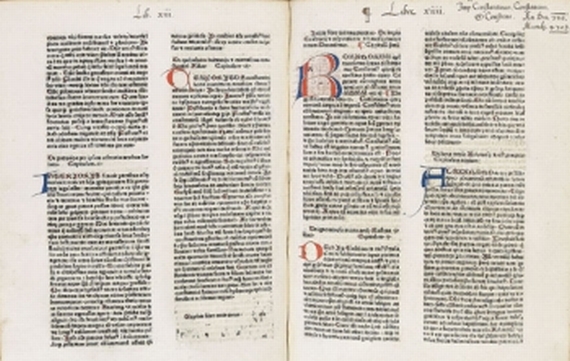 155
Speculum historiale. 1474
Estimate:
€ 4,500 / $ 5,130
Sold:

€ 14,400 / $ 16.416
(incl. 20% surcharge)
Lot description
Vincentius Bellovacensis,
Speculum historiale. Bd. II (von 3). Mit
11 Fleuronnée-Initialen
in Rot und Blau sowie zahlr. eingemalten
Lombarden in Rot und Blau
. [Augsburg, St. Ulrich und Afra] 1474. Schwarz gefärbter Schweinslederband d. Zt. über starken Holzdeckeln auf 4 Bünden mit 8 (st. 10) reich getriebenen spät. Messing-Buckelbeschlägen sowie 2 Messing-Schließen; Pgt.-Innenspiegel (der vordere unter Verwendung einer alten Handschrift). Folio. 331 Bll. Rom. Type, rubriziert. 2 Sp. 52 Zeilen.
Cop. 6247. - Goff V 284. - BMC II, 339. - BSB V-203. - Polain 3942. -
Seltene Ausgabe einer der großen Enzyklopädien des Mittelalters
, gedruckt im Augsburger Reichskloster St. Ulrich und Afra, von der nur wenig mehr als 10 Drucke nachgewiesen sind. "Abt Melchior von Stamhaim erwarb von Johann Schüßler fünf Pressen und ließ durch den Augsburger Meister Sixtus Saurloch eine komplette Druckerei einrichten ... Mit der Type I Anton Sorgs [wurde] das
Speculum historiale
des Vincentius von Beauvais ... gedruckt" (Geldner I, 138f.) - Der vorliegende zweite Band enthält nach dem Explicit die seltene Besonderheit, daß mit Ausnahme von einem Sonderzeichen
sämtliche Lettern der Type 103 im Blinddruck
zusammengestellt sind (vgl. BMC). - Das Werk bildet den vierten und letzten Teil der großen Enzyklopädie und behandelt die Universalgeschichte in insgesamt 31 Büchern. Der vorliegende zweite Band enthält die Bücher 11-21, beginnend mit der Zeit Valerians (256) und endend mit dem Tod Sigibert I. (575). Enthalten sind "eine reiche Sammlung historischer Fakten von der alten bis zur zeitgenössischen Geschichte ... Bemerkenswert ist, wie Vincenz versucht, die Kirchen- und Profangeschichte nicht in der üblichen Weise zu trennen, sondern als zusammenhängedes Geschehen zu erfassen" (KLL VI, 1806). - Tlw. minimal fleckig, vereinz. mit kl. Wasserrand; vord. flieg. Vorsatz erneuert. Bezug am VDeckel mit Einriß, die urspr. Naht des zweiteiligen Deckelbezugs geplatzt. Insgesamt sehr gutes und breitrandiges Exemplar auf kräftigem Papier.
Scarce edition by the monastery of SS. Ulrich and Afra in Augsburg. Vol. II (of 3) from the history part of the great encyclopedia of the Middle Ages, comprising books 11-21 (i. e. from the year 256 up to 575). This second volume with the specific feature of having the blind impression of all the sorts used with type 103 (cf. BMC). With 11 painted fleuronne initials in red and blue and numerous painted lombards alternating in red and blue. Contemp. black tinted pigskin over strong wooden boards with later brass angle appliques, 2 brass clasps, pastedowns using an early vellum manuscript. Roman type, rubricated. 2 columns, 52 lines. - Partly minim. stained, here and there small waterstain, front flying endleaf renewed. Covering of the front board with tear, the original seam of the two-piece covering burst. In general fine and broad-margined copy on strong paper.
155
Speculum historiale. 1474
Estimate:
€ 4,500 / $ 5,130
Sold:

€ 14,400 / $ 16.416
(incl. 20% surcharge)
You might also be interested in

Vincentius Bellovacensis - lots sold by Ketterer Kunst