Sale: 340 / Rare Books, May 19./20. 2008 in Hamburg

Lot 82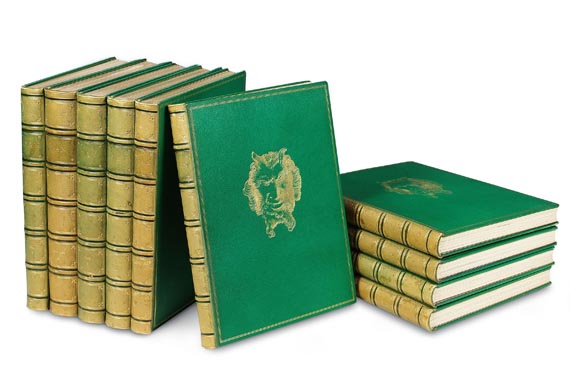 82
Henri de Toulouse-Lautrec
Pan. 10 Bde. 1895-1900
Estimate:
€ 24,000 / $ 23,760
Sold:

€ 32,400 / $ 32,076
(incl. 20% surcharge)
Pan.
Hrsg. von der Genossenschaft Pan. Red. von O. J. Bierbaum und J. Meier-Graefe (später R. Graul, C. Flaischlen u. a.) Jg. I- V (alles Erschienene) in 10 Bdn. Mit
106 tlw. farb. Orig.-Graphiken
(auf 104 Tafeln) von H. de Toulouse-Lautrec, P. Behrens, K. Kollwitz, M. Liebermann, H. van der Velde u. v. a. sowie 126 tlw. farb. Tafeln, 2 Musikbeilagen und sehr zahlr. tlw. farb. Textabbildungen. Berlin, Pan und [ab Jg. II] Fontane 1895-1900. Grüne Maroquinbände (sign. "Rud. Schmid, Berlin"; sämtl. OU eingeb.) mit floral. RVerg., goldgepr. VDeckel-Illustration (Pankopf), zweifacher goldgepr. Deckel- und Innenkantenfilete sowie KGoldschnitt. Folio.
Söhn HDO 525-530. - Bauch S. 236. - Dok. Bibl. I, 426. - Garvey/Wick 98. - Kirchner 15508. - Schlawe I, 48ff. - Schauer I, 20ff. - Vollständige Folge der bedeutenden und reich ausgestatteten Kunst- und Literaturzeitschrift der Jahrhundertwende. - "Von den anderen literarischen Zeitschriften unterscheidet 'Pan' besonders sein umgreifender Inhalt (Literatur und Kunst), sein buchkünstlerisches Wollen und seine Ausstattung" (Schlawe). - Die Zeitschrift ist "außerordentlich in ihrem Folioformat, frei von Renaissance und Gotik, aufsehenerregend durch die animalische Dämonie des Pan-Kopfes auf dem Titelblatt ... Er (der Pan) ist
einer der großen Sammelplätze und Aufbruchsorte der neueren deutschen Buchkultur
" (Schauer). - "Pan was the first significant German periodical of the Nineties devoted to contemporary art and literature." (Garvey/Wick) - Enthält sämtliche der in den Registern verzeichneten originalgraphischen Arbeiten und Kunstbeilagen. Exemplar der allgemeinen Ausgabe auf Kupferdruckpapier, erschienen in einer Auflage von 1100 bzw. 1400 Exemplaren; mit der häufig fehlenden Farblithographie
Mademoiselle Marcelle Lender
von Henri de Toulose-Lautrec. Sämtliche Kunstbeilagen im Rand typogr. bezeichnet und auf versch. Papiersorten gedruckt, darunter Japan, China, Kaiserl. Japan, Bütten und Kupferdruckpapier; tlw. in der Platte signiert, bzw. monogrammiert. - Enthalten sind u. a. Orig.-Graphiken von H. de Toulouse-Lautrec (Delteil 102), P. Behrens, L. von Hofmann, A. Illies, M. Klinger (Singer 226; 244), K. Kollwitz (Klipstein 10 IIc), M. Liebermann (Schiefler 35 IVb 2, 42 IIb 2, 44 IIIb 2, 49 b 2), E. Orlik und A. Rodin. -
1 of 1100 resp. 1400 copies on copper plate printing paper. Containing 106 orig. prints, partly in colour, by H. Toulouse-Lautrec, M. Klinger, K. Kollwitz, A. Rodin etc. Green signed morocco with gilt decoration on covers (head of Pan). - Complete set of the periodical with all orig. prints and additions, containing the often missing orig. lithograph 'Mademoiselle Marcelle Lender' by H. Toulouse-Lautrec. - Spines partly somewhat discoloured. Fine copy.
82
Henri de Toulouse-Lautrec
Pan. 10 Bde. 1895-1900
Estimate:
€ 24,000 / $ 23,760
Sold:

€ 32,400 / $ 32,076
(incl. 20% surcharge)
You might also be interested in
Henri de Toulouse-Lautrec - lots sold by Ketterer Kunst