Sale: 340 / Rare Books, May 19./20. 2008 in Hamburg

Lot 150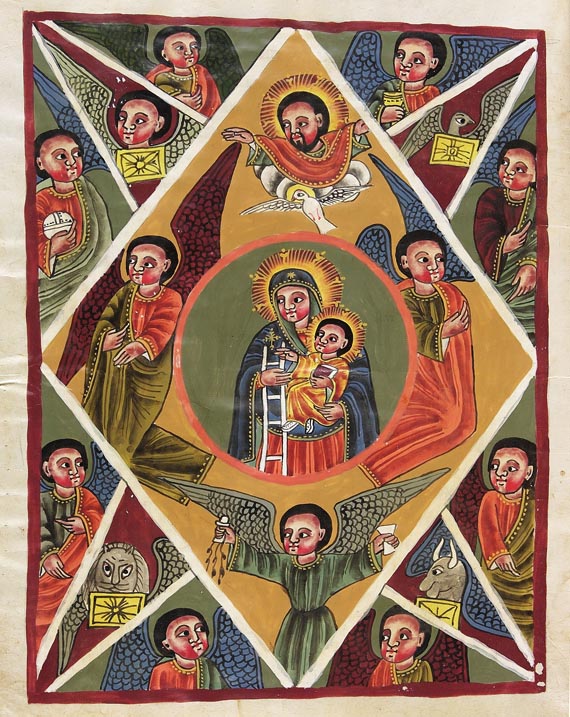 150
Buch des Begräbnisses. Äthiop. Manuskript. 19.Jh.
Estimate:
€ 10,000 / $ 11,900
Sold:

€ 9,600 / $ 11.424
(incl. 20% surcharge)
Lot description
Manuskripte. -
Mäshafä Genzät
(Buch des Begräbnisses). Ge'ez Handschrift auf Pergament.Äthiopien, 19. Jh. 127 Bll., Blattgr. 29,5 : 23,5 cm, Schriftspiegel ca. 21 : 19 cm. 22 Zeilen, 2 Spalten. - Geschrieben in schwarzer Tinte, Hervorhebung in Rot. Mit
28 farb. Miniaturen
(1 blattgr.). Zeitgenöss. Holzdeckelband mit blindgepr. Lederbezug, Deckel mit mehrfachem Rahmenaufbau aus Streicheisenlinien und 3 Rollbordüren.
Reich illuminierte Handschrift des
Mäshafä Genzät
, das Rituale für das christlich-äthiop. Begräbnis enthält. Das Manuskript stammt von mehreren Schreibern, wie es bei dieser Textart üblich ist. Die Miniaturen zitieren in einfacher Manier den sog. Gondarstil (18. Jh.) und sind später, wohl Anfang des 20. Jhs. hinzugefügt worden, im Mittelteil der Handschrift sogar über einer Rasur des Textes. Die Illustrationen beziehen sich nicht unmittelbar auf den Inhalt der Handschrift, sondern sind (das zeigt eben auch die Malerei über dem Text) als Ausschmückung der Handschrift gedacht. Die Übermalung von Texten aus dekorativen Gründen ist gerade im 20. Jh. häufiger anzutreffen. - Die erste Bildfolge am Beginn zeigt den hl. Georg (auf einem Schimmel reitend), Maria mit Kind begleitet von zwei Engeln, Jesus am Kreuz mit Maria und Johannes, Auferstehung der Toten sowie Szenen aus der Passion. Die zweite Bildfolge in der Mitte der Handschrift zeigt Maria zwischen Petrus und Paulus (?), Auferstehung, Erzengel, den äthiop. Heiligen Gäbrä Mänfäs Qeddus, einen Reiterheiligen der eine Schlange tötet, zwei Mönche, Maria und einen Erzengel. Die dritte Bildfolge am Ende beginnt mit einer blattgr. Figurenkomposition: mittig Maria mit Kind und Leiter, darüber Gottvater und der Heilige Geist in Gestalt der Taube, umgeben von den vier Evangelisten sowie Engeln. Darauf folgt Jesus Christus, der einen Satan vertreibt, Verkündigung, der äthiop. Heilige Täklä Haymanot (dem durch strenge Askese ein Bein abgestorben ist, dem dafür aber Flügel wachsen), Erzengel, Maria mit Helmkrone, ferner Darstellungen von Marienwundern oder Märtyrerlegenden. - Stellenw. fingerfleckig, erste Lagen gelockert. Rücken mit Einriß.
Book of funerals. Richly illuminated Ethiopic manuscript from 19th century. 130 leaves on vellum. Sheet size 29,5 : 23,5 cm. 22 lines, 2 columns. With 3 sequences of illustrations, added in the beginning of 20th century, altogether 28 (1 full-page) miniatures in colours. Ge'ez in black ink by several hands (as usual for this kind of manuscripts) with rubrics and titles in red. Contemp. redbrown blind-tooled leather over strong wooden boards. - Partly fingerstained, first quires loosened. Spine with tear.
150
Buch des Begräbnisses. Äthiop. Manuskript. 19.Jh.
Estimate:
€ 10,000 / $ 11,900
Sold:

€ 9,600 / $ 11.424
(incl. 20% surcharge)
Manuskripte - lots sold by Ketterer Kunst