Sale: 340 / Rare Books, May 19./20. 2008 in Hamburg

Lot 5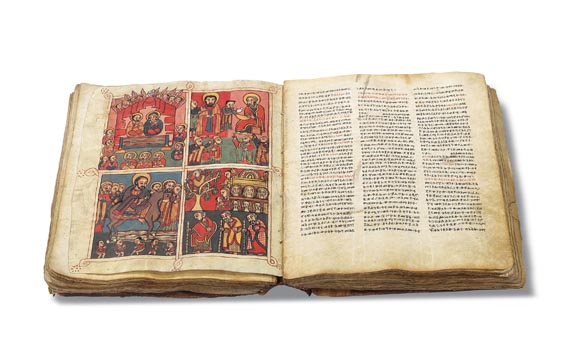 5
Synaxarium. Äthiop. Pergament-Manuskript, Ende 18. Jh., 1790.
Estimate:
€ 3,500 / $ 4,165
Sold:

€ 6,360 / $ 7.568
(incl. 20% surcharge)
Lot description
Synaxarium.
Ge'ez Handschrift auf Pergament.Äthiopien, Region um Gondär, Ende 18. Jh. 155 Bll., Blattgr. ca. 34,5 : 29,5 cm, Schriftspiegel ca. 25 : 24 cm. 37 Zeilen, 3 Spalten. - Geschrieben in schwarzer Tinte, Hervorhebungen in Rot. Mit
43 farbigen Miniaturen
. Zeitgenöss. Holzdeckelband (Deckelstärke 1 cm) mit blindgepr. Lederbezug.
Reich illuminierte Sammlung von Heiligenviten
aus der Geschichte des ägyptischen Christentums sowie äthiopischer Heiliger zur Lesung an den jeweiligen Gedenktagen. Die Handschrift enthält die Viten für die zweite Hälfte des Jahres, nämlich Mäggabit bis Pagwemen. Am Ende jeder Vita sind Sälam-Strophen (äthiop. Gedichtform) angefügt. - Die schönen, in kräftigen Deckfarben gemalten und zeitgleich entstandenen Miniaturen im sogenannten ersten und zweiten Gondärstil greifen auf bekannte Vorbilder aus unterschiedlichen Stilperioden zurück. So findet sich zu Beginn eine Bildfolge mit Reiterheiligen, die ein Pergamentfaltblatt des späten 17. Jhs. aus der Gondär-Region zitiert (vgl. M. Heldman u. a., African Zion, The Sacred Art of Ethiopia, 1996, Nr. 103). Die acht Miniaturen zu Beginn der achten Blattlage haben Miniaturen einer Handschrift für die Passionswoche aus der zweiten Hälften des 15. Jhs. zum Vorbild (vgl. ebd. Nr. 89), ebenso wie die acht Bilder am Ende der Lage (darunter Verkündigung, Kreuzigung, der äthiop. Heilige Gäbrä Mänfäs Qeddus) und die acht Bilder am Ende der 14. Lage (darunter Begebenheiten aus dem Korpus der Marienwunder; vgl. ebd. Nr. 90). Das nahezu blattgr. Marienbild am Ende zitiert ähnliche Mariendarstellungen (vgl. ebd. Nr. 11), gleichermaßen die Porträts von Aposteln. Innerhalb des Textes finden sich vereinzelt kleine Ornamentzeichnungen zur Absatzbezeichnung. Sie sind im Stil der sog. 'Art of Šäwa' gehalten, ein charakteristischer Malstil, der sich Ende des 18./Anfang des 19. Jhs. in der Provinz Šäwa entwickelt hat. - Der Auftraggeber war Häbtä Kiros, der die Handschrift für sich und seine Frau Sergutä Sellase hat anfertigen lassen. Als Schreiber wird Henbaba Dengel genannt. - Etw. fleckig (meist fingerfl.), vereinz. mit kl. Wasserand. Bindung tls. gelockert. Deckelbezug an Gelenken und Kanten mit gr. Fehlstellen.
Synaxarium (book of the Saints from August to December). Richly illuminated Ethiopic manuscript from end of 18th century.155 leaves. Size 34,5 : 29,5 cm, 3 columns. With 43 miniatures in colours. Ge'ez in black ink, with rubrics and titles in red. Contemp. blind-tooled leather over wooden boards. - Some staining (mostly fingerstaining, here and there small waterstain). Binding shaken, covering to joints and edges with large defective spots.
5
Synaxarium. Äthiop. Pergament-Manuskript, Ende 18. Jh., 1790.
Estimate:
€ 3,500 / $ 4,165
Sold:

€ 6,360 / $ 7.568
(incl. 20% surcharge)
Manuskripte - lots sold by Ketterer Kunst