Sale: 340 / Rare Books, May 19./20. 2008 in Hamburg

Lot 1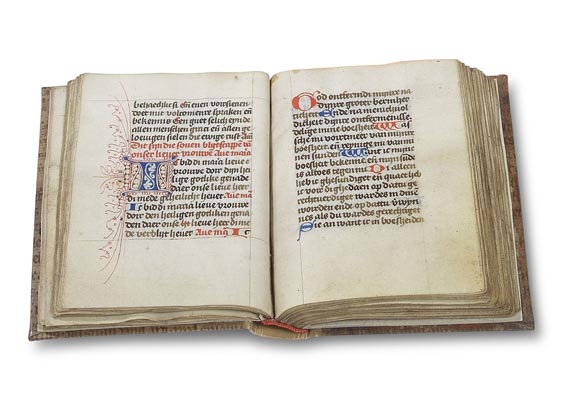 1
Niederl. Stundenbuch. Pgt.-Manuskript. 15. Jh., 1480.
Estimate:
€ 3,000 / $ 3,180
Sold:

€ 5,520 / $ 5,851
(incl. 20% surcharge)
Horae B. M. V. -
Niederländisches Stundenbuch.
Handschrift auf Pergament.Südliche Niederlande, letztes Drittel des 15. Jahrhunderts. 83 Bll. (d. l. w.), Blattgr. 12,6 : 9,1 cm, Schriftspiegel 7,6 : 5,3 cm. 16 Zeilen, regliert. Gotische Textualis in Schwarzbraun, Hervorhebungen in Rot, durchgehend rote und blaue Initialen. Mit
2 großen Zier-Initialen in Blattgold
auf farb. Grund mit dreiseitiger Blumenbordüre in Gold und Farben sowie
22
Fleuronnée-Initialen in Blau und Rot
(davon 10 mit Blattgold)
mit blattgr. Ausläufern, ferner 1 Stableiste in Blattgold und Farben, umgeben von Blattwerk. - Neuer Pgt., Deckel unter Verwendung einer alten Handschrift.
Hübsches Stundenbuch aus der letzten Phase der niederländischen Buchmalerei. Die Hervorhebung von Heiligen im Kalendarium läßt auf die Entstehung in den südöstlichen Niederlanden schließen, nahe der Kölner Diözese: Agnes, hl. Georg, Pantaleon, Bartholomäus, Gereon und Viktor, Severin von Köln, Kunibert von Köln, Cäcilia, Nikolaus von Myra u. a. - Mit einer siebenzeiligen Emailtyp-Initiale und einer fünfzeiligen Goldschmiedetyp-Initiale. - 1 Bl. von zeitgenöss. Hand zwischengebunden, 1 weiteres nachgebunden. Das letzte weiße Blatt mit Besitzeintrag von 1642 (dieses mit Wurmspur). - Etw. fingerfleckig, Goldhöhung meist etw. berieben.
Neat Dutch Book of Hours. Manuscript on vellum. South Netherland, last third of 15th century. 83 leaves (last blank). Sheet size 12,6 : 9,1 cm, text area 7,6 : 5,3 cm. 16 lines. Gothic hand in blackbrown ink, highlights in red, red and blue initials. With 2 large initials with burnished gold on coloured ground with three-sided floral border in gold and colours, 22 fleuronne initials in blue and red (10 with burnished gold) with full-page extensions. Mod. vellum using an early manuscript. - 1 leaf by contemp. hand bound in, 1 further leaf bound in at end. Last blank with ownership inscription from 1642 (wormtrace). Some fingerstaining, burnished gold mostly somewhat rubbed.
1
Niederl. Stundenbuch. Pgt.-Manuskript. 15. Jh., 1480.
Estimate:
€ 3,000 / $ 3,180
Sold:

€ 5,520 / $ 5,851
(incl. 20% surcharge)
You might also be interested in
Niederlande - lots sold by Ketterer Kunst