Sale: 353 / Rare Books including Marine Art, May 18. 2009 in Hamburg

Lot 709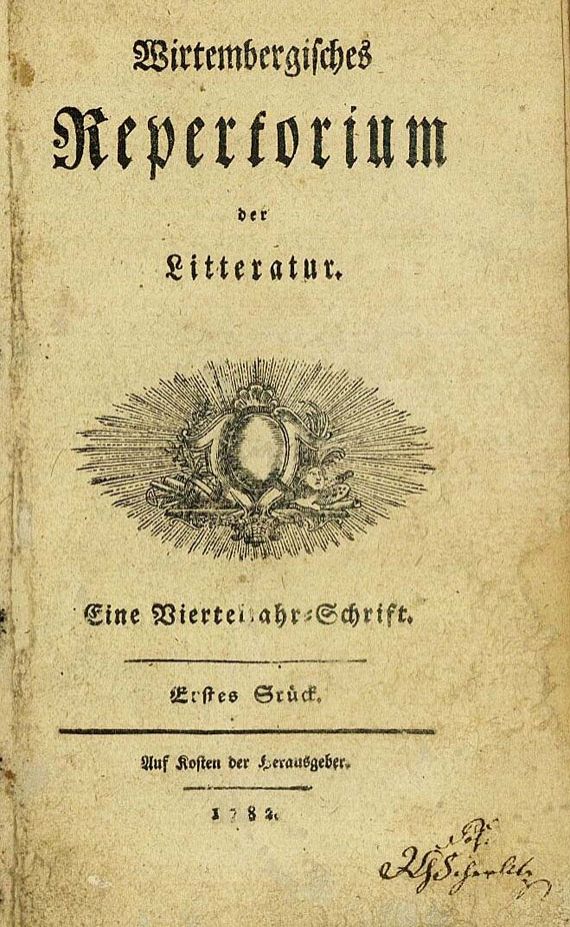 709
Wirtembergisches Repertorium, 1782
Estimate:
€ 2,000 / $ 2,200
Sold:

€ 9,840 / $ 10,824
(incl. 20% surcharge)
Schiller. -
Wirtembergisches Repertorium
der Litteratur. Eine Vierteljahr-Schrift. Erstes [bis drittes] Stück [alles Erschienene]. 3 Tle. in 1 Bd. Mit 3 Holzschnitt-Titelvignetten (wdh.). O. O., "Auf Kosten der Herausgeber" [Heilbronn, Eckebrecht und Ulm, Stettin] 1782-83. Neuer HLdr. 8vo. 4 Bll., 216 S., 1 Bl., S. 217-390, 2 Bll., S. 391-562 S.
Marcuse 42 und 43 (1. u. 2. Heft). - Trömel 27 und 28 (ebenso). - Goedeke V, 169, 32 (mit ausführl. Inhaltsverz.). - Nicht bei Borst. - Erste Ausgabe. -
Vollständige Folge der äußerst seltenen literarischen Zeitschrift
, hrsg. von Schiller und seinen Freunden J. F. Abel, J. J. Atzel, und J. W. Petersen. Nach unseren Recherchen wurde lediglich ein Exemplar in den letzten Jahrzehnten auf einer Auktion versteigert (Slg. Albrecht, Basel 1991).
Enthält in den ersten beiden Stücken zahlr. Beiträge Schillers, darunter besonders interessant eine Selbstrezension der Räuber. "Angestrebt wird eine möglichst leserfreundliche Melange der Themen im breiten Spannungsfeld zwischen Gesellschaftsbericht, Lyrik, Rezension und Essay ... Unter den 24 ausschließlich anonymen Beiträgen [des ersten Stückes] stammen elf von Schiller. Den größten Anteil bilden die am Schluß abgedruckten Rezensionen, zu denen Schiller wiederum sieben Texte beisteuert ... Hinzu kommen zwei Selbstrezensionen über die Anthologie und die Räuber, mit deren Hilfe Schiller für seine eigene Produktion zu werben sucht. Kaum zufällig scheint, daß diese beiden Anzeigen erheblich umfangreicher ausfallen als die lakonischen Rezensionen der fremden Arbeiten ... Ergänzt wird die Reihe von Schillers Texten um den Essay Ueber das gegenwärtige teutsche Theater, den Spaziergang unter den Linden, eine Kritik der Mannheimer Räuber-Premiere und den (durch ihn nur redigierten) Abdruck eines Briefes, in dem ein württembergischer Pfarrer die Wirkung eines Amuletts erläutert. Geringer fällt Schillers Anteil am insgesamt schmaleren zweiten Heft aus, das im Oktober 1782 erscheint. Neben der kurzen Erzählung vom Schicksal der Brüder Wurmb liefert er den unter Mithilfe Scharffensteins verfaßten Dialog Der Jüngling und der Greis sowie vier lateinische Inschriften für einen Artikel über Grabmalentwürfe, den Atzel beigesteuert hatte" (P. A. Alt, Schiller, Mchn. 2004, S. 488-490).
Erste 4 Bll. leicht fleckig und tls. mit kl. Randläsuren, Titelbl. des ersten Heftes neu aufgezogen. Guterhaltenes Exemplar.
Very rare magazine edited by Schiller, containing numerous original contributions by himself, among them a self-review of the 'Räuber'. 3 pts. (all) in 1 volume. Mod. half calf. - First 4 leaves slightly stained and partly with marginal defects, title of the first issue mounted. Else well-preserved copy.
709
Wirtembergisches Repertorium, 1782
Estimate:
€ 2,000 / $ 2,200
Sold:

€ 9,840 / $ 10,824
(incl. 20% surcharge)
More offers for Friedrich von Schiller
You might also be interested in
Friedrich von Schiller - lots sold by Ketterer Kunst