Sale: 343 / Post War / Contemporary Art, Dec. 04. 2008 in Munich

Lot 778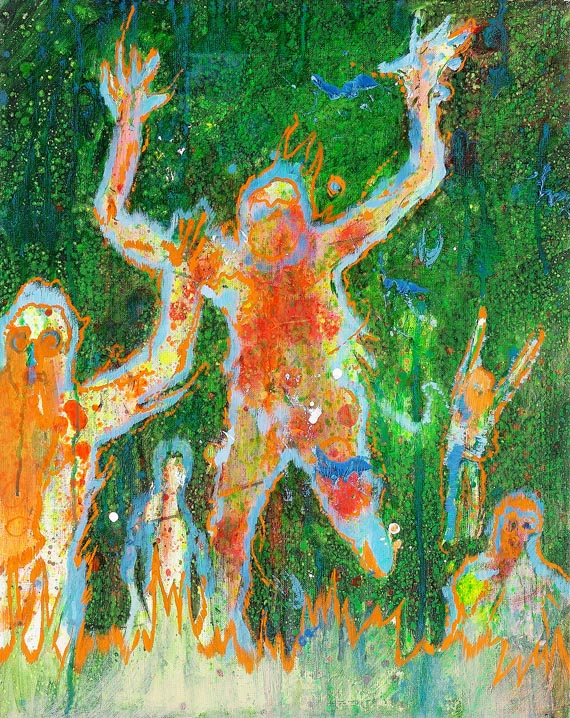 778
Ohne Titel, 2005.
Oil on canvas
Estimate:
€ 50,000 / $ 50,000
Sold:

€ 48,800 / $ 48.800
(incl. 22% surcharge)
Ohne Titel. 2005.
Oil on canvas.
Dated "3/05" on the reverse. With inscription "DR/K 319" on the stretcher. 50 : 40 cm (19,6 : 15,7 in). Daniel Richter was born in Eutin in 1962. In the 1980s he designed poster and covers for rock and punk bands and was active in Hamburg's sub-culture. Between 1991 and 1995 he studied at the Hochschule für Bildende Künste in Hamburg under Werner Büttner. The unconventionality and cultural disobedience, the artist circle around Büttner, Albert Oehlen and Martin Kippenberger acted on as a maxim, finally lead Richter to painting. Richter worked for Albert Oehlen (painting, object art, installations, and music), and still is in contact with his artist colleagues. His works up until the year 2000 were defined by intense abstraction, but in his work since then figuration has come ever further to the fore. In 2004 he was appointed professor for painting at the University of Arts in Berlin. Endtimes scenarios in the spirit of Hieronymus Bosch and Francis Bacon hold his works together – but always just hinting and never recording actual shocking motifs.
A basic statement expressed in composition and palette informs Daniel Richter's œuvre and this is true of both his abstract phase and his figurative works. A linear structure articulates the overall pictorial composition, fusing it into unity. Fine contour lines configure cells of vibrant colour. Abstract and figurative parts are overlaid in variegated striation. Richter's art is light painting, not in the classic sense but as an experiment with artificial lighting, with flash, x-ray and infrared imaging. Dots of white light and lurid translucent colour convey the impression of a lightning flash flaring up. The figures in the present work, fiery forms which seem to kindle and subside against a background as deliquescent as enamel, are both disturbing and fascinating.
In 2006 the artist transferred to the Vienna Akademie der Bildenden Künste and accepted a chair for extended pictorial space. Daniel Richter lives and works in Berlin and Hamburg. [NB]
PROVENIENZ: Contemporary Fine Arts, Berlin (with the label and two stamps on the stretcher).
Private collection North Rhine-Westphalia.
In good condition. Corners partly minimally rubbed.
778
Ohne Titel, 2005.
Oil on canvas
Estimate:
€ 50,000 / $ 50,000
Sold:

€ 48,800 / $ 48.800
(incl. 22% surcharge)
You might also be interested in
Daniel Richter - lots sold by Ketterer Kunst