Sale: 353 / Rare Books including Marine Art, May 18. 2009 in Hamburg

Lot 2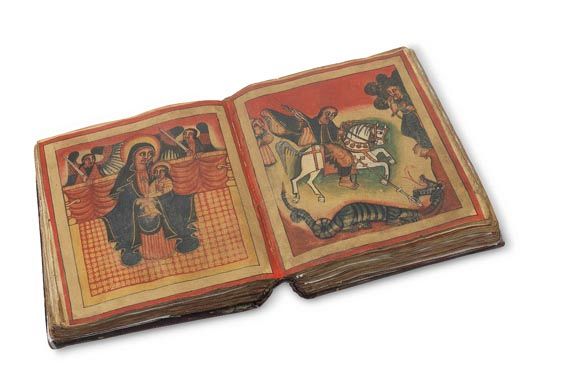 2
Marienwunder. Äthiopisches Pgt.-Manuskript. 19. Jh., 1900.
Estimate:
€ 2,500 / $ 2,975
Sold:

€ 4,680 / $ 5.569
(incl. 20% surcharge)
Lot description
Manuskripte. -
Ta'ämrä Maryam
(Wunder Marias). Ge'ez Handschrift auf Pergament.Äthiopien, erste Hälfte des 18. Jhs. 210 Bll., Blattgr. ca. 27 : 23 cm, Schriftspiegel ca. 21 : 19 cm, 28 Zeilen, 3 Spalten. Geschrieben in schwarzer Tinte, Hervorhebungen in Rot. Mit
62 ganzseit. farb. Miniaturen
. Zeitgenöss. Holzdeckelband (Deckelstärke 1 cm) mit blindgepr. rotbraunen Lederbezug: mehrfacher Rahmenaufbau aus Streicheisenlinien und Rollbordüren, Mittelfeld jew. mit Kreuz-Darstellung.
Prachtvoll illuminierte äthiopische Handschrift mit Erzählungen über das wundertätige Eingreifen der Jungfrau Maria. Zu Beginn der einleitende Ritus zur Lesung, der sog. Kanon von al-Mu'allaqa, der über die Lesung der Wunder der Jungfrau Maria an den Festtagen des Kirchenjahrs informiert und über die Versammlung der koptischen Bischöfe in Altkairo berichtet. Dann folgen die Gebete und Hymnen vor der Lesung des eigentlichen Textes. Von den insgesamt mehr als 300 Wundern bietet diese Handschrift eine Auswahl von 211 (nicht numerierten) Erzählungen. - Die zeitgleich entstandenen Miniaturen zeigen überwiegend Szenen aus dem Alten und Neuen Testament sowie äthiopische Heilige. Bildthemen mit Bezug auf die Jungfrau Maria sind eher selten. Der Stil der Illustrationen richtet sich nach dem der ersten Gondärzeit in der ersten Hälfte des 18. Jhs. (vgl. die Beispiele in: Chojnacki, Major Themes in Ethiopian Painting, Stgt. 1983). - Der ursprüngliche Besitzer oder Auftraggeber war ein Anorewos, dessen Name an einigen Stellen in der entsprechenden Wendung zu lesen ist. - Textbll. gering fingerfleckig, Miniaturen tls. leicht berieben.
Richly illustrated Ethiopian manuscript on vellum, about miracles of the Virgin Mary. 210 leaves. Sheet size 27 : 23 cm, text area 21 : 19 cm, 3 columns, 28 lines. With 62 full-page miniatures in colours. Ge'ez in black ink, with rubrics and titles in red. Contemp. red brown blind-tooled leather over wooden boards. - Minor fingerstaining to text leaves, partly slight rubbing to miniatures.
2
Marienwunder. Äthiopisches Pgt.-Manuskript. 19. Jh., 1900.
Estimate:
€ 2,500 / $ 2,975
Sold:

€ 4,680 / $ 5.569
(incl. 20% surcharge)
More Images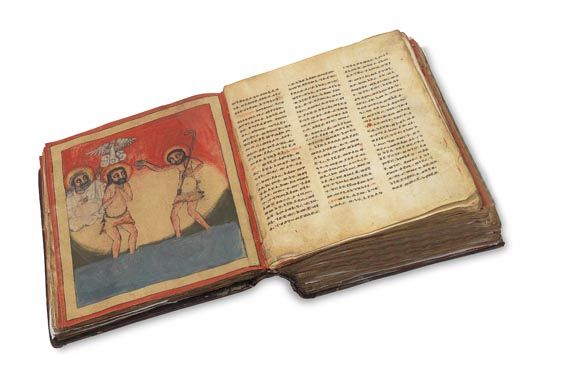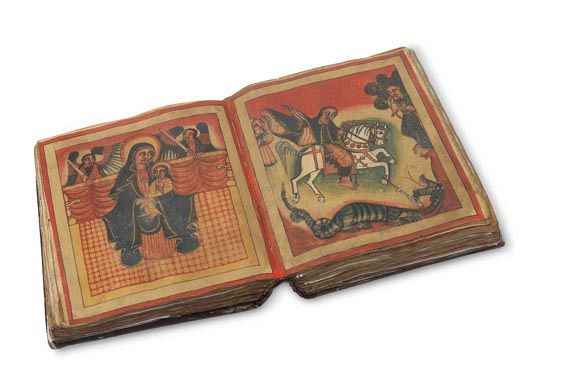 Manuskripte - lots sold by Ketterer Kunst