Sale: 353 / Rare Books including Marine Art, May 18. 2009 in Hamburg

Lot 1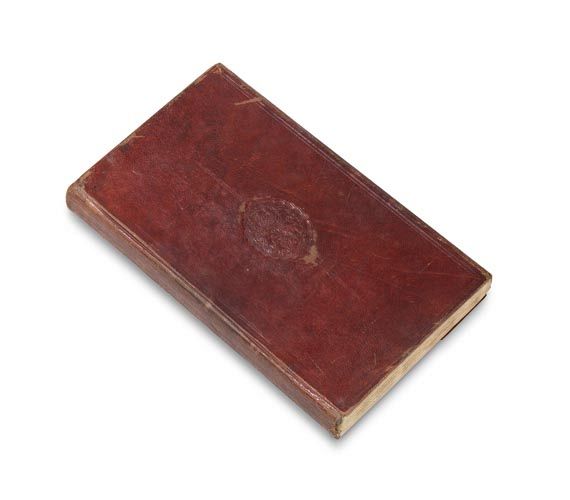 1
Sahr al-Wiqaya. Arab. Hs. auf Papier. 1535.
Estimate:
€ 4,000 / $ 4,760
Sold:

€ 5,040 / $ 5.997
(incl. 20% surcharge)
Lot description
Manuskripte. - Scharia. -
Obaidallah ibn Mas'ud ibn Sadr as-Sari'a,
Sarh al-Wiqaya. Arabische Handschrift auf geglättetem Papier.A. H. 942 = A. D. 1535. 240 Bll. Blattgr. 29,5 : 17 cm. Schwarze und rote Tinte, 25 Zeilen. - Zeitgenöss. rotbrauner Maroquinband mit blindgepr. arbeskem Mittelstück und Miqlab (Schutzklappe).
Bedeutender Kommentar zur Scharia
, verfaßt
von dem Polyhistor Obaidallah ibn Mas'ud (gest. 1346 n. Chr.). Vgl. Brockelmann I, 376 und II, 214. - Die Scharia - eines der zentralen Texte des Islam - enthält die auf Offenbarung zurückgeführten Rechtstexte des Islam und regelt nicht nur Rechtsfragen im engeren Sinn, sondern bezeichnet das Gesetz in seiner weitesten Form, d. h. es umfaßt die Gesamtheit der religiösen, moralischen, sozialen und rechtlichen Normen, welche im Koran und der prophetischen Tradition enthalten sind.
Sehr schöne und saubere Handschrift in Nashki. Haupttext in schwarzer, Kapitelüberschriften in roter Tinte, Zitate rot unterstrichen, Textspiegel mit Einfassungslinie in Rot, im breiten Rand saubere Marginalien und Glossen im schrägen Zeilenfall. Laut Kolophon stammt die Abschrift von Radzab ibn Lutfallah, datiert A. H. 942. - Erste Bll. gering fingerfleckig, letzte Bll. mit schwachem Wasserrand im Fußsteg. Gelenk der Schutzklappe mit Einriß. Insgesamt prachtvolle frühe Handschrift in sehr guter Erhaltung.
Early commentary on the Sharia by the scholar Obaidallah ibn Mas'ud (died A. D. 1346). Arabian manuscript in fine Nashki script on polished paper. Written by Radzab ibn Lutfallah, dated A. H. 942 = A. D. 1535. 240 leaves. Sheet size 29,5 : 17 cm. Black ink, chapter headings in red. 25 lines with notes. Contemp. redbrown morocco with blindpressed panel and miqlab. - First leaves slightly fingerstained, last leaves with faint waterstain to foot of page, joint of protective flap with tear. Else in excellent condition.
1
Sahr al-Wiqaya. Arab. Hs. auf Papier. 1535.
Estimate:
€ 4,000 / $ 4,760
Sold:

€ 5,040 / $ 5.997
(incl. 20% surcharge)
More Images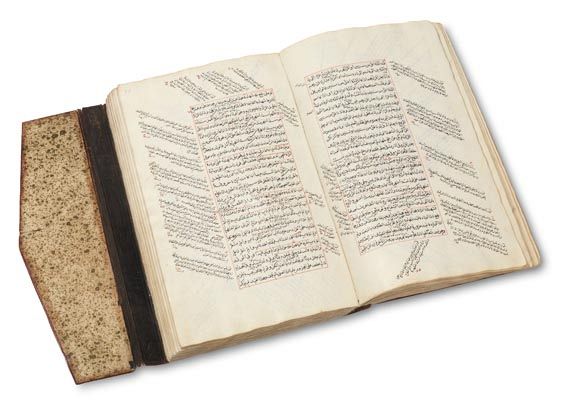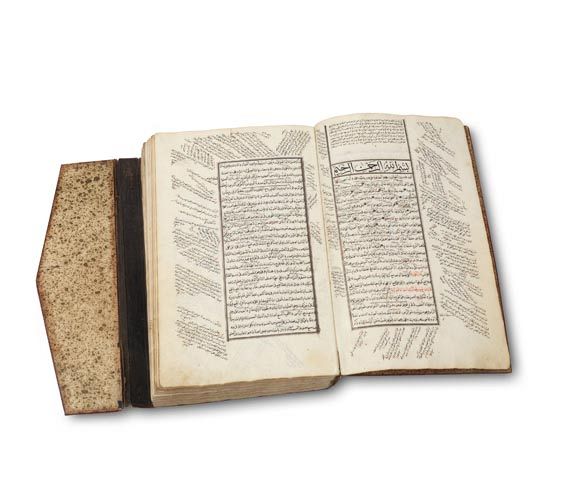 You might also be interested in

Manuskripte - lots sold by Ketterer Kunst