Sale: 353 / Rare Books including Marine Art, May 18. 2009 in Hamburg

Lot 33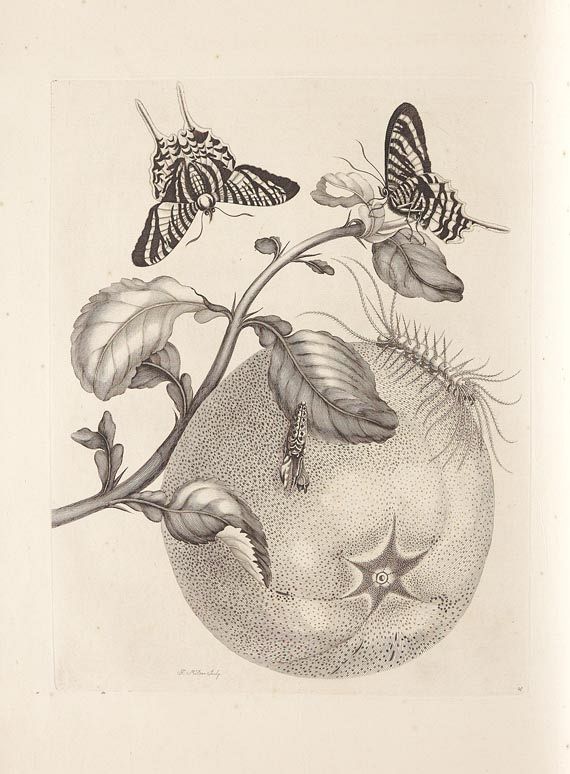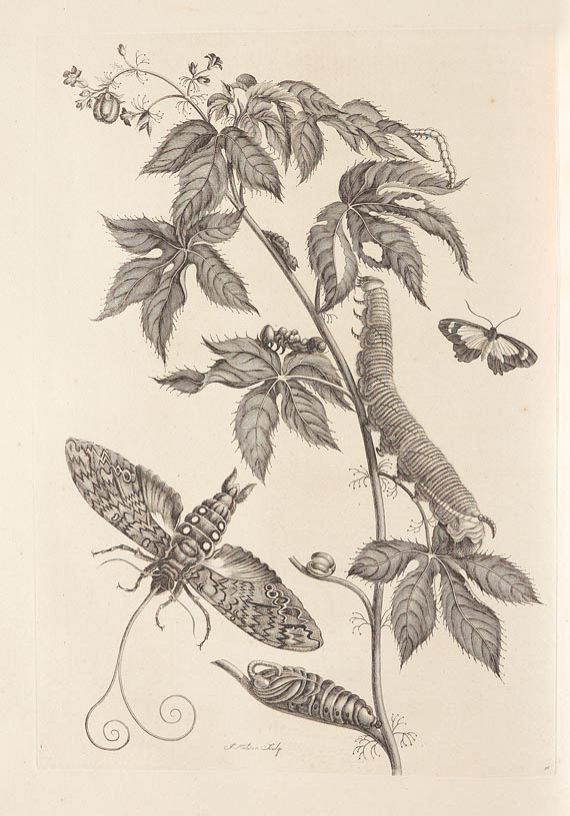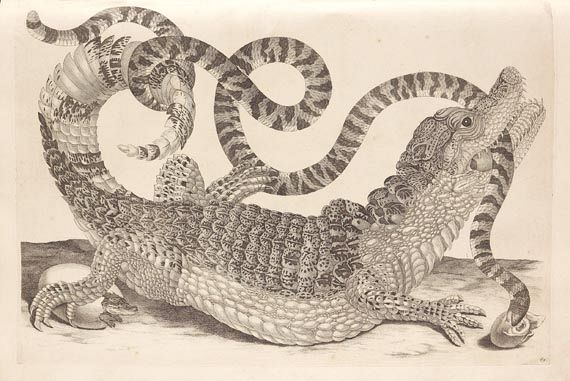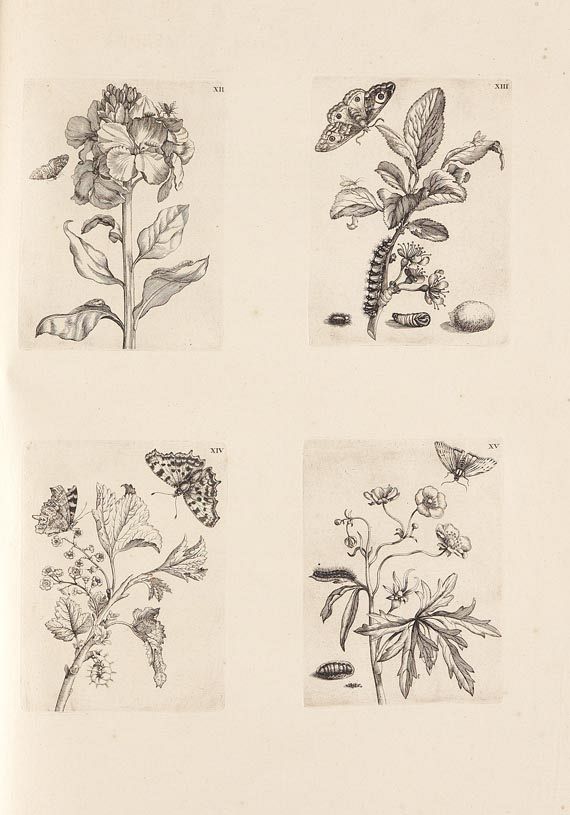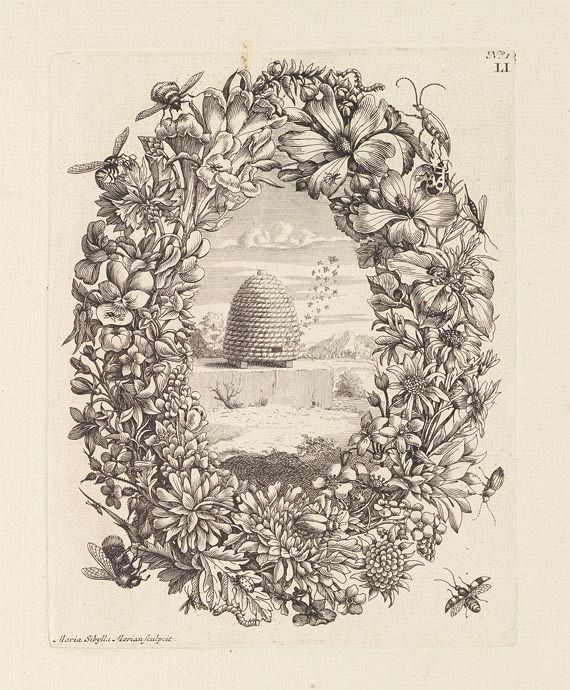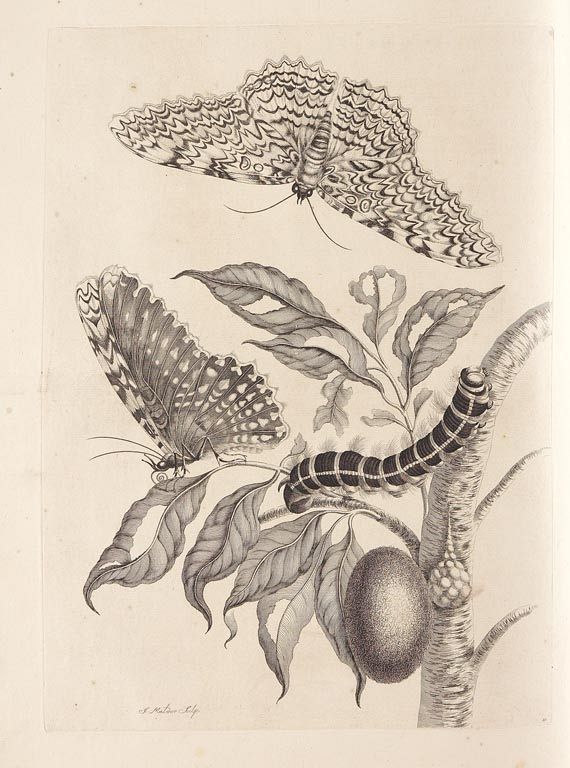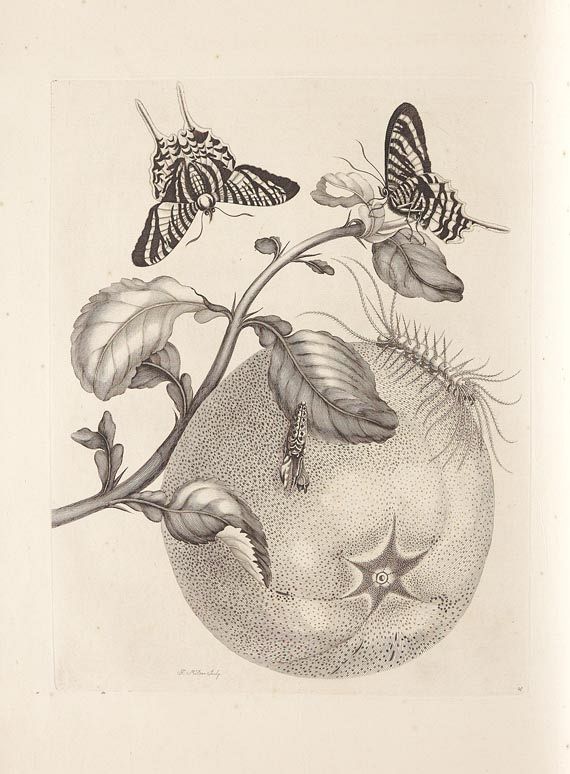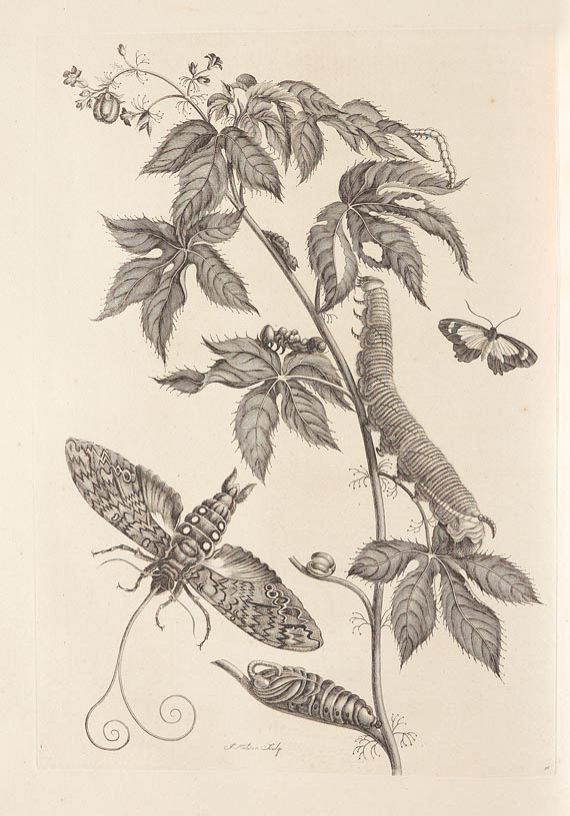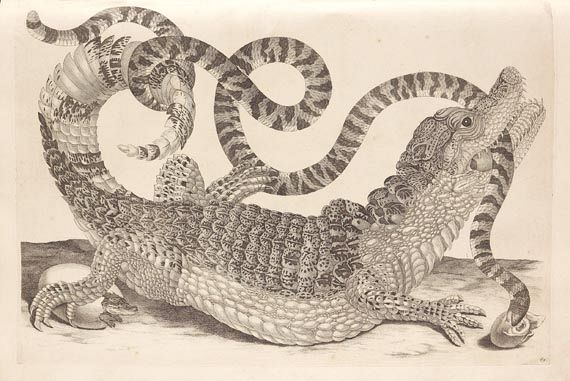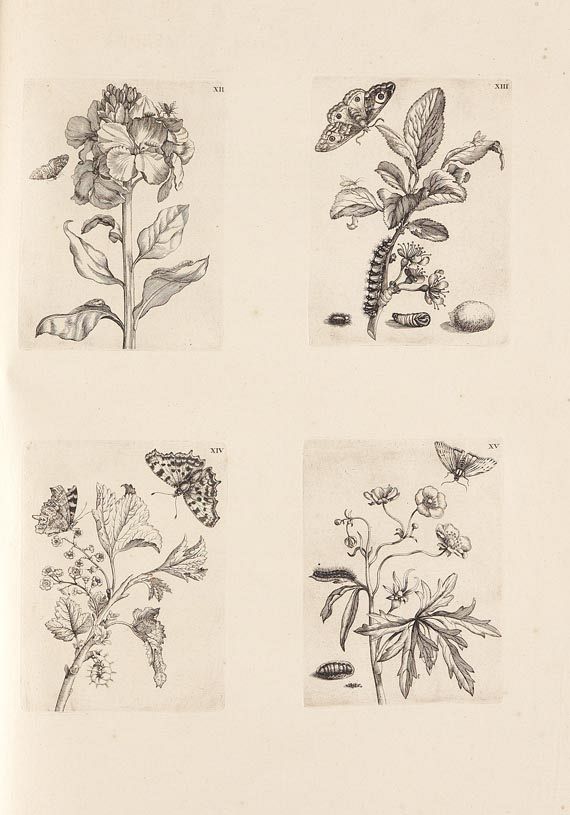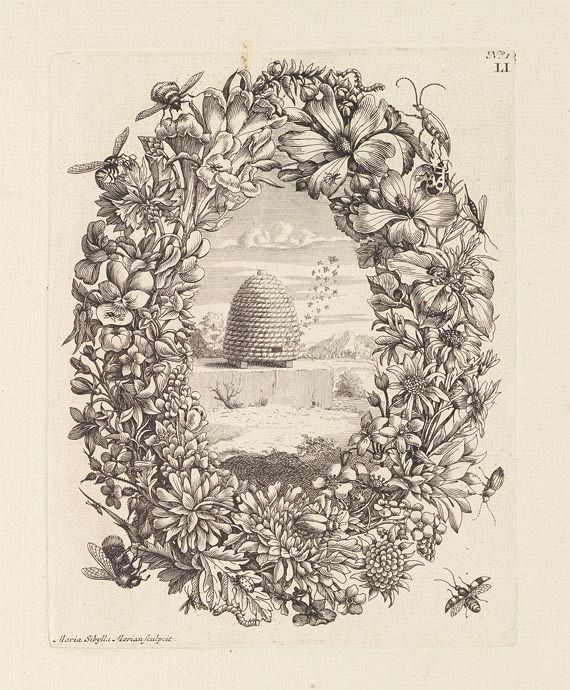 33
Surinaamsche Insecten. 1730
Estimate:
€ 25,000 / $ 29,000
Sold:

€ 24,000 / $ 27.839
(incl. 20% surcharge)
Merian, M. S.,
Over de voorteeling en wonderbaerlyke veranderingen der Surinaamsche insecten ... Mit
gest. Titelvignette
und
72 Kupfertafeln
von J. Mulder und J. P. Sluyter. Amsterdam, J. F. Bernard 1730. 4 Bll., 51 S. -
Angeb.: Dieselbe,
De Europische insecten ... In't Frans beschreeven door J. Marret, en door een voornaam Liefhebber in't Nederduits vertaalt. Mit
gest. Frontispiz
von F. Ottens,
gest. Titelvignette, 184 Kupfern auf 47 Tafeln
und
1 gest. Schlußvignette
. Ebd. 1730. 2 Bll., 84 S. - HLdr. d. spät. 19. Jhs. mit RSch. Gr.-Folio.
Die beiden großen Insektenbücher der Maria Sibylla Merian in der Amsterdamer Bernard-Ausgabe von 1730.
I: Nissen 1341. - Horn/Schenkling 14992. - Hunt 484. - Rücker S. 46ff. - Vierte Ausgabe, die dritte mit holländischem Text. "Ihre schon beim Raupenbuch erwiesene Meisterschaft, den Pflanzen und Tieren bei der Darstellung ihrer Eigentümlichkeit zu erhalten, und sie trotzdem in eine wirksame Bildkomposition hineinzubauen, hat mit dem Surinam-Werk einen unvergleichlichen Höhepunkt erreicht. Es gehört nicht nur zu den besten alten naturwissenschaftlichen Werken, sondern ist eines der prachtvollsten illustrierten Bücher, die je geschaffen wurden" (Rücker).
II: Nissen 1342. - Horn/Sch. 14993. - Hunt 483 Anm. - Rücker Nr. 39. - Die erste Folio-Ausgabe, eine Zusammenfassung des Raupenbuches und des Neuen Blumenbuches. Gleichzeitig erschien auch eine Ausgabe mit französ. Text. "... The first folio edition and the first appearance of the full suite of Maria Merian's plates of the European insects, the companion and complement to her great Surinam work ... It is remarkable for its botanical as for its entomological content" (De Belder 238/II). - Das Frontispiz wurde im vorlieg. Exemplar vor dem Surinamischen Insektenbuch eingebunden.
Zustand für beide Werke: Unbedeut. kl. Stockfleckchen; im angeb. Werk ca. letzte 15 Tafeln nebst Textbll. in der ob. Ecke mit Feuchtigkeitsspuren, davon die letzten 6 stärker (5 Taf. und 2 Textbll. hinterlegt, 2 Taf. mit Verstärkung bzw. Ergänzung bis in die Platte hinein); 1 Taf. im ersten Werk mit hinterl. Randeinriß. Rücken etw. beschabt. Insgesamt gutes Exemplar auf kräftigem Papier.
The two great works on insects by Maria Sibylla Merian, edited by Bernard in Amsterdam. - I: Fourth edition, the third with Dutch text. With engr. title-vignette and 72 copperplates. - II: First folio edition. With engr. frontispiece (bound in before, engr. title-vignette, 184 engravings on 47 plates and 1 engr. vignette at end (= engraving no. 170/171). - Late 19th cent. half calf with label. - Neglegible small foxing stains; last 15 plates (& text leaves) of the 2nd work with traces of damp in upper corner, of which the last 6 stronger (5 plates and 2 text leaves backed, 2 plates reinforced or mended, affecting the area of the engraving, however, without loss of image); 1 plate in first work with backed tear in the margin. Some rubbing to spine. All in all fine copy on strong paper.
33
Surinaamsche Insecten. 1730
Estimate:
€ 25,000 / $ 29,000
Sold:

€ 24,000 / $ 27.839
(incl. 20% surcharge)
You might also be interested in
Maria Sibylla Merian - lots sold by Ketterer Kunst