Sale: 366 / Rare Books including Marine Art, May 17./18. 2010 in Hamburg

Lot 81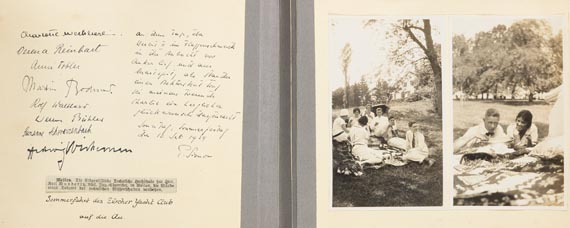 81
Eigh. Gedicht. In: Fotoalbum Yachting. 1924.
Estimate:
€ 3,500 / $ 3,850
Sold:

€ 6,360 / $ 6,996
(incl. 20% surcharge)
Rilke, Rainer Maria, Dichter, 1875-1926. Eigh. Gedicht m. U. Meilen am Zürichsee, "In der Unteren Mühle", 24. VII. 1924. 1 S. Quer.-8vo. - Im Segler-Fotoalbum Yachting von Charles Wunderly (1899-1979), Sohn der Nanny Wunderly-Volkart. Mit ca. 100 mont. Orig.-Fotografien. Rapperswil, Friedrichshafen, Meilen, Lindau, Buenos Aires u. a. 1910 und 1924-25. Ldr. d. Zt. mit goldgepr. Deckeltitel. Quer-8vo. 29 Bll.

Launig-rätseliges, 3-strophiges Gelegenheitsgedicht von Rilke, "freundschaftlich beigesteuert" als Gast einer Familienfeier anläßlich der Promotion von Charles Wunderly zum Doktor der Chemie. "Daß uns das Verbundene verrathe / seinen höchst verschwiegenen Verein, / drängen wir uns in das Delikate / Eheglück der Carbonate / und ins Closter der Chloride ein. / Wenn sich dann das überrascht Getrennte / an uns ausgeliefert weiß, / geben die erschrocknen Elemente / ihr Geheimnis leichter preis. / Doch wir meinen das Verbundensein! / Und wir wollen, lieber Doktor, hoffen, / daß Sie heimlichen verliebten Stoffen, / die sich nie noch in der Welt getroffen, / der Begegnung Glück verleihn!" - Mit der Familie Wunderly, insbesondere mit der Mutter von Charles, Nanny Wunderly-Volkart (1878-1962), war Rilke seit dem Herbst 1919 gut bekannt. Besonders in den letzten Lebensjahren erfuhr er durch Nanny Wunderly-Volkart neben materieller auch eine herzliche freundschaftliche Zuwendung und stand mit ihr in engem brieflichen und persönlichen Kontakt. So vertraute Rilke ihr sein 1925 verfaßtes Testament zur Verwahrung an, und duldete sie als einzige seiner Freunde und Bekannten in den letzten Tagen vor seinem Tod in seiner Nähe. - Charles Wunderly (1899-1979) machte sich als Chemiker besonders auf dem Gebiet der Hämatologie einen Namen sowie als Kunstsammler und -mäzen, ferner war er ein begeisterter Freizeitsegler. Die Fotografien (Format zwischen 6 : 9 cm und 10,5 : 15,5 cm) zeigen zahrl. Segelturns und -regatten (Zürichsee, Bodensee, Buenos Aires u. a.), Bootsausflüge und Picknicks mit der Familie und Freunden, wie weitere vereinzelte hs. Eintragungen aus den Jahren 1924-25 von Freunden u. Segelkameraden bezeugen, darunter der eigh. Namenszug des bedeutenden Literatur- und Kunstsammlers Martin Bodmer (1899-1971). - Das Gedicht von Rilke erstmals als Faksimile abgedruckt in Ch. Wunderly, Rückblick auf die Arbeit von 10 Jahren ( Meilen 1950), S. 5; auch in: R. M. Rilke. Werke (Insel-Vlg. 1996), Bd. II, S. 372. - Ecken leicht berieben.

Autographed poem in three verses by Rainer Maria Rilke, written on the occasion of a family celebration of Nanny Wunderly-Volkart, his patron, correspondant and close friend during his last years. Written down in the photo album "Yachting" of her son Charles Wunderly who was an ambitious hobby yachtsman. The album contains about 100 original photographs, showing, amongst others, regattas on the Lake Constance and Lake Zurich as well as on the Atlantic and Rio de la Plata. - Corners slightly rubbed.


81
Eigh. Gedicht. In: Fotoalbum Yachting. 1924.
Estimate:
€ 3,500 / $ 3,850
Sold:

€ 6,360 / $ 6,996
(incl. 20% surcharge)
More offers for Rainer Maria Rilke
You might also be interested in
Rainer Maria Rilke - lots sold by Ketterer Kunst